A picture is worth a thousand words — and one iconic photo taken amid protests in Baton Rouge, Louisiana, after the death of Alton Sterling is no different.
Jonathan Bachman of Reuters captured an image of a black woman in a gray dress, standing in the middle of the street as police officers, clad in full-on riot gear, approach her, moments before grabbing her.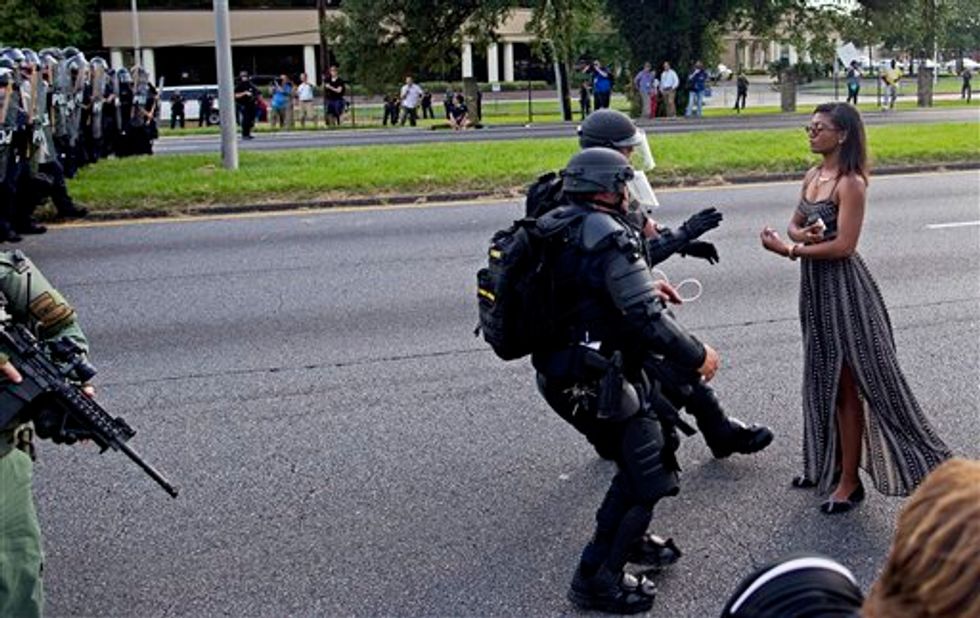 A protester is grabbed by police officers in riot gear after she refused to leave the motor way in front of the the Baton Rouge Police Department Headquarters in Baton Rouge, Louisiana. Police made nearly 200 arrests in Louisiana's capital city during weekend protests around the country in which people angry over police killings of young black men sought to block some major interstates. (AP Photo/Max Becherer)
The photo is symbolic of what some have alleged are unlawful arrests, as seemingly peaceful protesters are detained by police who, in some cases, more closely resemble a combat brigade rather than a local police force. But Baton Rouge Police Department spokesman L'Jean McKneely told CNN that one of the reasons more than 100 protesters were arrested over the weekend was because they did not clear the streets.
"Everyone was given proper instructions and a certain amount of time to clear the roadway. If they did not, then they were arrested," McKneely told CNN.
More than 100 protesters were arrested in the Pelican State's capital Saturday night and into Sunday morning. About 100 more were arrested in Minneapolis following the police-involved shooting of Philando Castile there. Nearly two dozen law enforcement officers were injured during the protests, as TheBlaze previously reported.
(H/T: CNN)
—
Follow the author of this story on Twitter and Facebook: