Democratic presidential candidate Sen. Bernie Sanders (Vt.) will join presumptive Democratic presidential nominee Hillary Clinton at a campaign event later this week where he is expected to offer an endorsement.
Sanders, who has admitted that he isn't likely to become the Democratic Party's nominee, has not officially suspended his campaign, and his campaign has remained tight-lipped on whether he will endorse his rival. However, Clinton's campaign has been in daily talks with Sanders' campaign, the New York Times reported.
Because of those talks, a source close to the Clinton campaign told TheBlaze, the endorsement was secured.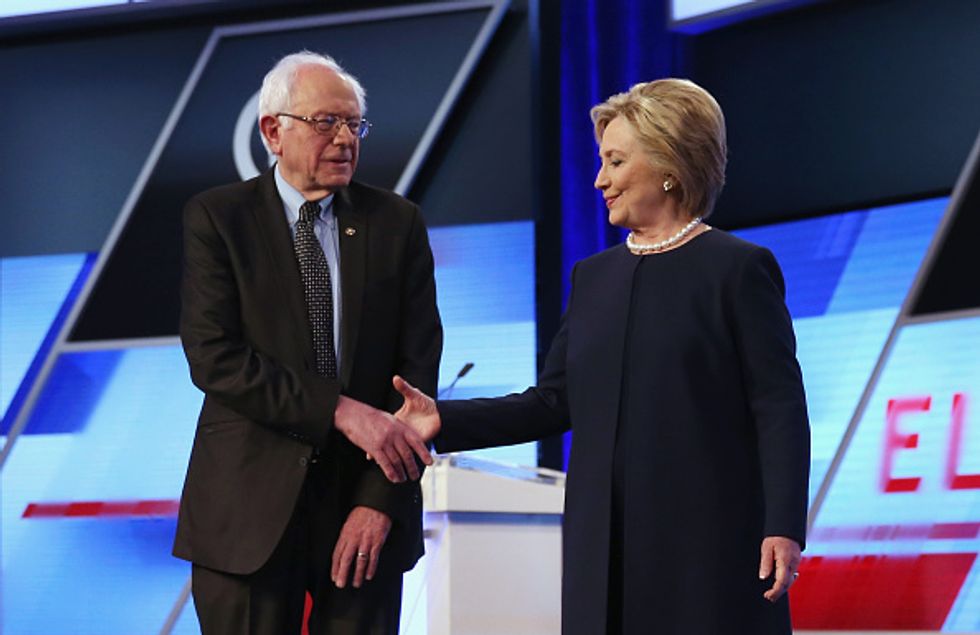 Democratic presidential candidates Sen. Bernie Sanders (Vt.) and Hillary Clinton shake hands before a Democratic presidential primary debate in Miami, Florida. (Getty Images/Joe Raedle)
The two candidates will appear at Portsmouth High School in New Hampshire Tuesday morning "to discuss their commitment to building an America that is stronger together and an economy that works for everyone, not just those at the top."
A Democratic operative who spoke on the condition of anonymity told TheBlaze that Clinton's campaign was "desperate" to get Sanders' endorsement before the party's convention in Philadelphia later this month.
Sanders came close to endorsing Clinton in a Bloomberg interview last week.
"We have got to do everything that we can to defeat Donald Trump and elect Hillary Clinton," he said then. "I don't honestly know how we would survive four years of a Donald Trump as president."
Sanders was also recently being courted by Dr. Jill Stein, the Green Party's nominee.
—
Follow Kaitlyn Schallhorn (@K_Schallhorn) on Twitter