Rep. Darrell Issa (R-Calif.) grilled Attorney General Loretta Lynch on Tuesday during a House Judiciary Committee hearing on presumptive Democratic presidential nominee Hillary Clinton's use of a private email server while she was secretary of state.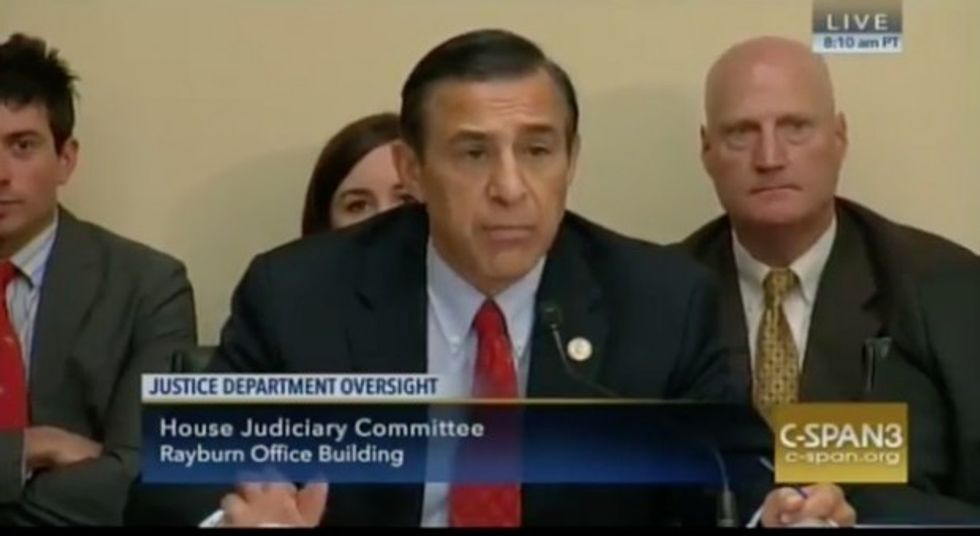 Image source: YouTube
The Justice Department closed its investigation into Hillary Clinton's email use without any criminal charges, Lynch announced last week.
At the House hearing regarding the Justice Department's decision, Issa pressed Lynch to explain the agency's conclusion.
"What do I say to the tens of thousands of people that live and work in my district that work for the federal government, including more than 47,000 Marines?" he asked. "What do I say [to them] when, in fact, saying something that isn't true — and handling classified information in an extremely careless way — has no criminal ramifications? What do I say to them? How do I reconcile the fact that they know that their friends and colleagues have been prosecuted or fired for doing less in the past?"
Lynch replied that she "can't speak" to the cases Issa referred to, and "every case has to be handled the same way."
"Every individual whether they are a former Secretary or anyone else, has to be reviewed with the facts and the law there," she said.
Issa asked if any of the members of the team who investigated Clinton were "political appointees."
"With respect to the team, typically we don't go into the composition of it," Lynch replied. "It was led by our national security division and everyone on the team was a career professional."
Issa tweeted his impression of the exchange.
In hearing @housejudiciary, A.G. Loretta Lynch refuses accountability. Won't answer questions by Congress on Hillary's email investigation

— Darrell Issa (@DarrellIssa) July 12, 2016
In an opening statement, Lynch said:
"As you are aware, last week, I met with Director Comey and career prosecutors and agents who conducted that investigation. I received and accepted their unanimous recommendation that the thorough, year-long investigation be closed and no charges be brought against any individuals within the scope of the investigation. While I understand that this investigation has generated significant public interest, as Attorney General, it would be inappropriate for me to comment further on the underlying facts of the investigation or the legal basis for the team's recommendation. I can tell you that I am extremely proud of the tremendous work of the dedicated prosecutors and agents on this matter."
In a statement regarding the hearing, House Judiciary Committee Chairman Bob Goodlatte (R-Va.) said that "Attorney General Lynch has no intention of answering any of our questions regarding the Department's decision not to charge former Secretary of State Hillary Clinton."
"If Attorney General Lynch doesn't want to answer questions about the investigation, then she should have appointed a special prosecutor at the start of the investigation," Goodlatte said, adding, "The American people deserve transparency about this investigation."
Watch Lynch's exchange with Issa below:
—
Follow the author of this story on Twitter and Facebook: