A "Hannity" panel erupted into a heated debate Monday night over the five Dallas police officers fatally shot in last week's ambush as well as nationwide "Black Lives Matter" protests.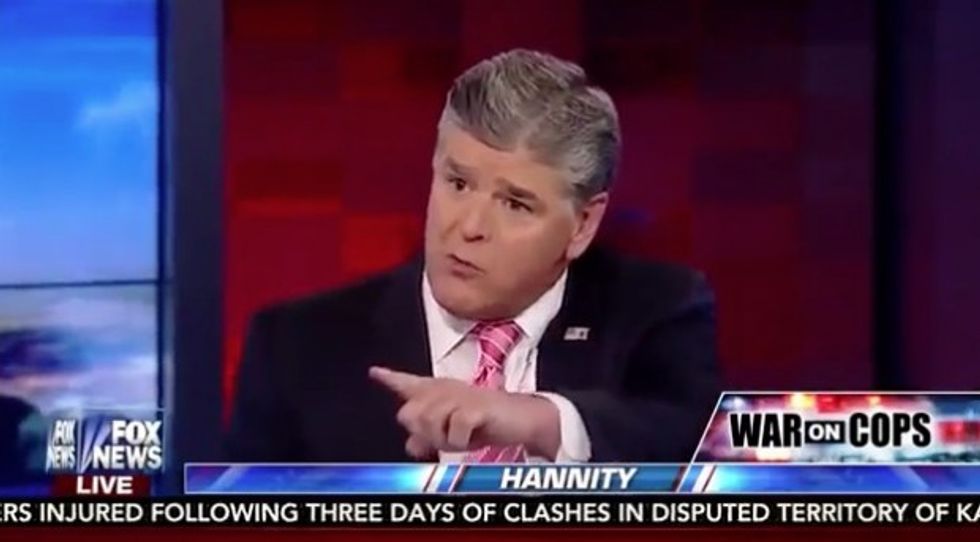 Image source: YouTube
Host Sean Hannity argued that President Obama "rushed to judgment" in previous racially charged police shootings, and that it was inappropriate for him to praise Black Lives Matter protesters.
But when guest Daryl Parks said Black Lives Matter protesters "deserve praise," Hannity shot back, "The people who say 'we want dead cops'?" Parks replied that they are merely "individuals" and not representative of the entire movement.
In addition, Hannity and panelist Bo Dietl were outraged by Geraldo Rivera's suggestion that Obama is acting as a "healer-in-chief" during his visit to Dallas.
"How about he apologizes to cops?" Hannity yelled.
Watch below:
—
Follow the author of this story on Twitter and Facebook: