Sen. Bernie Sanders (I-Vt.) joined former Secretary of State Hillary Clinton Tuesday — both at a New Hampshire rally and in her presidential campaign efforts.
Once rivals as they competed for the Democratic nomination, Sanders finally offered his official endorsement of Clinton during a campaign stop in Portsmouth, New Hampshire Tuesday morning as he said "she must become our next president."
"Hillary Clinton will make an outstanding president and I am proud to stand with her here today," Sanders said after the pair walked into the high school together.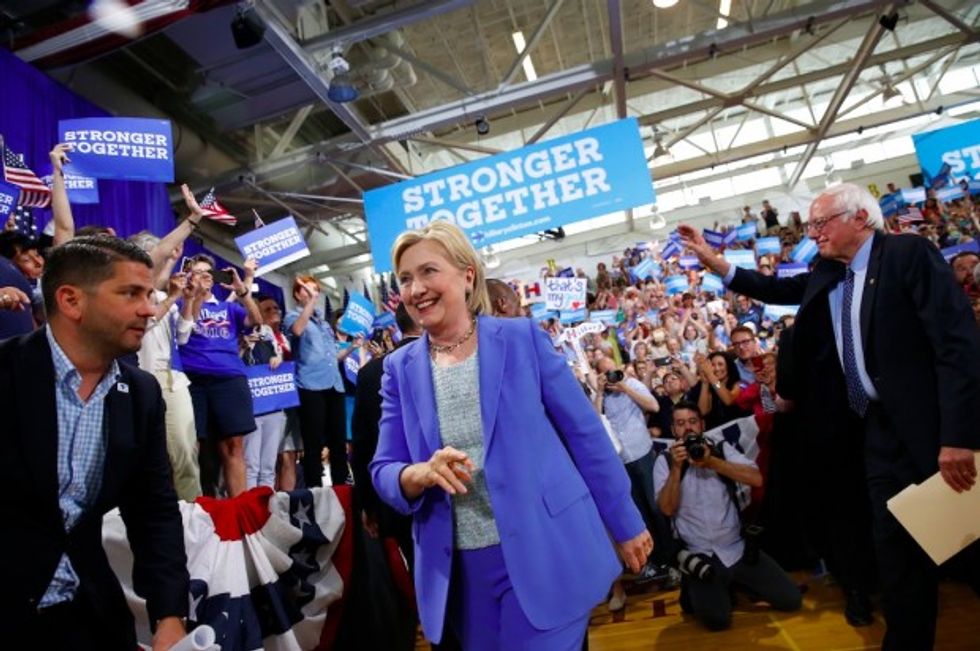 Democratic presidential candidate Hillary Clinton, followed by Sen. Bernie Sanders, I-Vt. arrives for a rally in Portsmouth, N.H., Tuesday, July 12, 2016. Sanders officially endorsed Clinton for president at the rally. (AP Photo/Andrew Harnik)
"Secretary Clinton has won the Democratic nominating process, and I congratulate her for that," he said. "She will be the Democratic nominee for president, and I intend to do everything I can to make certain she will be the next president of the United States."
While Sanders said his speech was "to focus on the future," he also focused on presumptive GOP nominee Donald Trump. Sanders criticized the billionaire businessman as a presidential candidate who does not want to raise the federal minimum wage, his choice of potential Supreme Court justices and desire to abolish the controversial Affordable Care Act.
"In these stressful times for our country, this election must be about bringing our people together, not dividing us up," Sanders said. "While Donald Trump is busy insulting Mexicans, Muslims, women, African Americans and veterans, Hillary Clinton understands that our diversity is one of our greatest strengths."
The self-proclaimed democratic socialist has pushed Clinton to the left during much of the campaign — including in recent weeks as the end of his own presidential bid became more and more imminent. Earlier this month Clinton announced her plan to make college tuition free, a proposal that almost mirrored that of Sanders'.
"It is no secret that Hillary Clinton and I disagree on a number of issues. That is what this campaign has been about. That's what democracy is about," Sanders said.
Clinton followed the endorsement by saying, "I can't help but think how much more enjoyable this election is going to be now that we're on the same side." She added that her and Sanders are "joining forces to defeat Trump."
But as they stood behind a podium bearing the words, "stronger together," both pushed for unity among Americans, unity in their party and unity between themselves.
—
Follow Kaitlyn Schallhorn (@K_Schallhorn) on Twitter