While dining at an Eat N' Park restaurant, Homestead, Pennsylvania police officers encountered a couple that refused to sit next to them - so the officers paid the couple's tab, according to WTAE-TV.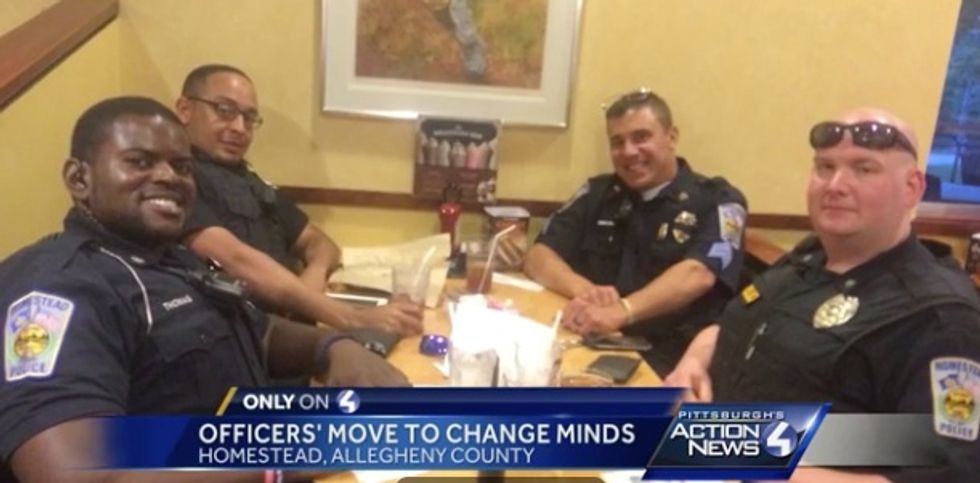 Image source: WTAE-TV
Eat N' Park server Jesse Meyers told WTAE, "A table goes to sit down and the guy looks over at one of the police officers and was like, 'Nah I don't want to sit here.'"
"So they got moved completely opposite, away from the police officers," Meyers said.
Homestead police Officer Chuck Thomas told WTAE said he felt that the couple didn't want to sit next to them because of their uniforms.
"I looked over and said, 'It's okay sir. You won't have to worry about it, we won't hurt you," Thomas said. "He looked at me hard again and said he's not sitting here and walked away."
Thomas said he and another officer thought it would be a good idea to pay the couple's bill for them.
"It just dawned on me, I should do this real quick just to show this guy look, I don't know if you had bad experience with the police in the past -- you may have you may have not -- but I just want you to know I never had an experience with you and I'm not here to do anything to you. And neither will my partners," Thomas said.
The officers wrote, "Sir, your check was paid for by the police officers that you didn't want to sit next to. Thank you for your support."
They also left a 35 percent tip.
"Essentially the whole goal of it was to let him know that we're not here to hurt you, we're not here for that," Thomas said. "We're here for you. We work for the public. And we just want to better the relationship between the community and the police."
Thomas said "Tensions in the community were tight" following the shooting in Dallas that left five police officers dead.
"A lot of people were coming up to us and shaking our hands and thanking us, but you could just feel tight air through the community," Thomas said.
Watch below:
—
Follow the author of this story on Twitter and Facebook: