Despite the Supreme Court's recent ruling in Whole Woman's Health v. Hellerstedt, one leader of a national pro-life group says the movement "has never been stronger."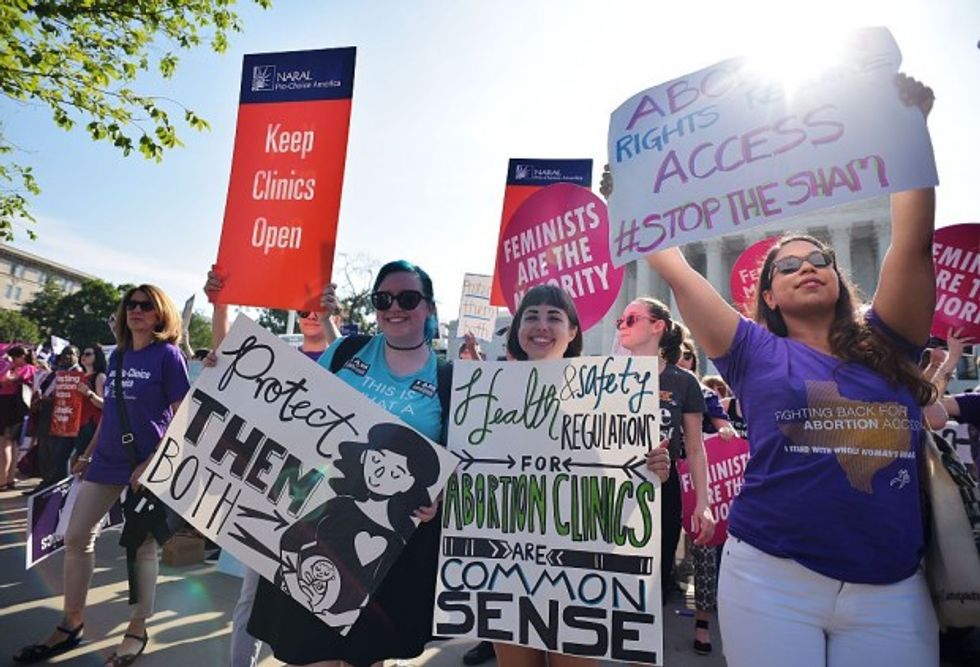 Protesters hold placards outside of the US Supreme Court on June 27, 2016 in Washington, DC. (MANDEL NGAN/AFP/Getty Images)
During remarks Wednesday at the National Press Club, Marjorie Dannenfelser, president of the Susan B. Anthony List, called the ruling "a tough blow" to the pro-life movement, but said she is confident that pro-lifers are winning "outside the beltway."
The Supreme Court recently struck down a provision of a Texas law requiring doctors performing abortions to have admitting privileges at a hospital within 30 miles of the facility.
Without the regulations in place, Dannenfelser said, women are only granted "whatever abortionists deign to provide them."
Dannenfelser argued that in spite of the "constitutional crisis" at the Court, passing legislation to ban abortion after 20 weeks of pregnancy should remain one of the goals of the pro-life movement.
"Let me remind you what Hellerstedt did not do," Dannenfelser said. "It did not challenge the provision ending abortion at 20 weeks' gestation."
.@marjoriesba calls SCOTUS ruling a "tough blow," but says the pro-life movement is "winning outside the beltway." pic.twitter.com/B2dKJFRThD

— Kate Scanlon (@kgscanlon) July 13, 2016
Dannenfelser said that opponents of the pro-life cause are at their weakest because they have started to "overreach," by calling for an end to the Hyde amendment and standing in opposition to conscience protection laws.
The Hyde amendment prohibits the use of taxpayer funds to pay for elective abortion procedures.
According to The Hill, for the first time, the Democratic Party's 2016 draft platform calls for the repeal of the Hyde Amendment and other "federal and state laws and policies that impede a woman's access to abortion."
Dannenfelser argued that the Hyde amendment should remain in place to protect the conscience of those who object to abortion.
"Is this pro-choice — that I be co-opted into another person's choice?" Dannenfelser inquired.
Asked about the Presumptive Republican presidential nominee Donald Trump's conflicting statements on abortion, Dannenfelser called him a "convert" to the cause who is "sometimes unsure of the best way to proceed."
Dannenfelser said she is optimistic about the 2016 election, arguing that the pro-life movement has the "strongest ground game in the field."
—
Follow the author of this story on Twitter and Facebook: