Fox News host Sean Hannity absolutely tore into the first black Miss Alabama Tuesday night for calling the Dallas gunman who killed five police officers a "martyr."
Kalyn Champan James first made the controversial comments during a Facebook Live video post, claiming that, while she feels the sniper is a "martyr," she also "values human life." But Hannity didn't buy it.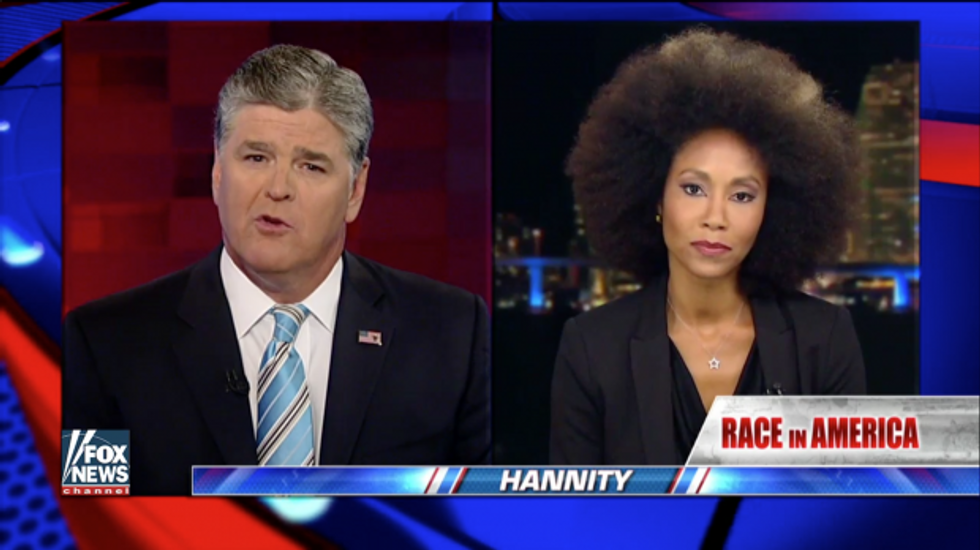 Image source: Fox News screen grab
"You say in that video you value human life, but you don't feel bad for those officers — you can't value human life and say such a thing," Hannity said. "You obviously don't value human life, do you?"
James pushed back, telling the Fox News host she does value human life and said what was seen in the original video was someone "dealing with conflict and sadness" and "dealing with my emotions that were in progress at that time."
"I was really conflicted and very sad that I was finding it hard to go into my heart, to be true to my values of valuing human life at that time because I had just witnessed atrocities against these men," James said, adding that she now feels bad for the slain officers.
James, who was dismissed from her job at a local Florida television station over the fallout from the video, also claimed she was contacted by the wife of one of the fallen Dallas officers "who said she could understand how, as an African-American woman, I could feel conflicted."
Hannity continued to press James on how she could classify the gunman as a "martyr," telling her he feels the video depicted "a person that really was happy that people were killed."
In response, James said people are only choosing to highlight her use of the word "martyr" to "push their racist agenda," ultimately saying she doesn't "believe in any cause that takes innocent lives." She also said she agreed with Hannity's assessment that the shooter was "evil."
According to James, she only used the word "martyr" because the killer was dying for a "cause," although it wasn't one she believed in.
Watch the tense exchange below:
–
Follow the author of this story on Twitter: