A year after his first video went viral, the filmmaker behind the Center for Medical Progress' undercover videos said that he didn't quite anticipate how much of an impact the videos would have.
"A year later, a year after the initial release of the videos, all of the best evidence available shows that not only is Planned Parenthood guilty of harvesting and selling baby body parts for profit, that they're even more guilty than any of us ever really imagined starting this out," David Daleiden, the founder of the Center for Medical Progress, told TheBlaze in an interview.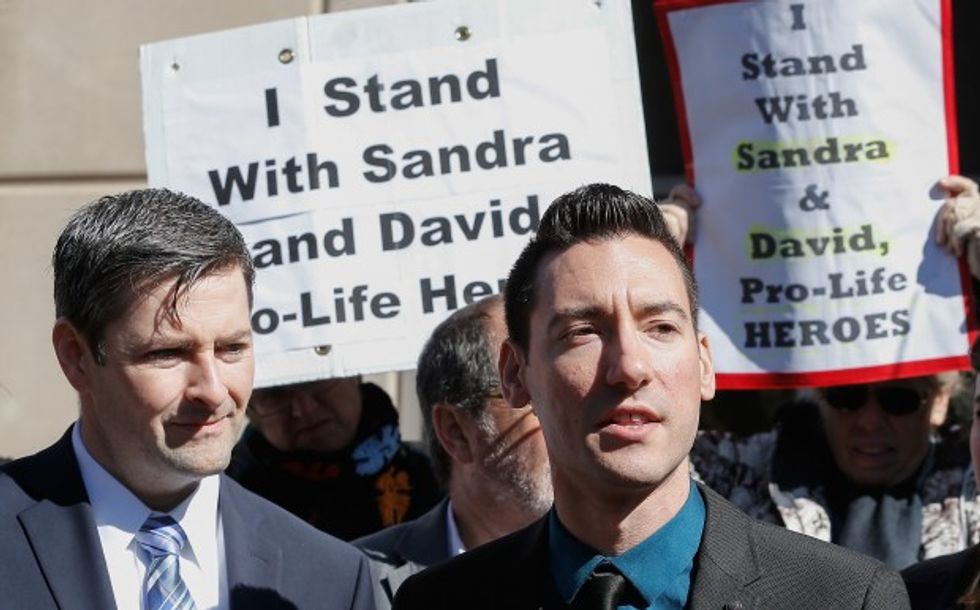 (AP Photo/Bob Levey)
On July 14, 2015, the Center for Medical Progress published its first video, in which actors portraying potential buyers from a human biologics company met with Planned Parenthood Federation of America's senior director of medical services, Dr. Deborah Nucatola.
"I'd say a lot of people want liver. And for that reason, most providers will do this case under ultrasound guidance, so they'll know where they're putting their forceps," Nucatola said in the video. "The kind of rate-limiting step of the procedure is calvarium. Calvarium—the head—is basically the biggest part."
"We've been very good at getting heart, lung, liver, because we know that, so I'm not gonna crush that part, I'm gonna basically crush below, I'm gonna crush above, and I'm gonna see if I can get it all intact," she continued.
Within 24 hours, the video was viewed over one million times. Lawmakers - including multiple presidential candidates - called for an investigation within days of its publication.
"I knew it would be a serious and controversial issue," Daleiden said, adding, "I was expecting it to be a serious news story... but I still was not anticipating exactly how big it became."
Daleiden said the videos made an impact because they "strike at the core of our humanity."
"It speaks to who we are as Americans, who we are as a country and the character of our nation, and that's the sort of issue that deserves to be front page news, that deserves to be talked about by everyone," he said.
The videos spurred an ongoing congressional investigation.
"The work that's been done by the Select Panel in Congress is just incredible," Daleiden said, noting that the panel uncovered contracts between Planned Parenthood Mar Monte, Planned Parenthood Shasta Pacific and Planned Parenthood Santa Barbara, Ventura, & San Luis Obispo and StemExpress detailing their financial arrangements.
"We tried so hard to get those contracts," Daleiden said, calling them the "final proof" of a financial benefit to Planned Parenthood.
"A year later, Planned Parenthood has yet to acknowledge whether or not their senior-level leadership implicated in the undercover videos, whether or not any of them have been fired or disciplined, or if they're still working at Planned Parenthood," he said. "We have none of those details from Planned Parenthood, no accountability about the leadership of their organization."
"Planned Parenthood has yet to disclose exactly how much money their affiliates received from companies like StemExpress and Advanced Bioscience Resources and Novagenix," he continued, "and they have yet to produce any documentation whatsoever showing that they had any shipping costs or transportation costs or any reimbursable costs whatsoever under the law for the transfer of fetal tissue, which is what they've been insistantly claiming. They've provided no proof whatsoever, they've only provided short press releases."
"Meanwhile, we have hundreds and hundreds of pages of documents - from the select panel and other sources - showing that this was an illicit, for-profit scheme all the way through," he added.
The Center for Medical Progress released a recap video on Thursday morning to mark the one-year anniversary of their first video's publication.
Profiting from the sale of human organs - including those of the unborn - is a felony in the United States.
Since the release of the first video last year, spokespersons for Planned Parenthood have denied illegal conduct. Its spokespersons say that they were merely reimbursed for the donation of fetal tissue to researchers.
—
Follow the author of this story on Twitter and Facebook: