UPDATE 9:30 p.m. ET:
Former Heisman Trophy-winning quarterback Tim Tebow will not be speaking at the GOP Convention in Cleveland next week, as previously reported.
According to Tebow, those reports were nothing more than "rumors."
""I just got back from the Philippines, and I wake up this morning to find out that I'm speaking at the Republican National Convention — it's amazing how fast rumors fly," he said in a video posted Thursday night.
See more of his response here.
—
Who's slated to speak at the Republican National Convention?
The speaker roster — according to the New York Times, which said it obtained a copy — features a mix of celebrities and friends of presumptive GOP nominee Donald Trump but lacks many of the party's "rising stars," which the paper said he's been struggling to attract.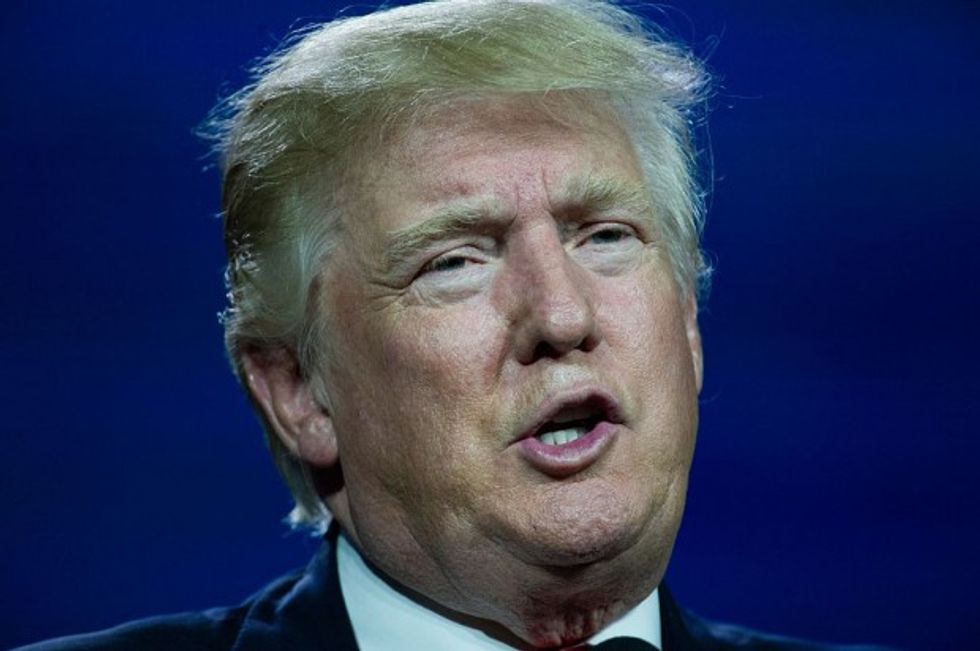 Republican presidential candidate Donald Trump addresses the audience at the 2016 Western Conservative Summit in Denver, Colorado on July 1, 2016. (Image source: JASON CONNOLLY/AFP/Getty Images)
From the sports world, there's former Heisman Trophy-winning quarterback Tim Tebow, pro golfer Natalie Gulbis and Dana White, president of the Ultimate Fighting Championship, according to the report.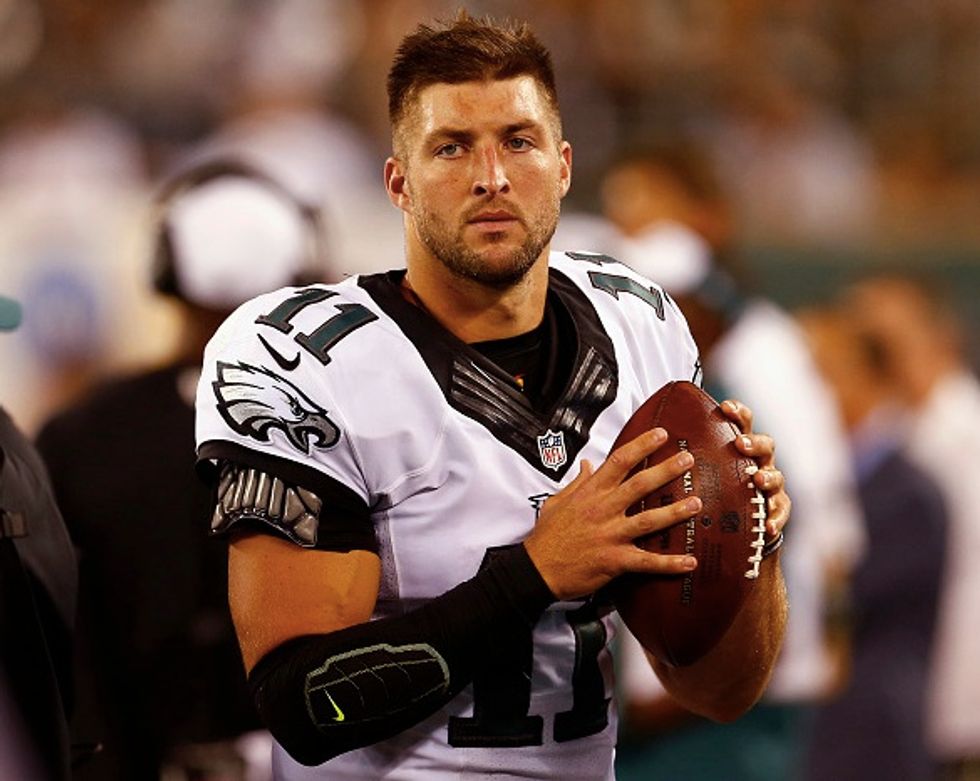 Quarterback Tim Tebow #11 of the Philadelphia Eagles warms up on the sidelines against the New York Jets in the third quarter during a pre-season game at MetLife Stadium on September 3, 2015 in East Rutherford, New Jersey. (Rich Schultz /Getty Images)
More from the Times:
There are several notable women speaking. They include Pam Bondi, the Florida attorney general, who tangled on television with the CNN anchor Anderson Cooper after the Orlando, Fla., nightclub massacre; Eileen Collins, the first woman to command a space shuttle mission; Gov. Mary Fallin of Oklahoma; Senator Joni Ernst of Iowa and Mr. Trump's wife, Melania.

There are a few African-Americans, like Jamiel Shaw Sr., who became an outspoken advocate for tougher immigration laws after his son was killed in 2008 by an undocumented immigrant; and Darryl Glenn, who is running for Senate in Colorado.
But equally as noteworthy, the Times said, are the names apparently not on the speaker list. They include former Alaska governor and 2008 Republican vice presidential nominee Sarah Palin and boxing promoter Don King — both of whom Trump said he was inviting, the paper said. In addition, New England Patriots quarterback Tom Brady, who the paper said is a very popular figure in New Hampshire, isn't on the list the Times obtained.
But Trump is still sending invites, his aides told the Times, which means the list could grow.
Here's the list the Times obtained, and which it said was confirmed by two people with direct knowledge of convention planning:
Night 1: A Benghazi focus, followed by border patrol agents and Mr. Shaw, whose son was killed by an undocumented immigrant. Senator Cotton, Mr. Giuliani, Melania Trump, Ms. Ernst and others.

Night 2: A focus on the economy: Mr. White, president of the U.F.C.; Asa Hutchinson, the governor of Arkansas; Michael Mukasey, the former United States attorney general; Lt. Gen. Michael Flynn, a vice-presidential possibility; Senator Mitch McConnell of Kentucky, the majority leader; Tiffany Trump; Donald Trump Jr. and Gov. Scott Walker of Wisconsin.

Night 3: Ms. Bondi; Ms. Collins; Newt Gingrich, a former House speaker; Senator Ted Cruz of Texas; Eric Trump; Ms. Gulbis; and the nominee for vice president.

Night 4: Mr. Tebow; Representative Marsha Blackburn of Tennessee; Gov. Mary Fallin of Oklahoma; Reince Priebus, the Republican National Committee chairman; Gov. Rick Scott of Florida; Mr. Thiel; Mr. Barrack; Ivanka Trump; Donald J. Trump.
Jeff Larson, CEO of the 2016 RNC, released a partial list of convention speakers Thursday morning, with a complete list to follow later:
Pastor Mark Burns

Phil Ruffin

Congressman Ryan Zinke

Pat Smith

Mark Geist

John Tiegen

Congressman Michael McCaul

Sheriff David Clarke

Congressman Sean Duffy

Darryl Glenn

Senator Tom Cotton

Karen Vaughn

Governor Mike Huckabee

Mayor Rudy Giuliani

Melania Trump

Senator Joni Ernst

Kathryn Gates-Skipper

Marcus Luttrell

Dana White

Governor Asa Hutchinson

Attorney General Leslie Rutledge

Michael Mukasey

Andy Wist

Senator Jeff Sessions

Retired Lt. Gen. Michael Flynn

Alex Smith

Speaker Paul Ryan

Congressman Kevin McCarthy

Kerry Woolard .

Senator Shelley Moore Capito

Dr. Ben Carson

Co-Chair Sharon Day

Natalie Gulbis

Kimberlin Brown

Antonio Sabato, Jr.

Peter Thiel

Eileen Collins

Senator Ted Cruz

Newt Gingrich

Michelle Van Etten

Lynne Patton

Eric Trump

Harold Hamm

Congressman Chris Collins

Brock Mealer

Congresswoman Marsha Blackburn

Governor Mary Fallin

Darrell Scott

Lisa Shin

Governor Rick Scott

Chairman Reince Priebus

Tom Barrack

Ivanka Trump

Attorney General Pam Bondi

Jerry Falwell Jr.

Rabbi Haskel Lookstein

Chris Cox

Senator Mitch McConnell

Tiffany Trump

Governor Chris Christie

Donald J. Trump Jr.

Governor Scott Walker
The RNC will feature a different theme each night, the Times said, and will focus on issues Trump has been speaking about during his campaign, such as the Benghazi attack, border security and former President Bill Clinton infidelities.
In the midst of planning the event, Team Trump has been working on issues surrounding potential challenges to his nomination — a sentiment echoed by RNC Chairman Reince Priebus.
"If we don't stick together as a party and stop her, then the only alternative is to get comfortable with the phrase President Hillary Clinton," Priebus told party leaders Wednesday.
This story has been updated.