Judge Jeanine Pirro on Friday slammed President Barack Obama as an "apologist" regarding his foreign policy.
"I'm an amateur," she said during a "Fox and Friends" interview. "When I first heard about ISIS in June of 2014, I said, 'Bomb them, bomb them, and bomb them again.'"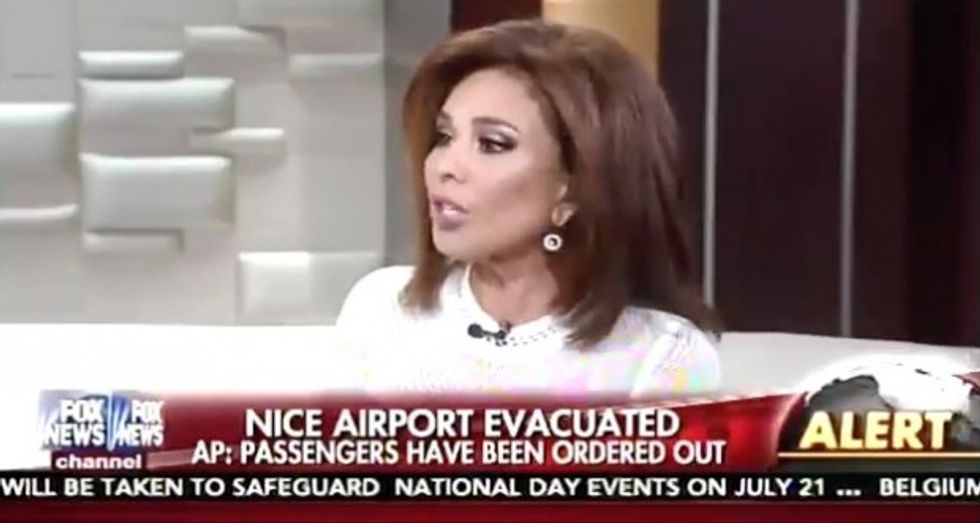 Image source: YouTube
Pirro also said Obama hasn't hasn't taken an effective stand against terror.
"If this president would stop apologizing for what we do and what we are and stop saying 'you Christians, it's your turn' as he did at a prayer breakfast, then maybe Americans would be united in a way that we understand that they're coming. They're here," she said. "I gotta tell ya. I'm as aggravated as everyone who has sat in this chair today."
Asked what the Obama legacy will be, Pirro replied: "Weak."
"One word: Weak," she added.
"He just doesn't have a plan. He doesn't have a policy," Pirro continued. "He should be in academia."
Pirro said the Islamic State is here "and they're going to kill us," adding that "we've got to declare war" on the Islamic State and "we've got to start having a conversation about surveillance on mosques."
"They just want to kill us," she said.
Watch below:
(H/T Mediaite)
—
Follow the author of this story on Twitter and Facebook: