Chilling audio from police radio traffic from Sunday's police killings in Baton Rouge has emerged, offering new details about the deadly attack.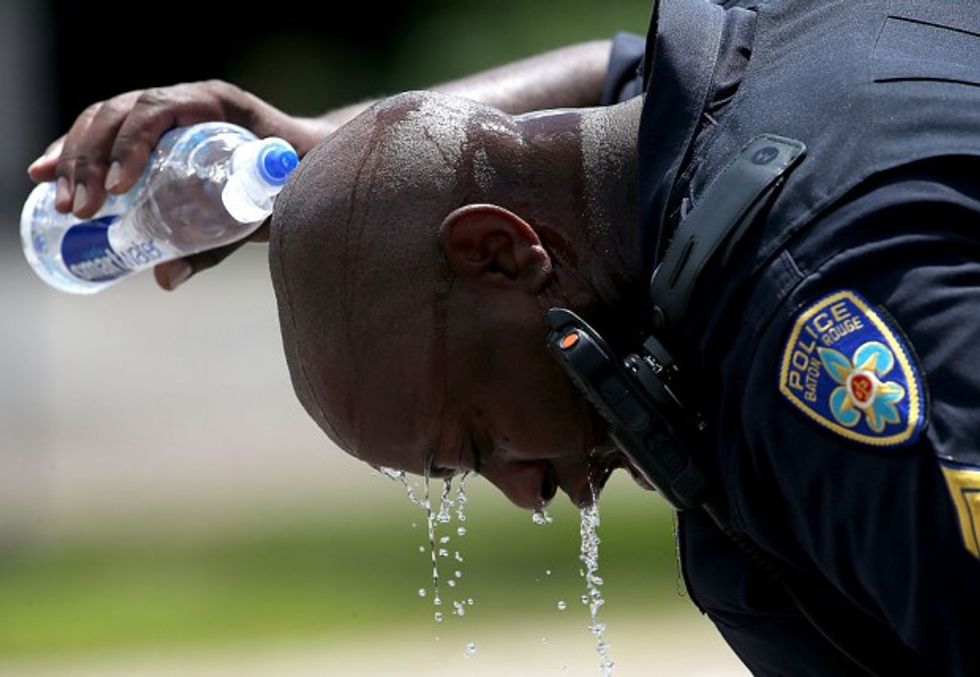 BATON ROUGE, LA - JULY 17: A Baton Rouge Police officers patrol pours water on his head on Airline Hwy after 3 police officers were killed early this morning on July 17, 2016 in Baton Rouge, Louisiana. According to reports, one suspect has been killed while others are still being sought by police. (Photo by Sean Gardner/Getty Images)
Baton Rouge police officers first answered a report of a man armed with a semi-automatic rifle. Upon arriving on the scene, they were met by gunfire. For several minutes, officers didn't know where the bullets were coming from, according to the audio.
"Shots fired, officer down!" one officer can be heard shouting during the attack.
More than two minutes later, an officer is heard saying they still don't know the shooter's exact location.
It's not until roughly six minutes after the initial "shots fired" report that police declare the shooter's location.
The website Broadcastify published the radio exchanges on Sunday.
You can listen to the audio below (WARNING: Disturbing content):
The full recording is about 17 minutes. You can listen to the full recording here.
---