Government authorities in China's central Guizhou province are reportedly cracking down on young Christians, warning they will be barred from attending college and entering the military if they don't stop going to church.
"This notice was sent to all of the schools in Huaqiu," Mou, head of Huaqiu Church, told human rights advocacy group China Aid. "They (public security) intend to cleanse us and ask us to join the Three-Self Church."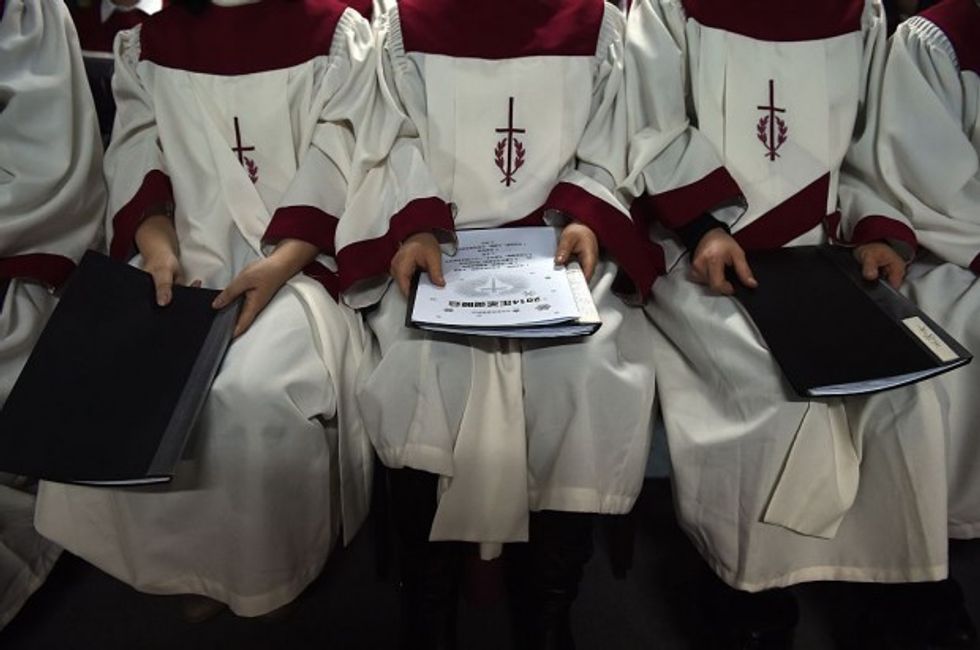 Members of a choir wait to sing at an underground church service on Christmas Eve at an apartment in Beijing on December 24, 2014. (Image source: Greg Baker/AFP/Getty Images)
The Three-Self Patriotic Movement — the government-run Protestant church — prohibits its members from "brainwashing" teenagers with religious teaching and bringing children to religious events.
According to China Aid, the local government in Guizhou announced the ultimatum late last month. After being notified of the new demand, members of Huaqiu Church said they were coerced to sign a document promising they would no longer take minors to church.
Any children who violate the order will be deemed ineligible to take a college entrance exam, the organization said, and denied admittance into military academies. And any parents who bring their children to church will be sued, according to China Aid, and under the legislation, children under the age of 18 may not receive any religious education.
[sharequote align="center"]"They intend to cleanse us ..."[/sharequote]
Mou told China Aid, "Yesterday morning, I questioned a government official in our township, saying, 'We do not accept the way you handled our church's public meetings … What regulations does the central government have prohibiting [church] meetings? Let us see them.' He said, 'The higher level leadership ordered us to do this; we are just doing [as they say].' Huaqiu is in a dark place."
Other Christians also asked whether or not the central government had any role in creating this legislation, China Aid said, but local officials refused to answer.
Citing a previous China Aid report, the Christian Post noted that churches in China's Pingyang County, Wenzhou, have been ordered to hand over all their tithes and offerings to the government. A local Christian man, who wasn't named in the report, said it's common for government officials to get involved in church affairs and manage donations churches receive.
"We have to obtain their (the government's) permission if we would like to buy equipment or decorate the church," the man told the Christian Post. "We will have to ask for permission for any expenses more than a few thousand yuan ($300)."