CNN anchor Don Lemon took to Facebook Monday afternoon to address widespread backlash over his interview with Milwaukee Sheriff David Clarke Sunday following the deadly Baton Rouge police shooting.
Clarke, a regular CNN contributor, blamed the recent streak of anti-cop violence on the "hateful ideology called Black Lives Matter," but Lemon tried to get the sheriff to temper his response and "keep the volume down." When that didn't work, the CNN veteran cut to a break.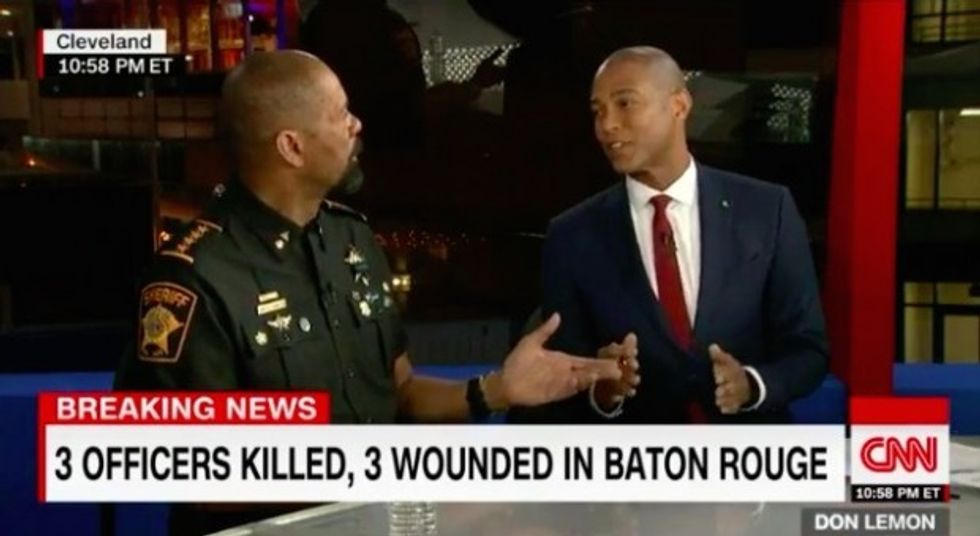 Image source: YouTube
After apparently receiving a lot of negative feedback following his decision to cut the interview short, Lemon wrote Monday, "Sad that emotion trumps facts and rhetoric thwarts honest discussion."
"That said," he continued, "displaying on live television exactly what so many fear about law enforcement is probably not the best representation right now of America's men and women who so bravely wear a police badge."
During the interview with Lemon, Clarke expressed frustration that the media was so quick to report the police-involved shootings of Alton Sterling and Philando Castile but hardly covers "black-on-black violence," which he said he sees as a far greater threat to the black community.
Clarke is scheduled to speak Monday evening at the Republican National Convention in Cleveland.