Milwaukee Sheriff David Clarke drew rousing applause when he took the stage at the Republican National Convention Monday night to declare, "Blue lives matter in America."
"Ladies and gentlemen, I would like to make something very clear: Blue lives matter in America," he said emphatically to the crowd of delegates gathered at the Quicken Loans Arena in Cleveland.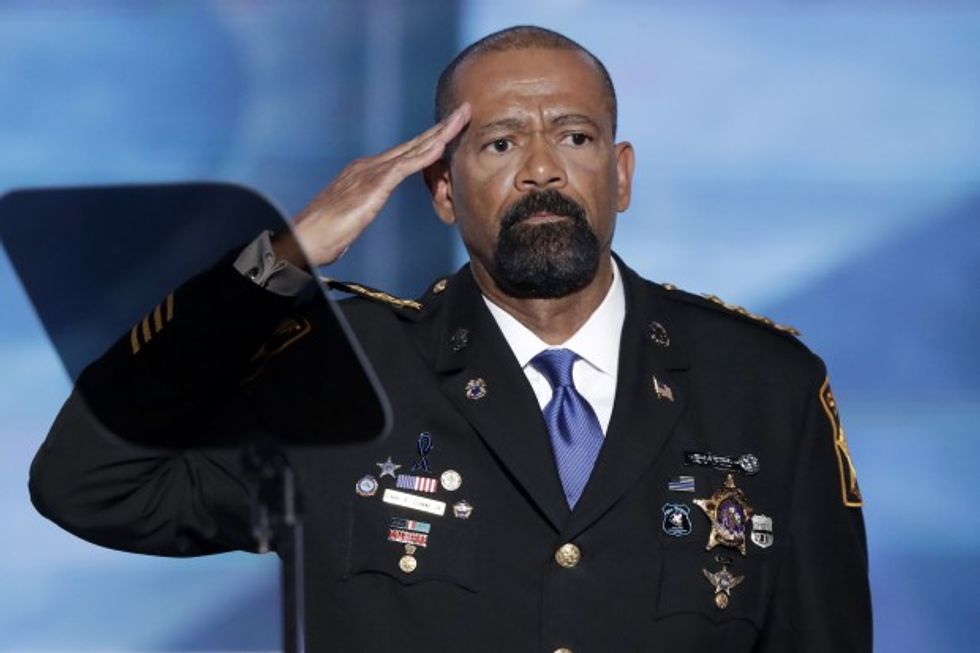 David Clarke, Sheriff of Milwaukee County, Wis., salutes after speaking during the opening day of the Republican National Convention in Cleveland, Monday, July 18, 2016. (AP Photo/J. Scott Applewhite)
At that, the sheriff, who has become a conservative icon in recent years, received a lengthy standing ovation.
"What we witnessed in Ferguson, and Baltimore, and Baton Rouge was a collapse of the social order," Clarke said. "So many of the actions of the Occupy Movement and Black Lives Matter transcends peaceful protests and violates the code of conduct we rely on — I call it anarchy."
Clarke went on to say police understand the racial tension that exists in the country and "appreciate the vital need for thoroughness and transparency and pursuit of the greater good in their actions and in their investigations."
"These are truths that are self-evident to me, which I practice," he said. "And they are the truths that Donald Trump understands and supports."
At that, Clarke pivoted toward Trump, saying the presumptive Republican nominee is the "steadfast leader our nation needs." The Milwaukee law enforcement officer said the billionaire businessman has spoken "passionately" to him about the American justice system and the "values at the foundation of our social contract."
He told the Cleveland crowd that Trump has not only advocated for the character and integrity of police officers, "but the need for all people to be treated fairly and respectfully by law enforcement."
While Clarke was warmly received during his address Monday night, his message — which he shares frequently — did not seem to resonate so well with CNN anchor Don Lemon during an interview over the weekend.
Using stronger language than he did at the GOP Convention, Clarke told the CNN host that the Black Lives Matter movement is a "hateful ideology" built on an "anti-cop sentiment." Lemon tried to diffuse the sheriff's frustration by asking him to "keep the volume down."
Ultimately, seeing that Clarke was not toning down his outrage over the latest police ambush in Baton Rouge, Lemon cut to a commercial break. After receiving much criticism for his handling of the interview, Lemon offered this message.
See a portion of Clarke's remarks below:
Wisconsin Sheriff David Clarke: "Blue lives matter in America" https://t.co/D2y8l4gkkb #GOPConvention #RNCinCLE https://t.co/0olYgsItR8

— CNN (@CNN) July 19, 2016
—
Follow the author of this story on Twitter: