"Lone Survivor" Marcus Luttrell, a retired Navy SEAL, offered a powerful speech Monday night at the Republican National Convention, chronicling his experiences in the military and thanking Americans for "allowing" him to serve for 20 years.
To the large crowd of delegates, who were gathered at the Quicken Loans Arena in Cleveland for the convention's opening night, which boasted the theme "Make America Safe Again," Luttrell offered a heartfelt plea on the part of veterans.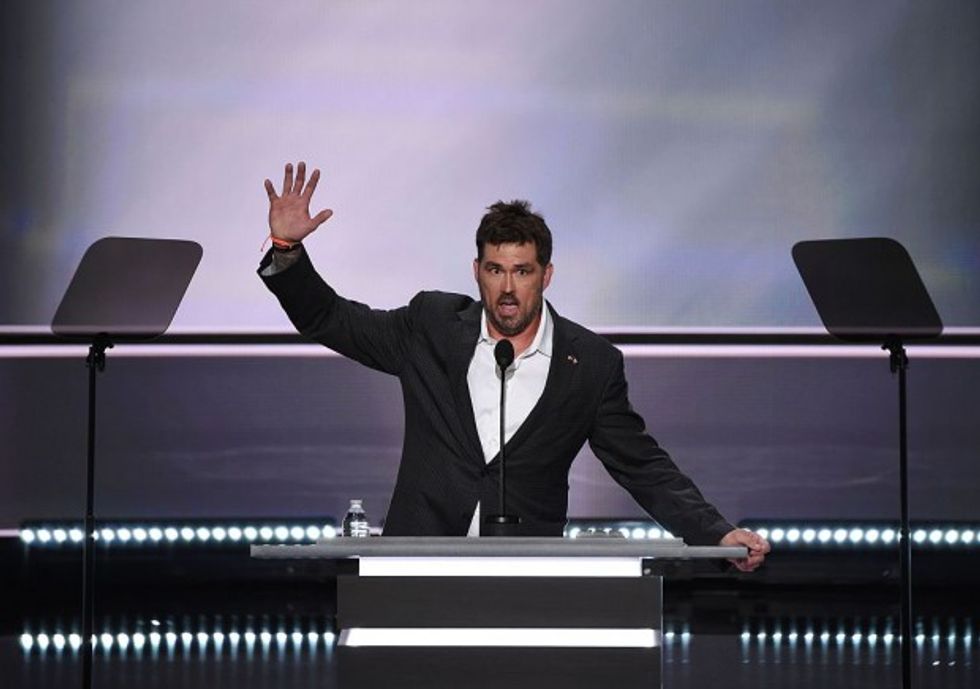 Photo by ROBYN BECK/AFP/Getty Images
"I think it's important to say that we got to make sure that the hell the veterans return from is not the hell [they] come home to, OK?" he said. "That's what was promised, and that's what's deserved."
It was at that point that the former SEAL started choking up. He talked about his love for his generation, Generation X, and offered gratitude for those who create charities and programs to help wounded veterans and families of the fallen "when the system doesn't take care of our boys."
"Please know that I end every day on my knees thanking God for y'all, and what you do, and how you covet my generation of veterans coming home," Luttrell said, his voice shaking.
He told the delegation that Donald Trump, the presumptive Republican nominee for president, "understands what it's going to take to fix" the problems currently plaguing the military community.
"The only way we're going to keep America safe is to have an elite military, all right," Luttrell said, before going off script.
The "Lone Survivor" author then called on Americans to join together as a "family," standing up for one another and backing each other up.
"The only way we survive this is together — not apart," Luttrell said. "In order for any life to matter, we all have to matter, you understand?"
He called on the "next generation" to prepare themselves to take the mantle from his generation because "your war is here." He asked who in the younger generations will "love something more than you love yourself" and who will "step up and take the fight to the enemy," challenging everyone to "fight for your country."
"The world outside of our borders is a dark place — a scary place," Luttrell said. "America is the light, and her people are the goodness that grows from that. She'll always be worth fighting for — it was my greatest honor to fight for her every day of my adult life."
Ultimately, the high-profile veteran ended his remarks by thanking those in attendance for "allowing" him to serve in the armed forces for 20 years.
"I swear to God I'm going to spend the next 20 paying you back," he said.
Watch the speech below:
–
Follow the author of this story on Twitter: