CLEVELAND — While nets holding thousands of balloons expectantly hang over the GOP floor, foreshadowing a celebration of a Republican nominee Donald Trump, the mood had been anything but celebratory.
Multiple veteran delegates who spoke to TheBlaze said this year's convention has lacked the allure and excitement that conventions have had in years past. Some of that lackluster is due, delegates divulged, in part because of just who the controversial and bombastic nominee is.
"After yesterday, I thought about skipping out last night and today," Brian Bledsoe, a Texas delegate, told TheBlaze. He added that he decided against that plan as those who elected him and financially supported him "didn't do that for me to sit in my hotel room and not participate in the process."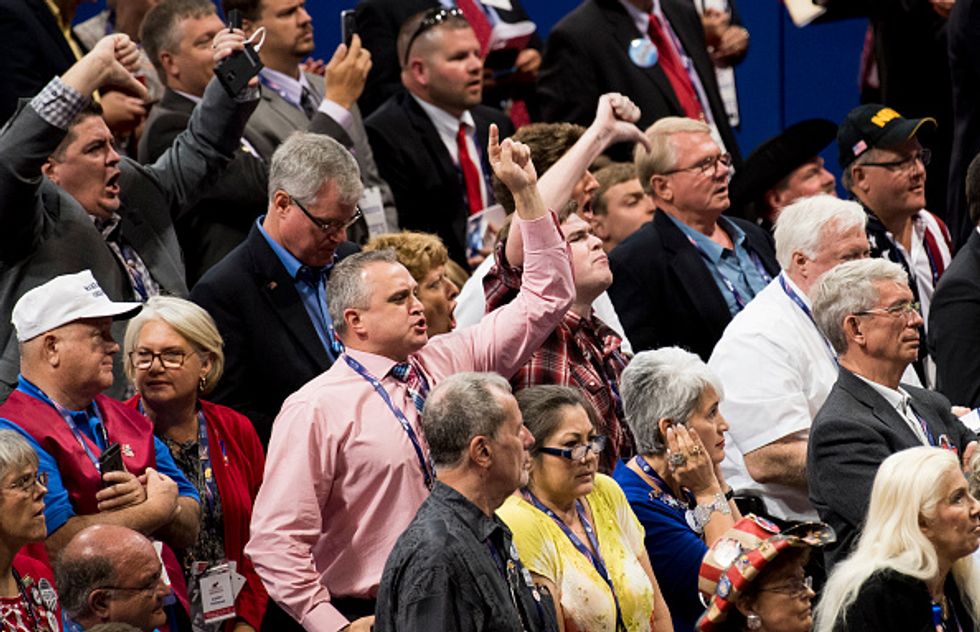 Delegates yell for a roll call vote on the adoption of the rules during the 2016 Republican National Convention in Cleveland, Ohio on Monday, July 18, 2016. (Getty Images/Bill Clark)
Bledsoe said that as a delegate for Texas Sen. Ted Cruz, he was disappointed in the "rules fiasco" on the convention floor both Monday and last week as the Rules Committee met and failed to add any provision that would allow delegates to "vote their conscience" instead of for Trump.
"But as a first-time attendee, I'm trying to make the best of an uneasy situation," he said.
Matthew Pagano, a Minnesota delegate told TheBlaze that while most in his delegation are "pretty pumped" about Tuesday's roll-call, there is somewhat of a "range of resignation to excitement."
One delegate from a western state who spoke on condition of anonymity told TheBlaze that if this was how the past two GOP conventions that he attended were like, he would not have wished to become a delegate this year.
"There is certainty a feeling of despair here in Cleveland. Many people, including some of the delegates, came here just barely stomaching the idea of a Trump nomination," Ashley Pratte, spokeswoman for an organization working to gain ballot access for an independent candidate, told TheBlaze.
Better For America, Pratte's organization, does have a presence here in Cleveland as she said "some still believe there is a fight to be had" and "to rally those who believe America deserves better" than Trump and Clinton. Better For America hosted a reception and dinner for so-called "Never Trump" delegates Tuesday evening — the same night and time during the floor vote to officially crown Trump the nominee.
At least a handful of delegates attended the open-bar reception as opposed to attending the floor vote to nominate Trump.
Delegates, those for and against Trump, grappled with disappointment Monday after a controversial voice vote occurred on the convention floor. Those part of the anti-Trump faction wished to stage a last-ditch effort to unbind delegates and unseat presumptive nominee Trump; others simply wanted a roll-call vote in order to maintain a fair process.
"I've been to every RNC Rules meeting since Tampa in 2012. I'm very process-oriented. Trump is the nominee. Let us have rules roll-call," Matthew Hurt, a Virginia delegate, tweeted Monday afternoon.
Regina Thompson, a Colorado delegate and a leader of the free-the-delegates movement, dejectedly told TheBlaze Monday that her next move is to "drink heavily and try to reform the party from within."
"That was a shameless display of tyranny. In the Republican Party, no less," she said.
Thompson was one of the delegates in attendance at Better For America's event Tuesday as the vote took place.
A Millennial tech founder from California, who is at the convention to promote his company to conservatives and libertarians, told TheBlaze at the reception that he was rather disappointed in the convention thus far.
"I came all this way, and this is it?" he said laughing.
Iowa Republicans were also not too pleased after Monday headliner and Hawkeye State favorite Sen. Joni Ernst's speech at the Quicken Loans Arena was pushed back until slightly before 11 p.m. — especially as it followed a scattered address from former Lt. Gen. Michael Flynn who seemed more intent on leading chants than giving an address.
"I don't get very angry often, but I was disappointed," said Iowa Gov. Terry Branstad (R) Tuesday at a lunch for the Iowa contingents.
"Obviously I was upset that Joni didn't get to be in primetime," he continued to tell reporters. "She gave a great speech. We are so proud of her, and she's doing a great job."
By the time Ernst gave her speech, almost the entire convention arena had cleared out — sans the Iowa delegation.
An Iowa GOP operative told TheBlaze that Iowans are tough and while they didn't take too kindly to the pushing back of Ernst's speech, the RNC should not expect such a positive reception from the state in the future.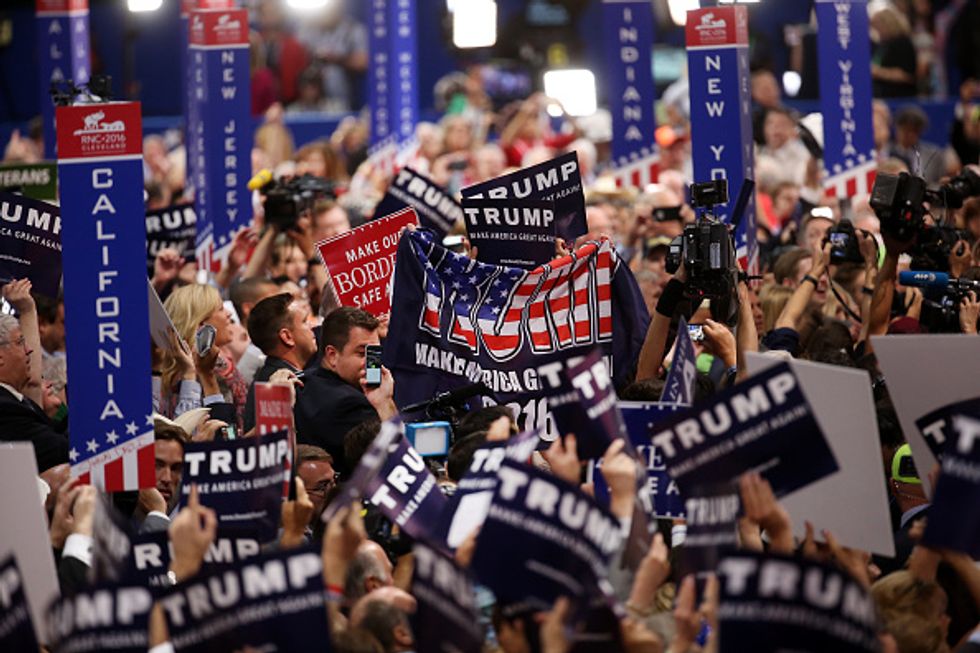 Delegates hold campaign signs for Donald Trump, 2016 Republican presidential nominee, during the Republican National Convention (RNC) in Cleveland, Ohio. (Getty Images/Daniel Acker)
"Typically, conventions are full of excitement and the participants and attendees are fully vested in the candidate and the party, but it doesn't seem to be the case this time," Pratte told TheBlaze. "There's a lot of talk about the future of the party and what it looks like with Trump as the standard bearer."
Crowd size at RNC is underwhelming. Same with the applause, cheers, chants, ovations, etc. https://t.co/uyZVheORZq

— Matt Katz (@Matt Katz) 1468975206.0
What it looks like so far — at least as the convention opens — is an absence of notable Republican leadership in Cleveland. Many more vulnerable lawmakers have said they are skipping the convention to focus on their own races while others have been a little less tactful in their responses.
Sen. Ben Sasse (R-Neb.) said earlier this month that he planned to forgo the Cleveland hoopla in order to "take his kids to watch some dumpster fires across the state, all of which enjoy more popularity than the current front-runners."
Sen. John McCain (R-Ariz.), the 2008 Republican presidential nominee is also noticeably absent from the convention. His spokesperson told TheBlaze that he will be traveling around the Grand Canyon State to meet with constituents and campaign, but his Republican challenger Dr. Kelli Ward told TheBlaze after her own speech at a pro-Trump rally in Cleveland that McCain was, in fact, sightseeing at the actual Grand Canyon.
Also missing from the convention arena is Ohio Gov. John Kasich, himself a 2016 Republican presidential contender. But Kasich is around town and keeping plenty busy with his own events, including a town hall at the Rock and Roll Hall of Fame — less than one mile from the Quicken Loans Arena where the convention is being held.
A campaign reporter covering the convention, who was not authorized to speak on the record, told TheBlaze that the controversy surrounding Melania Trump's apparently plagiarized speech could also put a damper on any excitement surrounding the rest of the Trump family speeches.
But as the balloons hang above the convention floor, not everyone is disappointed with the convention so far.
Matt Moore, South Carolina's GOP chair, told TheBlaze that he disagreed with the idea that the 2016 GOP convention is boring.
"Every convention is different," he said, adding that in 2012 his delegation was more than one hour away from Tampa, whereas this time they are slightly more than a block away from the arena.
"Conventions are what you make of them," Moore added. "We are keeping delegates busy and full of food."
—
Follow Kaitlyn Schallhorn (@K_Schallhorn) on Twitter