NFL running back Alfred Morris recently signed a $3.5 million deal with the Dallas Cowboys, but he won't give up his 1991 Mazda 626, which he bought from his pastor for $2, according to Fox Sports.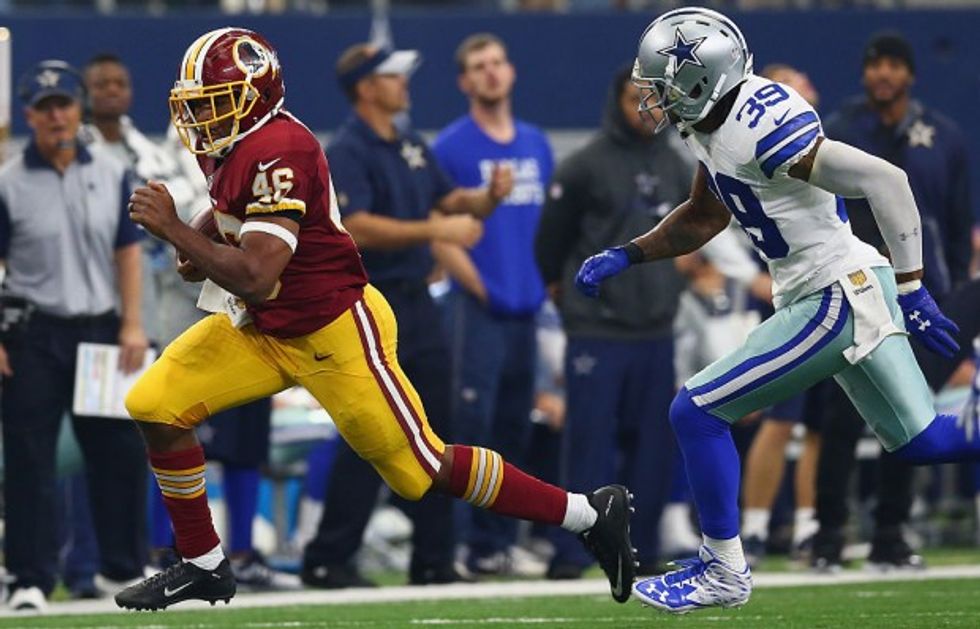 Alfred Morris #46 of the Washington Redskins runs the ball against Brandon Carr #39 of the Dallas Cowboys at AT&T Stadium on January 3, 2016 in Arlington, Texas. (Ronald Martinez/Getty Images)
"Yes, I still have my car," Morris told Five Points Blue. "I still drive 'Bentley,' which is what I call my car even though she's not really a Bentley. It's always going to be my baby, and I'm going to drive it 'til she dies."
When Morris left the Washington Redskins, he had the car shipped from D.C. to Dallas.
"I didn't get to drive it down because I had to get here so quickly for 'captain's workouts' after I signed with the Cowboys," Morris said. "They already had over 40 guys who were back for workouts. So I came quickly and was part of that. I had the car shipped, and I'm driving it now."
Morris did say he would consider renting a car as he adjusts to Texas weather.
"With this weather right now, all the rain storms for the past couple of weeks, I'm like, 'Man, I don't want my car to get in an accident!'" he said. "So I'm thinking of finding something else temporarily."
According to Fox Sports, Morris still drives the car to remind himself that he's not a "flashy guy" and of his humble beginnings even though he makes millions.