An Alabama Taco Bell employee was fired Monday after refusing service to a pair of sheriff's deputies over the weekend, AL.com reported.
The deputies took their meal hour Saturday evening at a Taco Bell in Phenix City, Lee County Sheriff Jay Jones told the outlet, where an employee working the register told them they would not be served because they were law enforcement.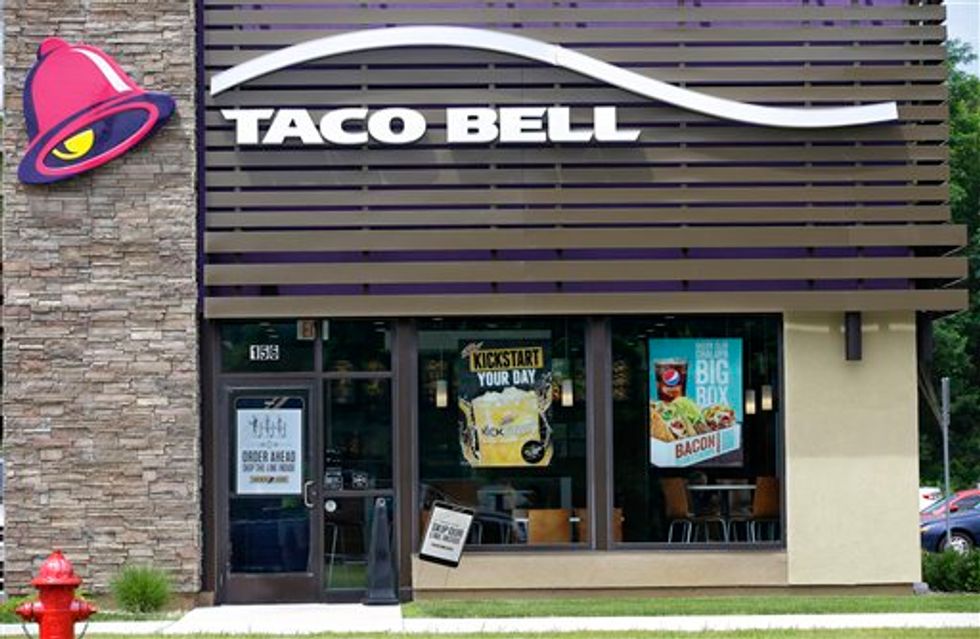 AP Photo/Stephan Savoia
At first the officers "thought the employee was kidding," Jones told AL.com.
"The employee then said, 'No, I'm not kidding. We're not going to serve you, and you need to leave,'" the sheriff explained.
Jones added that the deputies left the restaurant, but on their way out, they overheard another customer commending the cashier, reportedly saying she would have left if the officers had been served.
When Taco Bell's corporate office caught word of the incident, Tacala Companies — franchise owner of the Phenix City Taco Bell — issued a statement in response stressing that the company does not condone the employee's actions and that it supports law enforcement, WRBL-TV reported.
"In no way [do we] endorse this sentiment," the statement read. "We are deeply appreciative of the men and women who have taken the oath to serve and protect our communities. We have launched an investigation into this matter and will be reaching out directly [to the sheriff]."
Jones told AL.com that corporate workers from the restaurant's headquarters in Birmingham paid a visit to the Taco Bell location Monday and conducted an investigation. He confirmed that the employee who refused to serve the officers was subsequently fired.
"We try to give people basic respect, and we expect that in return," Jones said.
He shared that the workers who conducted the investigation visited the Lee County Sheriff's Office Monday and apologized to the deputies and to the department as a whole.
They again stressed, this time in person, that the actions of the fired employee do not reflect Taco Bell's corporate policy, Jones said.
After news of the incident spread, members of the community vowed never to eat at the Phenix City restaurant ever again, according to Jones. The sheriff noted, however, that he encourages people to recognize that it was the employee was at fault, not the company.
"We can't judge the company based on one employee, just like people can't judge police on the actions of one officer," he said.
Of the deputies who were turned away Saturday night, Jones said that he's glad they're on his team.
"They work from the heart ... I'm very proud of them," he said.
Jones also offered his condolences to the families of slain officers in Baton Rouge and Dallas, as well as their departments.
"This situation was disappointing ... but it pales in comparison with the events in Baton Rouge and in Dallas ... We share their grief and stand with their departments."
(H/T: Todd Starnes)