Chris Christie absolutely tore into Hillary Clinton during a rousing rhetorical "indictment" of the former secretary of state, and the presumptive Democratic nominee is not taking the fiery address lightly.
Clinton took to Snapchat Wednesday to blast Christie with behind-the-scenes footage of a meeting between the two after the New Jersey governor offered his bold remarks during a GOP convention address at the Quicken Loans Arena in Cleveland Tuesday night.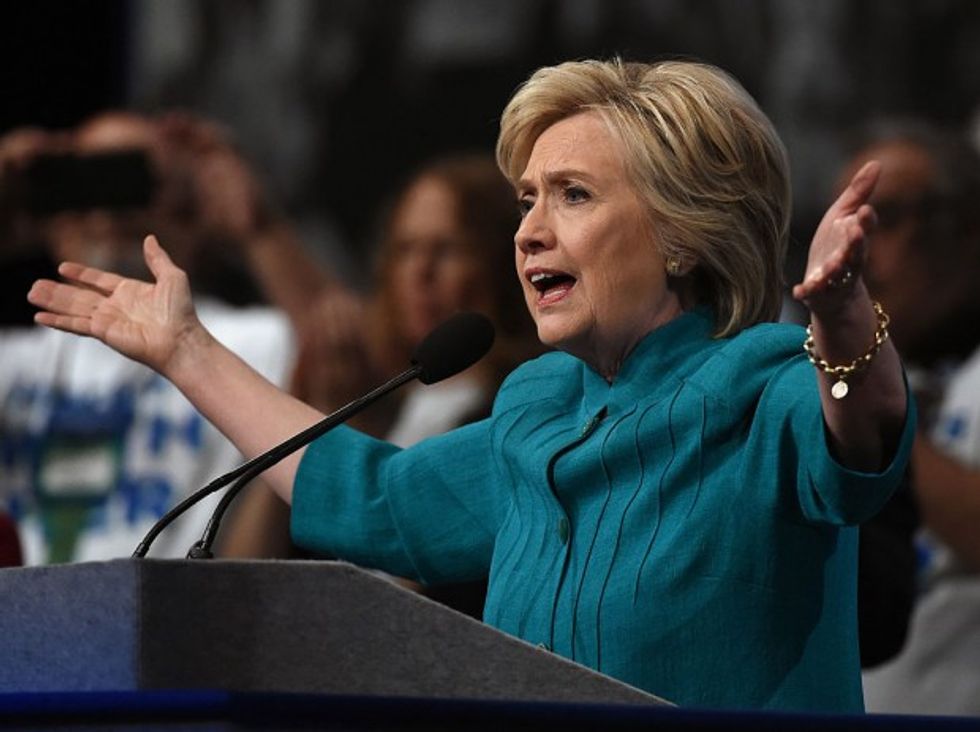 Democratic presidential candidate Hillary Clinton speaks at the American Federation of State, County and Municipal Employees (AFSCME) 42nd International Convention at the Las Vegas Convention Center on July 19, 2016 in Las Vegas, Nevada. Clinton continues to campaign for the general election in November while the Republicans hold their national convention. (Photo by Ethan Miller/Getty Images)
The video shows Clinton and Christie holding a friendly conversation during a serendipitous run-in between appearances on CNN's "State of the Union" show earlier this year. In the video, Christie can be heard telling the presumptive Democratic nominee, "Tell the president I said, 'Hi.'"
"All I do is hug Democrats," he continued, as Clinton laughed. "It gets me in trouble all the time. All the time."
The move by Team Clinton comes one day after Christie spoke in the Quicken Loans Arena in Cleveland, where he delivered a rousing address, laying out a rhetorical "indictment" of Clinton. Throughout the speech, he labeled the Democratic candidate "reckless," "an awful judge of character" and "an inept negotiator."
"She was America's chief diplomat," Christie said early in his fiery speech. "Look around at the violence and danger in our world today every region of the world has been infected with her flawed judgment. But let me be specific, so you can render your verdict."
As he continued his remarks, he asked the audience to render a verdict: "Guilty or not guilty?" he would inquire.
Frequently interrupted to chants of "lock her up, lock her up," Christie told the eager audience, "Oh we're not done yet."
"The indictment isn't complete," he said.
Watch the Clinton clip below:
Clinton responds to Chris Christie with brutal, never-before-seen video of them hugging https://t.co/V2FgXF5rhA pic.twitter.com/6XYny43p8E

— Oliver Darcy (@oliverdarcy) July 20, 2016
(H/T: Business Insider)
—
Follow the author of this story on Twitter: