CLEVELAND — It was Indiana Gov. Mike Pence who was at Republican nominee Donald Trump's side Wednesday afternoon to greet supporters — but it wasn't always supposed to be him, according to the New York Times.
Ohio Gov. John Kasich, once a 2016 Republican presidential contender himself, was coveted by the Manhattan billionaire to be his running mate. Trump wanted Kasich so much, in fact, that he offered the popular governor a lot, the Times reported.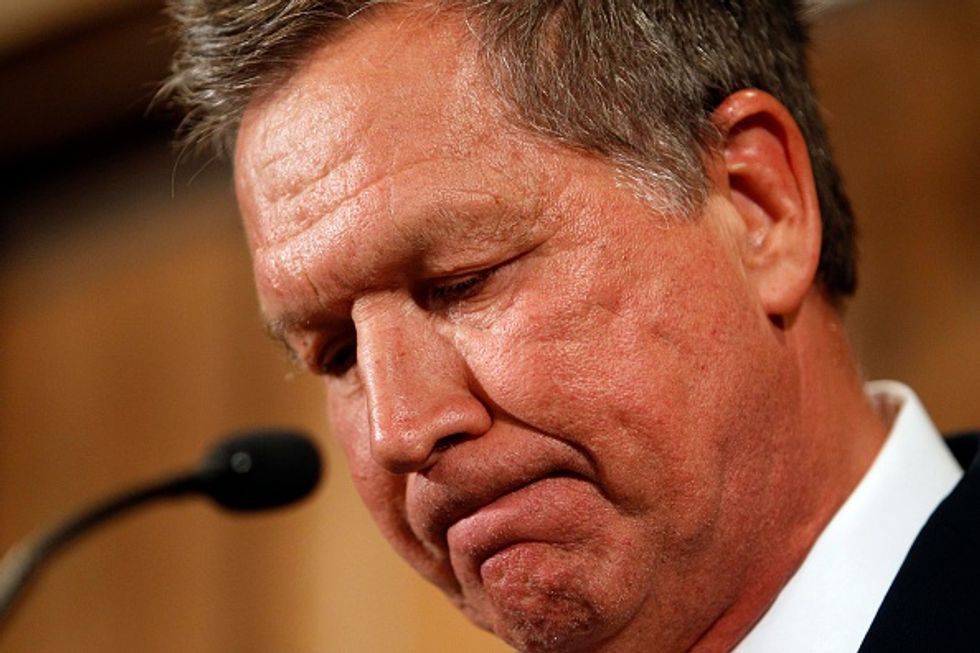 Former Republican presidential candidate Ohio Gov. John Kasich. (Getty Images/J.D. Pooley)
An anonymous Kasich adviser told the Times that the governor was approached by Trump's oldest son, Donald Trump Jr., who offered him the position of Trump's running mate. As his right-hand man, the adviser said, Kasich would be in charge of domestic and foreign policy while Trump would tackle "making America great again."
A person with knowledge of the governor's affairs told TheBlaze that Kasich was indeed approached by the Trump campaign but declined to go into details or divulge just who spoke to Kasich.
Former Trump campaign manager Corey Lewandowski told TheBlaze Wednesday that he personally was not part of any talks with Kasich regarding a potential role in the Trump administration.
But regardless of the details of Trump's offer, he still ultimately tapped Pence to be by his side — including as he dramatically landed in a chopper near Lake Eerie to briefly greet supporters Wednesday.
"I'm satisfied professionally," Kasich said Tuesday from Cleveland's Rock and Roll Hall of Fame.
Kasich is around Cleveland during the GOP convention, but his absence from the Quicken Loans Arena is noticeable.
—
Follow Kaitlyn Schallhorn (@K_Schallhorn) on Twitter