MSNBC's Rachel Maddow offered a warning to her viewers before a segment from the Republican National Convention involving presumptive Democratic presidential nominee Hillary Clinton.
Why the warning? Was the report on Clinton's email scandal? Bill Clinton's meeting with Attorney General Loretta Lynch? Nope.
Anti-Hillary Clinton buttons.
"I want to show you a little something that we shot earlier today," Maddow said Wednesday night, seated next to a dour-looking Brian Williams. "You may find it uncomfortable," she added, "and so you may not want to look at this stuff."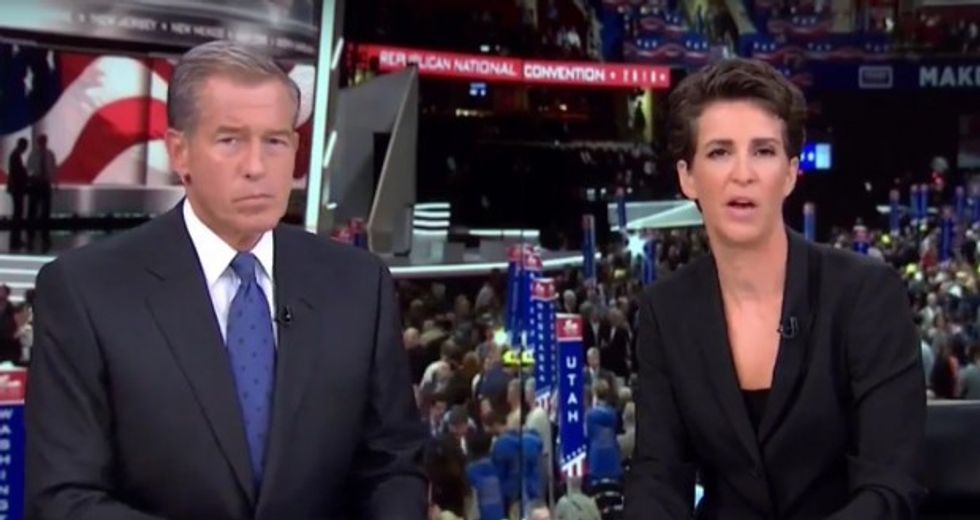 Image source: YouTube
With that the clip jumped to an image of Clinton-themed buttons being hawked by merchandisers at the RNC:
I love all of these anti-Hillary buttons. Whoever made them is very creative.@realDonaldTrump @DonaldJTrumpJr pic.twitter.com/0gSebCK6gb

— Angela Matthews (@AngelaM5729) July 21, 2016
More from Maddow:
But from calling Hillary Clinton a bitch, to the KFC special referring to her breasts and thighs and left-wing and all of those other things. That's part of the merchandise of the RNC. We've also seen pre-printed signs saying "Hillary Clinton for prison." We've seen calls from the stage that she ought to be in stripes, that she ought to be locked up. That's been a chant throughout the convention proceedings thus far. We expect to see more of this tonight.
Here's Maddow's intro for the MSNBC clip, via Newsbusters:
(H/T: Young Conservatives)