© 2023 Blaze Media LLC. All rights reserved.
"It's almost like a suicide letter."
BATON ROUGE, La. (AP) -- The man who ambushed and killed three law enforcement officers in Louisiana purportedly described his actions as a "necessary evil" in a self-described, handwritten manifesto that an Ohio man says was emailed to him by the gunman less than an hour before the shootings.
Photographs of the three-page letter show it was signed by "Cosmo," the first name of an alias used by Baton Rouge gunman Gavin Long, and the pictures were attached to an email, with the subject line "manifesto," sent from a Google address Long used.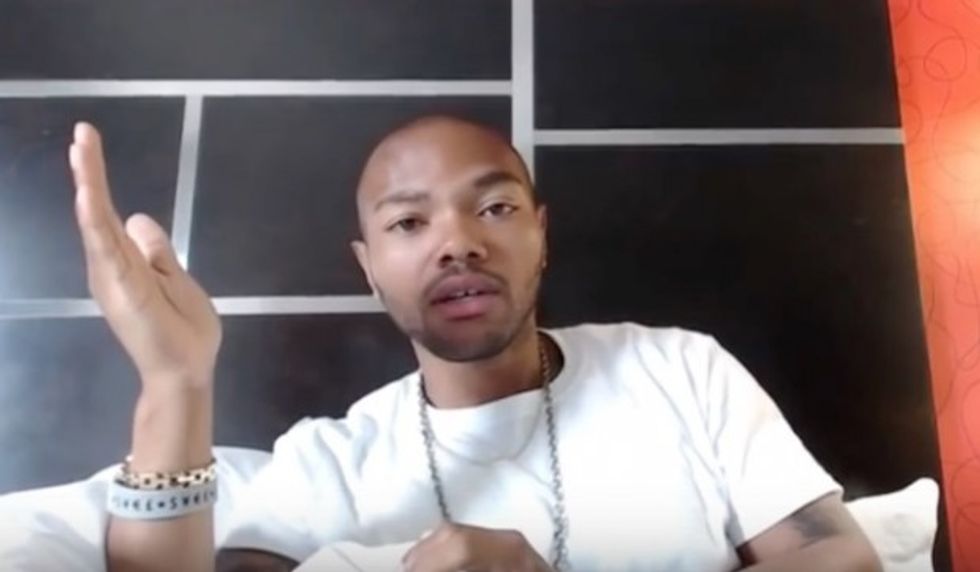 The man believed to be Baton Rouge police shooter Gavin Long appears in a YouTube video under an alias. (YouTube)
In the letter, Long said he expected people who knew him wouldn't believe he would commit "such horrendous acts of violence." He wrote that he viewed his actions as necessary to "create substantial change within America's police force."
The Associated Press obtained the photographs of the letter Wednesday from Yarima Karama, a Columbus, Ohio, musician who said he didn't know Long personally but received several emails from him after Long began commenting on Karama's YouTube videos in March.
Karma addressed the emails in a Facebook Live video:
"It's almost like a suicide letter," Karamo said.
"If it's him, he's going into some stuff in there. And he basically at the end is saying, you know, that he's sacrificing himself," he added.
The AP was not able to conclusively verify Long sent the photos himself from his Google account. Metadata reviewed from the three photos indicates they were snapped shortly before 8 a.m. on the day of the shooting using a Motorola Android cellphone, but both photos and time stamps can be modified. The photographs appear to have been taken from inside a car because a gearshift and a cup holder are visible.
Police have said officers first saw the shooter at a convenience store at 8:40 a.m. Sunday. Within two minutes, there were reports of shots fired. Police gunned down Long after he fatally shot three officers and wounded three others. It was his 29th birthday.
The violence capped two weeks of turmoil for Baton Rouge that began with the killing of a black man, Alton Sterling, during a scuffle with two white police officers at a convenience store. That shooting, captured on cellphone video, provoked widespread protests about police treatment of the black community.
Karama said he provided a copy of the letter to FBI agents who interviewed him at his home Wednesday.
The story about the manifesto was first reported by BuzzFeed.
Todd Lindgren, a spokesman for the FBI office in Cincinnati, said he could not respond to any questions about the case "due to the Baton Rouge matter being an ongoing investigation," and the FBI's New Orleans office also declined comment.
Louisiana State Police Col. Mike Edmonson said law enforcement officers found an array of handwritten documents in Long's car and a hotel where he was staying, but he did not know if the material included the letter Karama shared.
"It was all rants and raves," Edmonson said.
In the self-described manifesto, which was started off with the words "Peace Family," Long wrote about a "concealed war" between "good cops" and "bad cops," and said he felt obligated to "bring the same destruction that bad cops continue to inflict upon my people."
Long, a black military veteran whose last known address was in Kansas City, Missouri, spent five years in the Marine Corps. He served one tour in Iraq before being honorably discharged.
Before the Baton Rouge shootings, Long posted rambling internet videos calling for violent action in response to what he considered oppression.
He did not specifically mention Baton Rouge or detail his plans for an attack in the letter.
"I know I will be vilified by the media & police," it read. "I see my actions as a necessary evil that I do not wish to partake in, nor do I enjoy partaking in, but must partake in, in order to create substantial change within America's police force, and judicial system."
Karama read the letter in a video posted on YouTube. He declined to provide the AP with copies of the other emails he said he received from Long or with additional technical information about Sunday's email that possibly could help the AP conclusively verify Long wrote the letter.
Karama, who described himself as a hip-hop artist and community activist, said he provided other information about Long's emails to various news outlets.
"I'm about building my own brand at this point," he said. "I've given the information to who I need to."
—
Want to leave a tip?
We answer to you. Help keep our content free of advertisers and big tech censorship by leaving a tip today.
more stories
Sign up for the Blaze newsletter
By signing up, you agree to our
Privacy Policy
and
Terms of Use
, and agree to receive content that may sometimes include advertisements. You may opt out at any time.