Peter Thiel, a Silicon Valley entrepreneur and co-founder of PayPal, took the stage Thursday night to become the first speaker in the Republican Party's history to declare, "I am proud to be gay," from the stage of the GOP convention.
"I am proud to be a Republican," he continued, "but most of all, I am proud to be an American."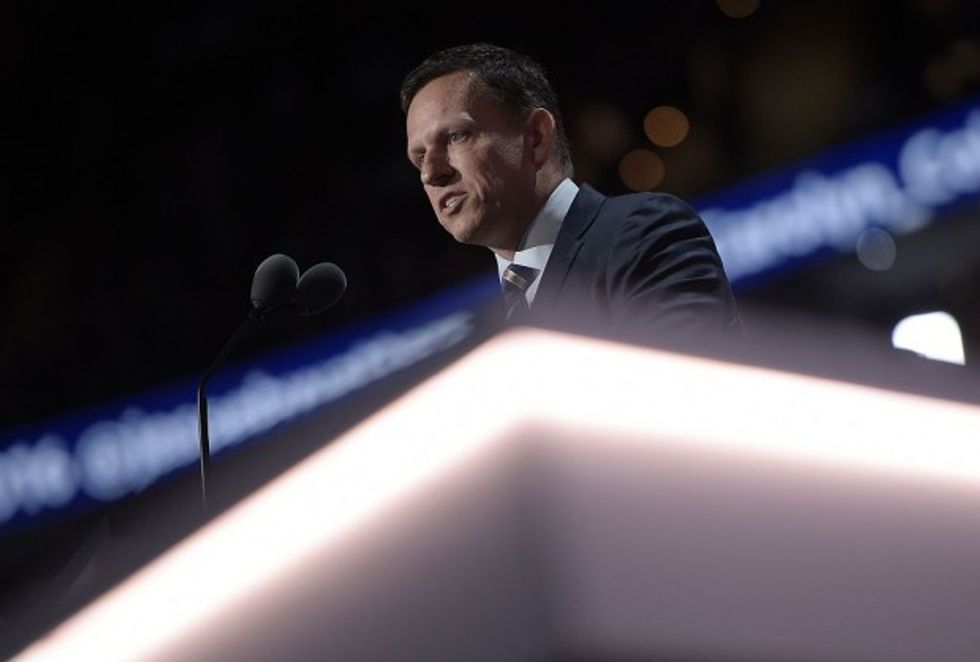 PayPal co-founder Peter Thiel speaks during the Republican National Convention at the Quicken Loans Arena in Cleveland, Ohio on July 21, 2016. (Photo by BRENDAN SMIALOWSKI/AFP/Getty Images)
Thief, who earned thunderous applause for saying he's gay, encouraged his fellow Republicans to stop focusing on social issues, specifically the highly-controversial transgender bathroom bills that have garnered so much attention this year.
"This is a distraction from our real problems. Who cares?" Thiel asked. "I don't pretend to agree with every plank of our party platform."
Instead, the libertarian-leaning venture capitalist said the GOP should set its sights on bettering the struggling economy and building an anti-war foreign policy. He called for a party that embodies ingenuity.
"Instead of going to Mars, we invaded the Middle East," he said. "It's time to end the era of stupid wars and rebuild our country."
During his brief remarks, Thiel talked about how the government is far behind Silicon Valley when it comes to innovation and technology, declaring Capitol Hill to be "broken."
"Our nuclear bases still use floppy disks," he quipped. "We don't need to see Hillary Clinton's deleted emails — her incompetence is in plain sight."
Interestingly, Thiel's speech — in which he clearly called on the GOP to change its positions on LGBT issues — came at a primetime speaking slot, alongside close friends of Donald Trump and on the same evening the businessman accepted the Republican Party's nomination for president.
On Thursday, Thiel became the first openly gay Republican to address the delegation since former Arizona Rep. Jim Kolbe in 2000. However, Kolbe did not mention his sexual orientation from the stage.
Watch Thiel's remarks below:
Tech entrepreneur Peter Thiel tells #RNCinCLE crowd he's "proud to be gay" and "proud to be a Republican" pic.twitter.com/kRsBiIH36f

— Yahoo News (@YahooNews) July 22, 2016
—
Follow the author of this story on Twitter: