As Black Lives Matter protesters blocked streets and sidewalks in Washington, D.C., Wednesday, one exchange between an elderly man and protesters was caught on video near Union Station.
The man wanted to walk down a sidewalk on his way to work, WTTG-TV reported, but Black Lives Matter protesters were blocking it and wouldn't let him through.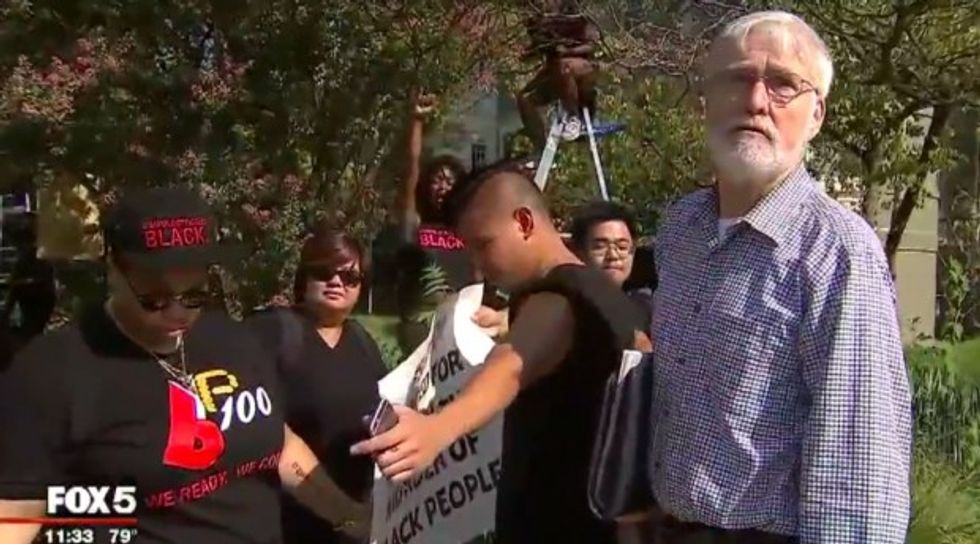 Image source: WTTG-TV
"Walk around! Walk around! Walk around!" protesters chanted, as they sidestepped with outstretched arms, mirroring the elderly man's maneuvers to try and find a way through.
"I don't wanna walk around, I wanna walk this way," the man said, pointing down the blocked sidewalk.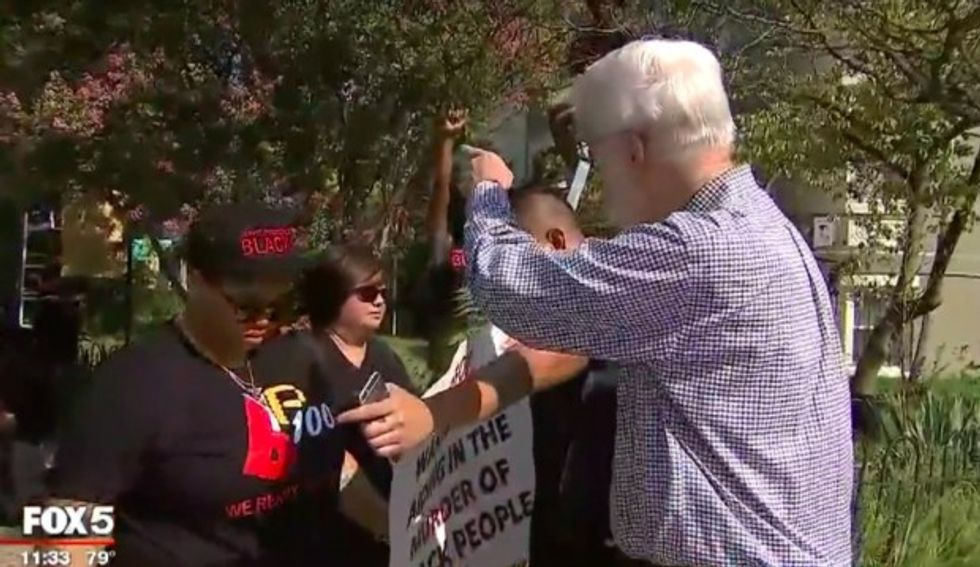 Image source: WTTG-TV
The protesters didn't budge: "Use your white privilege to walk around, sir," one protester was heard saying.
The man then flagged down a police officer, telling him he wanted to walk through, as new chants of "we see your white privilege" were heard.
After the officer approached the group and spoke to a woman who appeared to be in charge, she told the elderly man not to put his hands on the protesters and they wouldn't put their hands on him.
"I'm not gonna touch anybody," the man replied. "Can I walk through?"
"Would you take a block for white privilege?" the woman asked him.
"No," the man answered. "Can I walk through?"
"You can go that direction," the woman replied, nixing the man's request, as he shook his head and walked down another block.
Check it out:
WTTG reported that protesters said they were demonstrating against police brutality and would remain for 28 hours, which represents the number of hours Michael Brown's body was on a street in Ferguson, Missouri. The protests ended after 15 hours, WTTG reported.
The station added in another Wednesday report that protesters let black people through blocked locations but not white people.
In a similar scene captured on camera, a man riding a bicycle with three young children was blocked by protesters.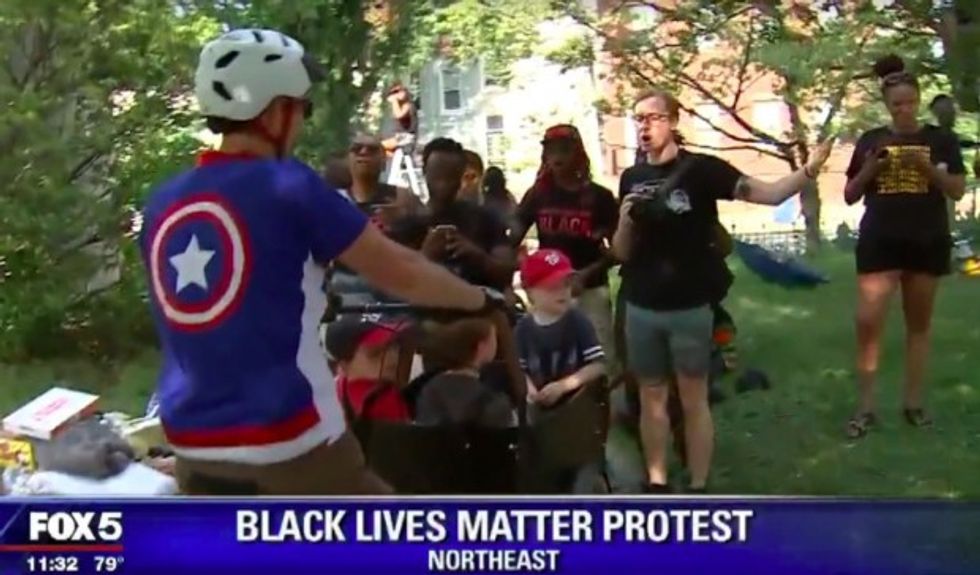 Image source: WTTG-TV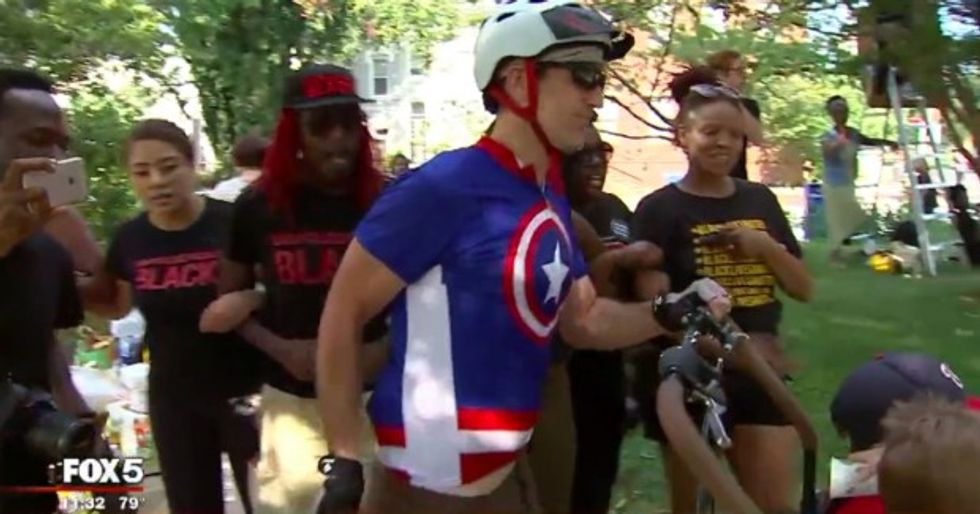 Image source: WTTG-TV
He turned his bike around and rode down another street as protesters chanted.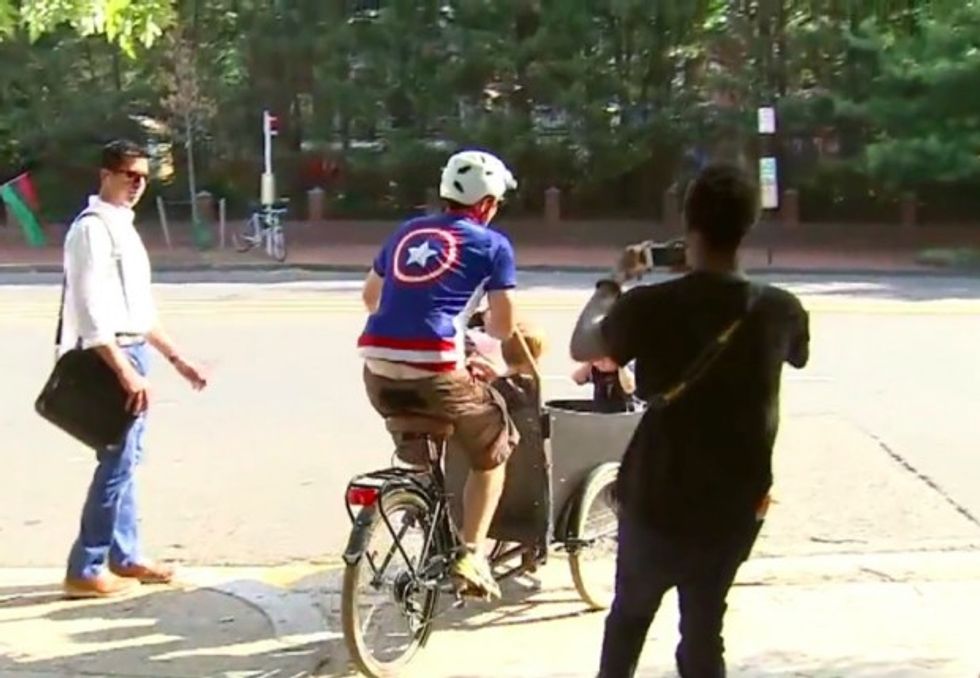 Image source: WTTG-TV
"No longer will we allow the bodies of black people to lay on the ground or for police officers to call union representatives before calling medical assistance for black people they have just murdered," one protester said.
"FOP, we see you," another protester said. "FOP, we make you visible. You have been allowed to function in the shadows and in the hallways of darkness for far too long. You have been allowed to cover up the accountability process for murderous cops for far too long. You have been allowed to pass violent legislation onto black and brown communities for far too long. Today, we shine a light on your policies."
WTTG, citing sources, said officers called Police Chief Cathy Lanier asking for permission to make arrests, but she ordered them to stand down and not make any arrests.
A Thursday protest is expected on the U.S. Capitol grounds in front of the Republican National Committee's offices, the station said.