BEIJING (AP) — Torrential rains that swept through China this week have left at least 112 people dead and 91 others missing, various provincial governments reported on Saturday.
The rains, which began on Monday, have flooded streams, triggered landslides and destroyed homes across China. The northern province of Hebei has been hit the hardest, with authorities there saying 72 people were killed and 78 missing.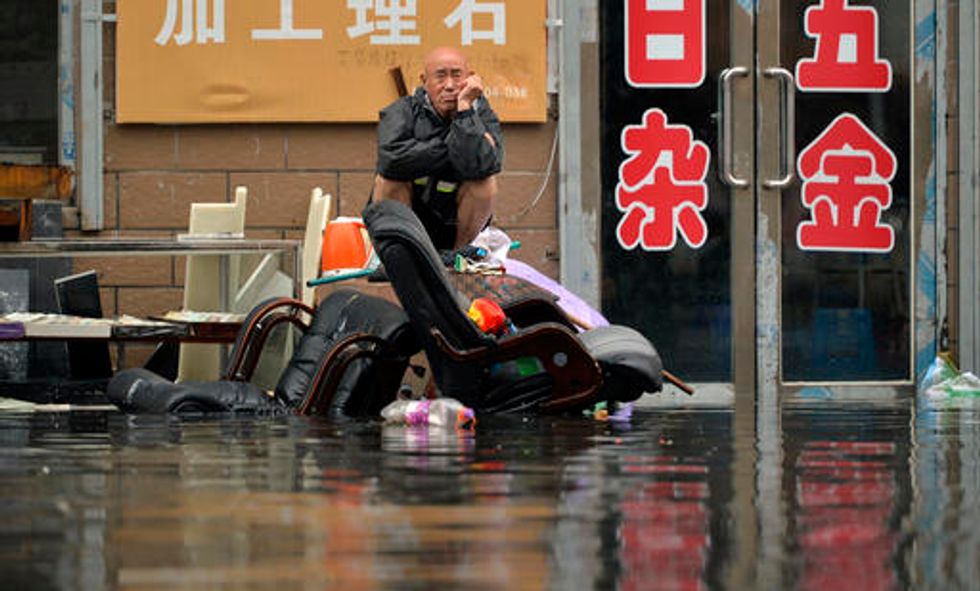 A man sits outside of a flooded shop in Shenyang in northeastern China's Liaoning Province. (Chinatopix via AP)
Nearly 300,000 people were evacuated in Hebei, and the province made another round of appropriations of tents, blankets, rain boots and generators, the provincial department of civil affairs said.
In the Hebei city of Xingtai alone, 25 people were killed and another 13 were missing. The town also drew national attention after emotional protests erupted in one village on Friday.
The village of Daxian in Xingtai was nearly wiped out when it was swamped by a flash flood early Wednesday as villagers were asleep. Photos circulating online showed disturbing images of drowned children lying in mud.
Angry villagers in Daxian questioned whether authorities had failed to notify them in time for evacuation when an upstream reservoir discharged floodwaters. Authorities blamed a failure of a river levee near the village for the sudden water surge.
Qiu Wenshuang, a vice mayor of Xingtai, said Saturday that the village was already flooded when officials entered the village to evacuate residents on Wednesday morning, according to state media reports.