Lt. Gen. Michael Flynn appeared on "Real Time With Bill Maher" Friday evening to share his thoughts on Hillary Clinton and newly nominated Republican presidential candidate Donald Trump.
Before the interview began, Flynn turned to host Bill Maher and jokingly asked, "Why am I here?"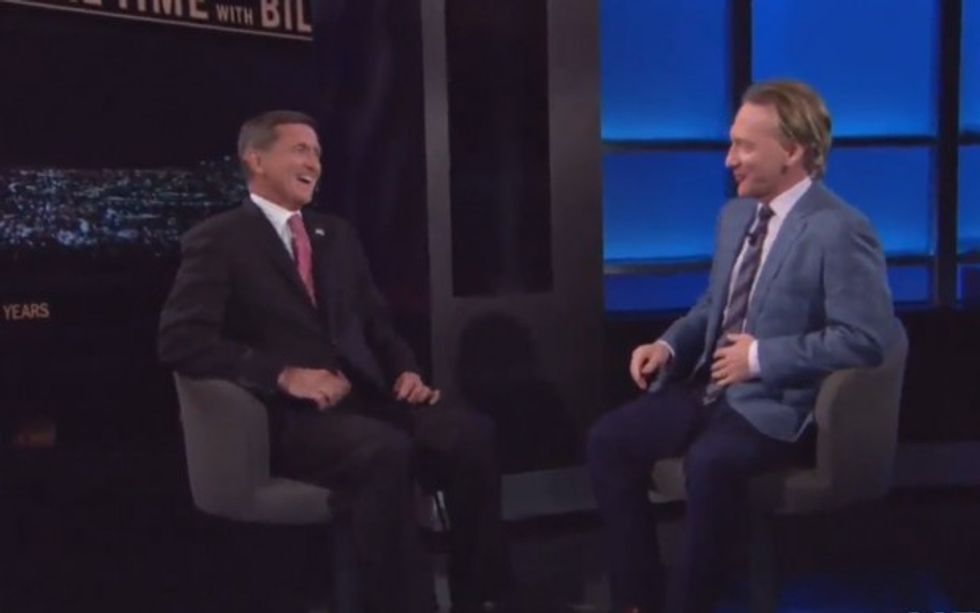 Image source: YouTube

When asked about the speech he delivered at this week's Republican National Convention, during which the crowd erupted into chants of "lock her up," referring to Clinton, Flynn called the cry a "slogan of frustration" that wasn't necessarily calling for Clinton's imprisonment.
Between jokes, Maher questioned Flynn, who at one point was being considered as Trump's potential running mate, about his decision to back the controversial candidate.
Flynn explained that after his first meeting with Trump, he walked away convinced that the businessman could do anything he set his mind to, including the "unbelievable task" of fixing the American political establishment and combatting radical Islamic terrorism.
The retired lieutenant general also discussed his newly released book, "The Field of Fight: How We Can Win the Global War Against Radical Islam and Its Allies," and why he thinks Trump is the country's best hope for stopping radical terror groups like Al Qaeda and the Islamic State.
Watch (Caution: Brief, strong language):