Hillary Clinton and her new running mate, Virginia Sen. Tim Kaine, gave their first joint interview as the 2016 Democratic national ticket on Saturday, just hours after Clinton made the announcement via Twitter — and amid breaking news of leaked DNC emails seemingly suggesting its staffers worked against Clinton's Democratic primary rival, Vermont Sen. Bernie Sanders.
CBS News aired the pre-recorded interview on "60 Minutes" Sunday, but the network didn't air all of it. In fact, it left a nearly three-minute clip — in which Clinton repeatedly dodges questions about the the DNC leaks — off the airwaves. Instead it posted the clip online under this headline: "Unaired 60 Minutes clips with Clinton and Kaine."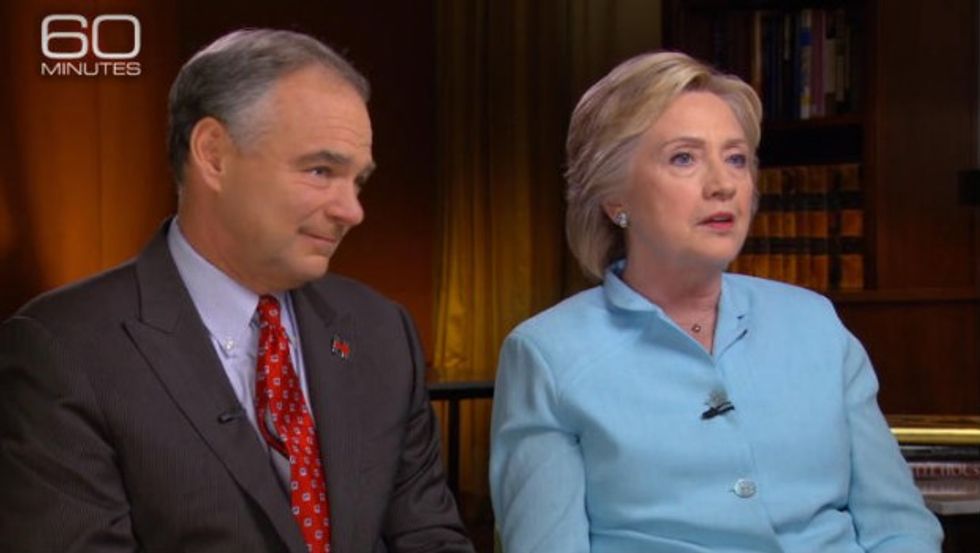 Image source: CBS News
In the online clip, host Scott Pelley asked the duo about a particular leaked email, in which in a DNC staffer talked about asking Sanders if he believes in God.
"He had skated on saying he has a Jewish heritage. I think I read he is an atheist. This could make several points difference with my peeps. My Southern Baptist peeps would draw a big difference between a Jew and an atheist," the staffer wrote.
But Clinton dodged the inquiry, claiming she "didn't know anything about it" and that she hadn't read "any of those emails."
"But I am adamantly opposed to anyone bringing religion into our political process. I mean, the Constitution says 'no religious test.' So that is just wrong and unacceptable," the presumptive Democratic nominee said.
Pelley pressed Clinton, saying, "They seem to have their thumb on the scale for you."
But Clinton dodged again.
"Again, I don't know anything, I don't know anything about these emails. I haven't followed it," Clinton replied.
Pelley posed the question a third time, asking Clinton if "any effort in the DNC to favor one candidate over another would have been improper?"
"I don't have any information about this. So I can't answer specifically," Clinton responded.
Clinton's running mate, the former DNC chairman, later chimed in with his take.
"You're not going to find anybody at the DNC or the RNC or any political organization who is a complete agnostic, who doesn't have an opinion about a candidate," Kaine said.
"But there's a difference between having an opinion about somebody, having a candidate that you prefer over somebody else. There's a difference between that and trying to alter the outcome," the Virginia senator added.
(H/T: Weekly Standard)
—
Follow the author of this story on Twitter and Facebook: