Less than one week after former Fox News chairman and CEO Roger Ailes resigned, the network is losing its first executives.
Michael Clemente, Fox News' former executive vice president of editorial content, has left the channel, according to a report from TVNewser, becoming the first executive to leave the network since Ailes' departure last Thursday. However, insiders said the exit is not related to the former CEO's ouster or Rupert Murdoch's decision to name himself interim chairman.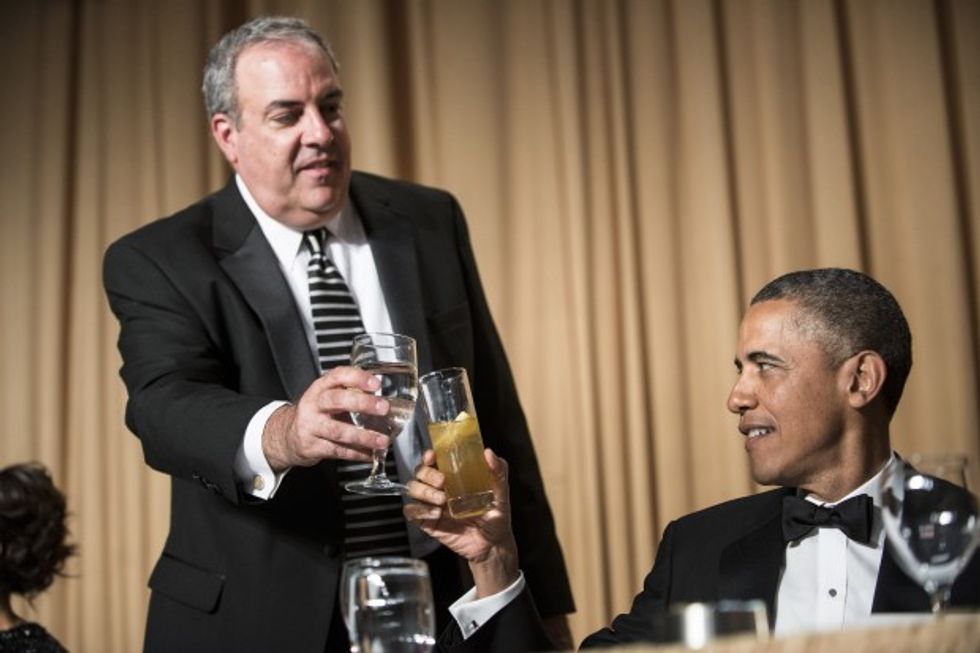 Fox News Vice President Michael Clemente and US President Barack Obama toast during the White House Correspondents' Association Dinner April 27, 2013 in Washington, DC. Obama attended the yearly dinner which is attended by journalists, celebrities and politicians. (Photo by BRENDAN SMIALOWSKI/AFP/Getty Images)
It should be noted, though, that Clemente showed no signs of departing the network prior to the sexual harassment accusations against Ailes levied by former Fox News anchor Gretchen Carlson several weeks ago.
Until April of this year, Clemente served as the vice president of editorial content, but was moved to the specials and longform content unit and was replaced by Jay Wallace, who started his career with Fox News on anchor Shepard Smith's show. Peter Boyer, a former New Yorker writer who most recently served as Clemente's No. 2, also resigned.
Boyer joined Fox News in 2012 as the network's editor at large. Prior to joining Fox News, Boyer had worked with Newsweek and The Daily Beast and was an 18-year veteran at The New Yorker.
—
Follow the author of this story on Twitter: