Embattled Fox News chairman and CEO Roger Ailes has resigned from his role at the network effective immediately, parent company 21st Century Fox announced Thursday.
Media magnate Rupert Murdoch, founder of News Corporation, a global media conglomerate, and creator of the FOX Broadcasting Company, will assume the role of acting chairman and CEO of Fox News, the company said.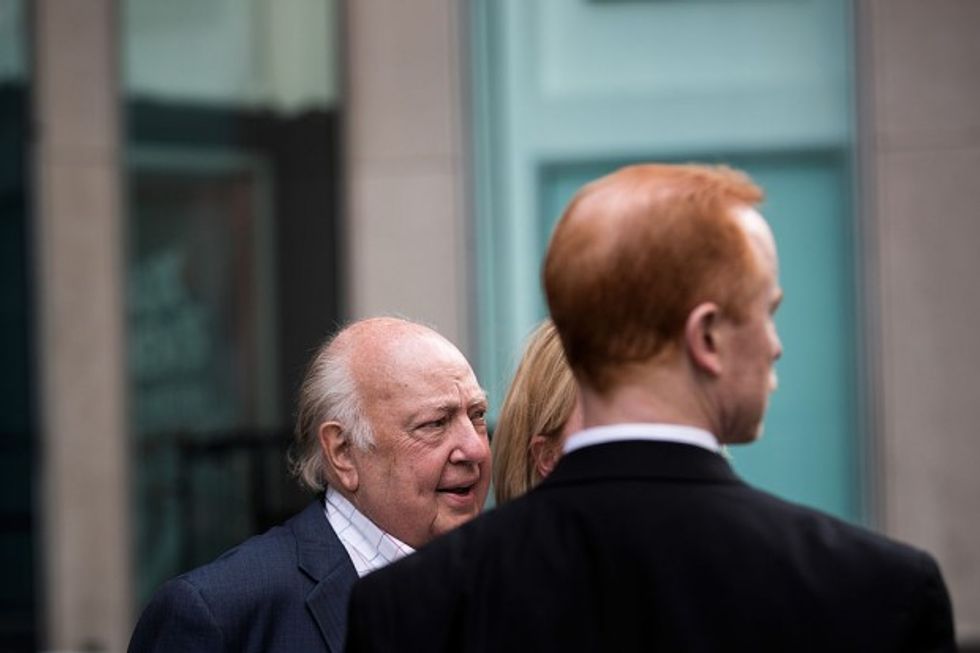 Security stands in front of Fox News chairman Roger Ailes as he leaves the News Corp building, July 19, 2016 in New York City. As of late Tuesday afternoon, Ailes and 21st Century Fox are reportedly in discussions concerning his departure from his position as chairman of Fox News. (Photo by Drew Angerer/Getty Images)
"Roger Ailes has made a remarkable contribution to our company and our country," Murdoch said in a statement. "Roger shared my vision of a great and independent television organization and executed it brilliantly over 20 great years."
He said Ailes, 76, "defied all odds" as he built Fox News "from the ground up against seemingly entrenched monopolies."
"Fox News has given voice to those who were ignored by the traditional networks and has been one of the great commercial success stories of modern media," he added.
Ailes became the subject of heated controversy that rocked the entire media world when, a few weeks ago, ousted Fox News anchor Gretchen Carlson levied claims of sexual harassment against the now former chairman.
At the time, Ailes blasted Carlson for her "false" accusations, claiming the fired Fox News host's complaint was "retaliatory suit for the network's decision not to renew her contract, which was due to the fact that her disappointingly low ratings were dragging down the afternoon lineup."
However, prominent network host Megyn Kelly bolstered Carlson's claims earlier this week when she told lawyers that she, too, was harassed by Ailes one decade ago.
Picking up the pieces after this tough chapter for the channel, Murdoch says he is "personally committed" to ensuring Fox News "remains a distinctive, powerful voice." But the future direction of the network, which has become a favorite among conservatives, hangs in the balance as Ailes relinquishes his authority.
Prior to spearheading the creation of Fox News, Ailes was a media consultant for former Republican Presidents Richard Nixon, Ronald Reagan and George H.W. Bush.
Murdoch's sons, Lachlan Murdoch and James Murdoch, 21st Century Fox's executive chairman and CEO, respectively, echoed their father's sentiments about Ailes, saying he offered "remarkable contributions to our company."
"Our talented Fox News and Fox Business colleagues, up and down the organization and on both sides of the camera, have built something that continues to redefine the cable news experience for millions of viewers," the said in a joint statement. "We are enormously proud of their accomplishments."
News of Ailes resignation comes three days after reports surfaced suggesting the Fox News leader could be on his way out.
—
Follow the author of this story on Twitter: