NBA legend Michael Jordan said he "can no longer stay silent" about one of the most controversial issues of the day.
In a piece published by the Undefeated on Monday, Jordan offered his thoughts not only as a black American, but as a black American who lost his own father to violence. The former Chicago Bulls' superstar came just weeks after two black men were killed by police officers in Louisiana and Minnesota, followed by multiple law enforcement officer killings, including five in the July 7 Dallas attack.
"I have been deeply troubled by the deaths of African-Americans at the hands of law enforcement and angered by the cowardly and hateful targeting and killing of police officers," Jordan wrote, adding that he is "saddened and frustrated" by all the divided rhetoric and heightened racial tensions.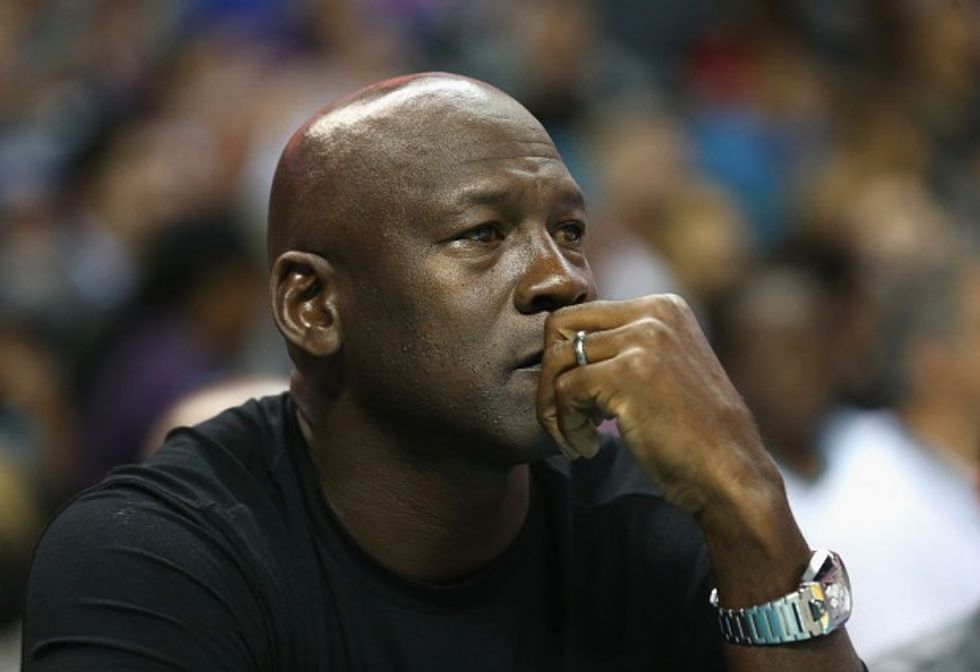 Owner of the Charlotte Hornets, Michael Jordan, watches during their game against the Atlanta Hawks at Time Warner Cable Arena on November 1, 2015, in Charlotte, North Carolina. (Photo by Streeter Lecka/Getty Images)
"I know this country is better than that, and I can no longer stay silent," Jordan wrote. "We need to find solutions that ensure people of color receive fair and equal treatment AND that police officers — who put their lives on the line every day to protect us all — are respected and supported."
"Over the past three decades I have seen up close the dedication of the law enforcement officers who protect me and my family. I have the greatest respect for their sacrifice and service. I also recognize that for many people of color their experiences with law enforcement have been different than mine," Jordan added.
The NBA Hall of Famer said he hopes Americans can come together through "peaceful dialogue and education [to] achieve constructive change."
He then announced that he is donating $1 million each to two organizations, the Institute for Community-Police Relations and the NAACP Legal Defense Fund.
According to its website the ICPR is "dedicated to advancing the law enforcement profession through advocacy, outreach, education and programs," while the NAACP Legal Defense Fund describes itself as "America's premier legal organization fighting for racial justice."
(H/T: Undefeated)
Editor's note: The original version of this story incorrectly stated that Alton Sterling and Philando Castile were unarmed when they were fatally shot by police. Both men, however, were armed.
—
Follow the author of this story on Twitter and Facebook: