As Massachusetts Sen. Elizabeth Warren took the stage Monday night at the Democratic National Convention, she faced a divided delegation, and moments into her speech, that became very obvious.
As Warren, an icon of the progressive movement, began her speech in support of presumptive Democratic presidential nominee Hillary Clinton, many Sanders supporters, who hoped to find an ally in the Massachusetts lawmaker, erupted in chants of "We trusted you! We trusted you!" as she spoke in Philadelphia's Wells Fargo Center.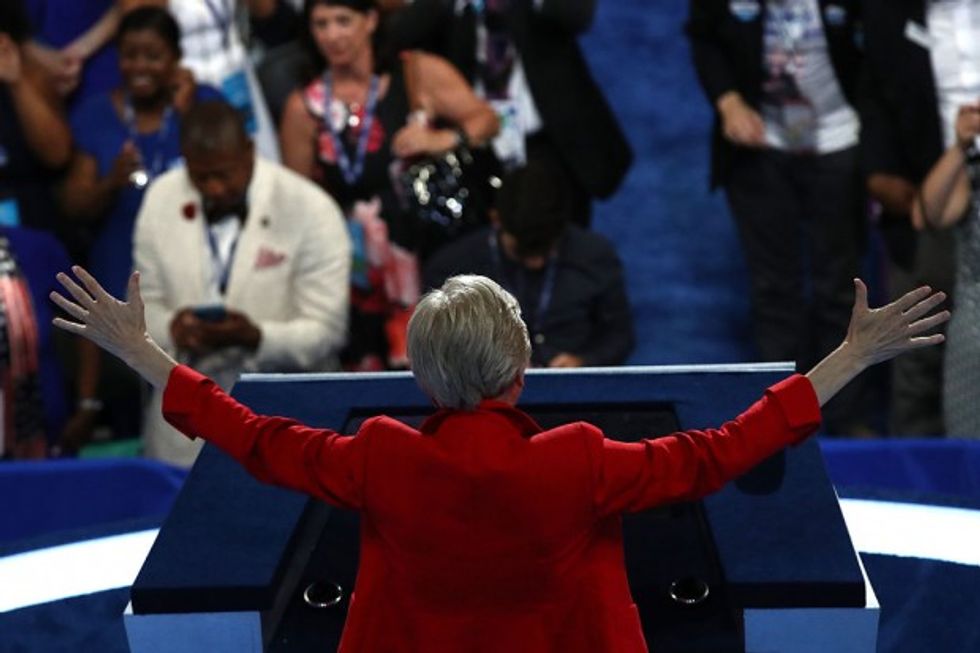 Sen. Elizabeth Warren (D-MA) delivers remarks on the first day of the Democratic National Convention at the Wells Fargo Center, July 25, 2016 in Philadelphia, Pennsylvania. An estimated 50,000 people are expected in Philadelphia, including hundreds of protesters and members of the media. The four-day Democratic National Convention kicked off July 25. (Photo by Win McNamee/Getty Images)
But Warren continued with her speech regardless, telling the audience about her upbringing and backing up her support for Clinton.
Later in her address, many in the crowd began shouting, "Goldman Sachs," a reference to a speech Clinton gave to Goldman Sachs' "Builders and Innovators" conference in October 2013 at the Ritz Carlton Dove Mountain Resort in Marana, Arizona, for which she was paid $225,000.
In debates and on the campaign trail, Sanders frequently criticized Clinton for the payment she received for her speeches at Goldman Sachs. At a debate in January, Sanders ripped his primary opponent, saying, "I don't take money from big banks."
"You've received over $600,000 in speaking fees from Goldman Sachs in one year," he added. "[I] have doubts about people receiving large amounts of money from Wall Street."
Watch Warren's remarks below:
Chants of "we trusted you!" break out during @elizabethforma #DemsinPhilly remarks: https://t.co/DD977hsyqQ https://t.co/cRxg4tvjYu

— ABC News Politics (@ABCPolitics) July 26, 2016
—
Follow the author of this story on Twitter: