MOSCOW (AP) — Seven Russian swimmers have been barred from the Rio de Janeiro Olympics, including three linked to recent allegations of a major doping cover-up by Russian authorities, world swimming's governing body FINA said Monday.
Reigning world 100-meter breaststroke champion Yulia Efimova is among four Russian swimmers withdrawn by the Russian swimming federation because they previously served doping bans, FINA said. The others are Natalya Lovtsova, Anastasia Krapivina and Mikhail Dovgalyuk.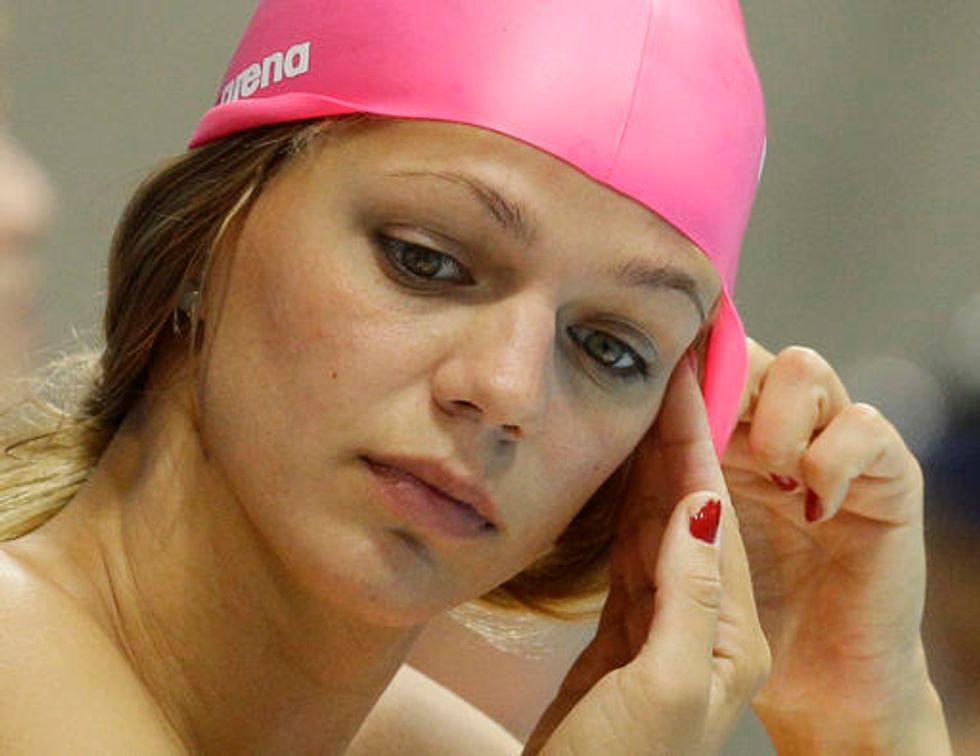 Russia's Yulia Efimova prepares for a practice session at the Aquatics Centre in the Olympic Park ahead of the 2012 Summer Olympics, in London, Friday, July 27, 2012. (AP Photo/Michael Sohn)
The International Olympic Committee on Sunday said Russian athletes with previous doping bans would be banned from the Rio Games. That followed the IOC's decision not to ban the entire Russian team over allegations of state-sponsored doping.
FINA said three more swimmers were identified by World Anti-Doping Agency investigator Richard McLaren when he examined evidence that Russian government officials ordered the cover-up of hundreds of doping tests.
They are 2008 Olympic silver and 2012 bronze medalist Nikita Lobintsev, bronze medalist Vladimir Morozov and world junior record holder Daria Ustinova.
Russia's top Olympic official, Alexander Zhukov, told Russian agency R-Sport that he now believed a total of 13 Russians would be ineligible due to previous doping bans. They would be withdrawn from the team, he added.
The 13 are likely to include athletes in swimming, cycling, weightlifting, wrestling and rowing.
On Sunday, the IOC's executive board asked individual global sports federations to decide on the entry of Russian athletes, and announced new eligibility criteria.
The rules prohibit Russia from sending to the Rio Games any athletes who have previously served doping bans. Sports federations can also reject Russian entries if they have not undergone enough international drug testing. Results of Russian tests will not be accepted following allegations of routine cover-ups at Moscow's anti-doping laboratory.
It remains unclear whether there could be legal challenges to the IOC criteria. A similar IOC measure, known as the Osaka Rule, which would have prohibited any athletes who had received doping bans from competing in the subsequent Olympics, was declared invalid by the Court of Arbitration for Sport.
Now, with the Aug. 5 opening ceremony approaching, it is up to the remaining 27 international sports federations to vet Russian athletes on an individual basis.
The World Anti-Doping Agency report released last week by Canadian lawyer Richard McLaren accused Russia of covering up doping in 20 summer Olympic sports.
Russian cyclist Ilnur Zakarin, who won a stage during the Tour de France which ended Sunday, could be ruled out because he served a two-year ban after testing positive for a steroid in 2009.
The International Judo Federation, whose honorary president is Russia's President Vladimir Putin, said it has already tested 84 percent of the 389 athletes from 136 countries who are qualified to compete in Rio. It made no mention of the 11 Russian judo athletes entered.
The International Gymnastics Federation (FIG) said it "has taken note" of the IOC ruling and "shall fully adhere to it." It said it would establish a "pool of Russian eligible athletes." Gymnastics was not mentioned in the McLaren report.
"We are reviewing and analyzing, on a case by case basis, the anti-doping record of the 11 Russian boxers currently qualified for Rio 2016," AIBA said. "This information and the decision of AIBA in respect of the athlete's eligibility will be submitted to the IOC for confirmation in due course."
___