LAUSANNE, Switzerland (TheBlaze/AP) — The International Olympic Committee decided Sunday against a complete ban on Russian athletes from the Olympics in Rio de Janeiro. Instead, the IOC says it will leave it up to global federations to decide which Russian athletes to accept in their sports.
The committee says it will deny entry of Russian athletes who do not meet the requirements set out for the federations.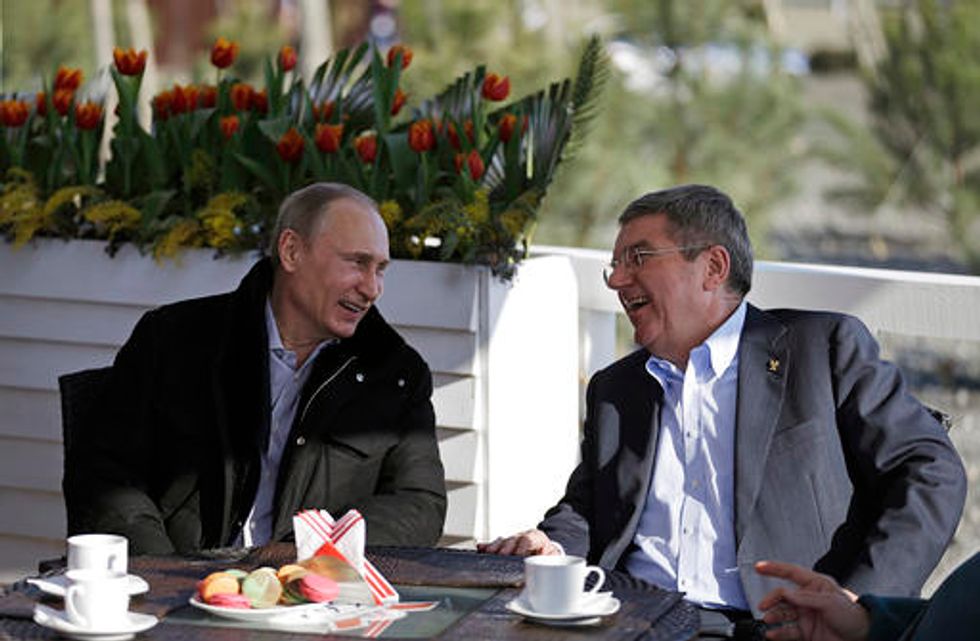 Russian President Vladimir Putin, left, and International Olympic Committee President Thomas Bach sit at a cafe along the promenade on the Black Sea near the Olympic Park at the 2014 Winter Olympics in Sochi, Russia. (AP Photo/David Goldman, file)
According to the IOC, the federations have the authority, under their own rules, to exclude Russian teams as a whole from their sports.
Around 25 media gathered Sunday at the front door of the IOC's temporary premises in Lausanne, about 400 meters from the Olympic Museum. Several Russian TV networks were joined by news crews for broadcasters from around the globe awaiting the IOC decision.
In the meantime, committee president Thomas Bach led a conference call of his executive board to discuss the ban.
Bach did not meet with reporters after the meeting. Instead, IOC member Alexander Zhukov emerged following the decision to update TV crews.
Russia was already handed a doping punishment when its track and field team lost an appeal against a ban on Thursday.
Earlier interim IOC measures announced Tuesday included urging winter sports federations to move their competitions out of Russia this season, in response to allegations that Russian state officials hid hundreds of failed drug tests over several years and swapped samples from doped athletes for clean ones during the 2014 Winter Olympics in Sochi.
The World Anti-Doping agency and other anti-doping bodies recommended banning Russia completely.
Ahead of Sunday's announcement, the IOC said it would seek a balance between "collective punishment" and "individual justice."
Russia has admitted some doping violations by its athletes and coaches, but still denies that the government was involved. State media has painted the issue as a U.S.-led political vendetta.