PHILADELPHIA — After announcing her resignation late Sunday night, embattled DNC chairwoman Debbie Wasserman Schultz was booed and heckled at a Florida delegation breakfast Monday morning.
A set of leaked DNC emails ahead of the national convention caused consternation among many in the party, especially supporters of Sen. Bernie Sanders, as they appeared to showed the Democratic Party favoring Secretary of State Hillary Clinton. Although she announced her resignation in the wake of the scandal, Wasserman Schultz still intends to open and close this week's Democratic National Convention in Philadelphia and address delegates.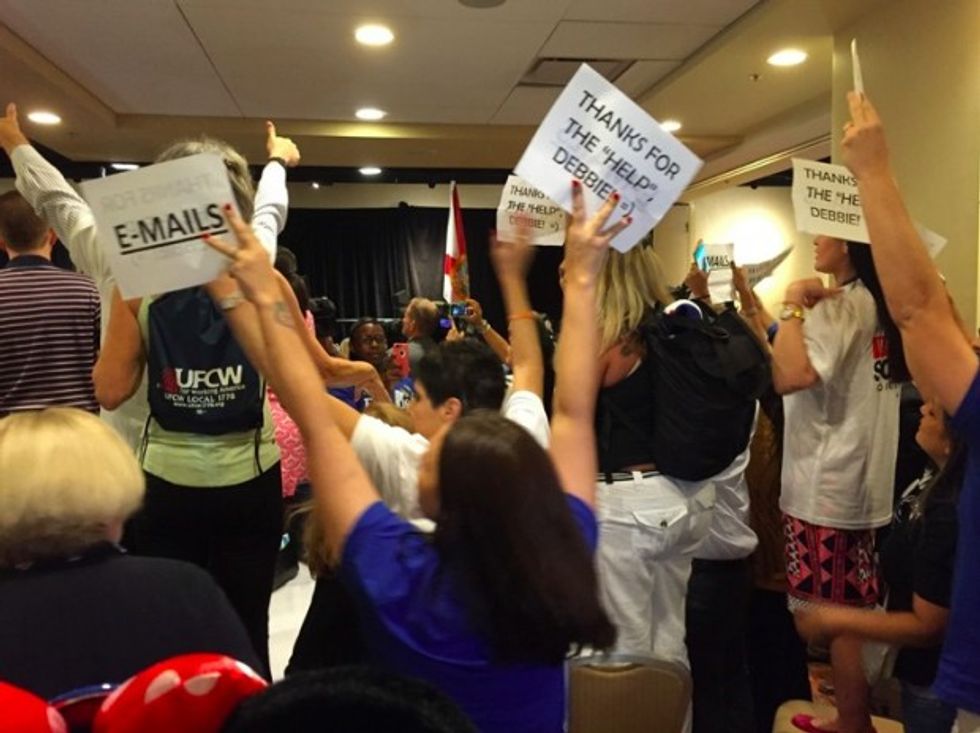 Many members of the Florida delegation booed embattled DNC Chair Debbie Wasserman Schultz. (Mike Opelka/TheBlaze)
However, turmoil erupted at her first DNC event this morning at a Marriott hotel as she addressed the Florida delegation. Convention attendees clashed, as some supported and some loudly vocalized their disapproval of the outgoing party chief.
Dissenters hoisted signs that read "thanks for the 'help,' Debbie" and "emails," while some simply chanted "shame" and "Debbie."
"Everybody settle down please," Wasserman Schultz repeatedly said as she attempted to address the delegation.
"So I can see there's a little bit of interest in my being here, and I appreciate that interest," she said, as she tried to get the group back on track. "[Also] a little bit of interest with the press, but that really shows you Florida is the most significant battleground state, and we'll make sure Hillary Clinton is elected president of the United States."
As she addressed the delegation, some cheered while several others loudly booed — especially as she mentioned those protesting.
"We have to make sure we move forward in a unified way. We know that the voices in this room that are standing up and being disruptive, we know that that's not the Florida that we know," she said as the crowd erupted even more. "The Florida we know is united."
While Wasserman Schultz will no longer head the party after the convention closes, she has found a new position — with the Clinton campaign.
Wasserman Shultz said Monday that Clinton thanked her for her service with the DNC and invited her to now serve as surrogate for the campaign.
Mike Opelka contributed to this report.
—
Follow Kaitlyn Schallhorn (@K_Schallhorn) on Twitter