FORT MYERS, Fla. (TheBlaze/AP) — Gunfire erupted at a nightclub hosting a swimsuit-themed party for teens in Florida, leaving two teens dead and at least 17 other people wounded, officials said Monday.
The victims in the #ClubBluShooting - 14 year old Sean Achilles and 18 year old Stef'an Strawder. #Club Blue @NBC2 pic.twitter.com/bmMkGJqFRk

— Joe Roetz (@JoeRoetz) July 25, 2016
The slain teens were 14-year-old Sean Archilles and 18-year-old Stef'an Strawder, police said.
Hours before he was fatally shot, Strawder posted to Facebook that he was considering going to the swimsuit party.
Strawder was a star basketball player in the area who always took time to help other players.
"Everyone was afraid to play against him because he was so good. He would guide you and give you advice on how to step up your game and how to guard him and things like that," said 16-year-old Peyton Hebon, who started playing against Strawder in travel basketball leagues in sixth grade.
Strawder was always positive and energetic and was unstoppable on the court, Hebon said in a phone interview with The Associated Press.
Archilles lived about a mile from the nightclub, said the 14-year-old's father, Jean Archilles. His son loved to play football and basketball, and was a star as a junior for Lehigh High School, averaging more than 15 points a game.
"He liked to make people laugh. He's a funny kid. He's always joking," Jean Archilles told the Associated Press.
"I don't know like what a 14-year-old can do to someone," Archilles told the Naples News-Press.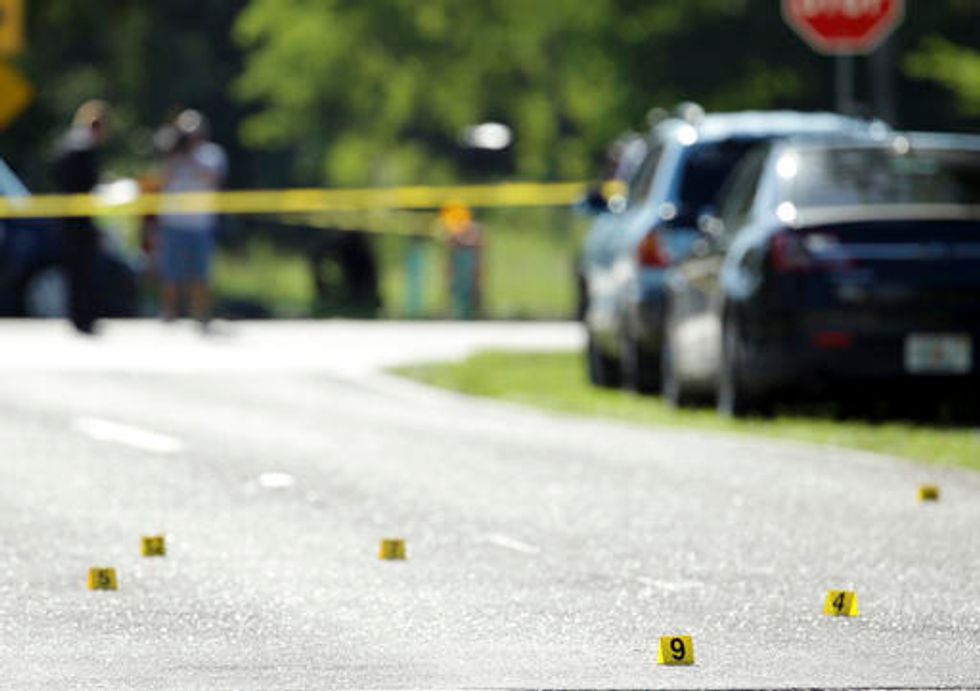 Evidence markers are placed on the street at the scene of a deadly shooting outside of the Club Blu nightclub, Monday, July 25, 2016, in Fort Myers, Fla. (AP Photo/Lynne Sladky)
The shooting happened about 12:30 a.m. Monday, just as the club was closing and parents were arriving to pick up their children.
Club owner Cheryl Filardi, who said she was in the back room when the shots rang out, said at least 10 security guards were hired for the party — two in the parking lot, one or two at the door and the rest floating inside.
She said the club has had four or five teen parties over the past half-dozen years, and this was the second one this summer. She said the parties are something positive for a rough and often-violent neighborhood.
"To be honest with you, every day someone's getting shot in this area. These days in Lee County, somebody's always shooting," Filardi said. "If we do teen parties, we always have a ton of security and we've never had a problem."
It was not immediately clear what triggered the violence, but Fort Myers police Capt. Jim Mulligan said the shooting was not an act of terror. Police detained three people and said the area around Club Blu had been deemed safe, Mulligan said.
Four people were in the hospital following the deadly attack. Two were in critical condition and two in fair condition, said Lisa Sgarlata, the chief administrative officer at Lee Memorial Health System.
All of the other patients were treated and released. The victims ranged in ages from 12 to 27.