In the wake of the massive leak of internal emails from within the Democratic National Committee, some have suggested Russian intelligence is responsible for the hack, but the founder of WikiLeaks, which is responsible for the revelation, said there is "no proof whatsoever" of that.
"Well there is no proof of that whatsoever," Julian Assange told NBC's Richard Engel in an interview Monday. "We have not disclosed our source, and of course, this is a diversion that's being pushed by the Hillary Clinton campaign. That's a meta-story. The real story is what these emails contain and they show collusion."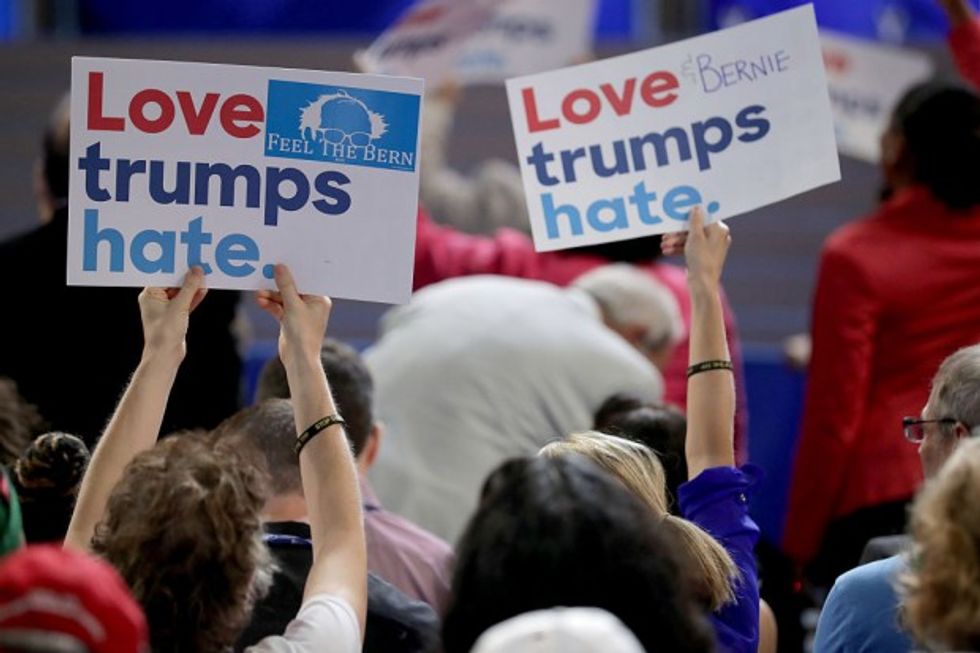 Delegates hold up signs that read 'Love trumps hate' during the opening of the first day of the Democratic National Convention at the Wells Fargo Center, July 25, 2016 in Philadelphia, Pennsylvania. An estimated 50,000 people are expected in Philadelphia, including hundreds of protesters and members of the media. The four-day Democratic National Convention kicked off July 25. (Photo by Chip Somodevilla/Getty Images)
"The very top of the Democratic party, Debbie Wasserman Schultz, is now being forced to resign," he continued, referencing the impending resignation of the DNC's current chair, "and other people from the party, which is meant to be neutral, subverting the process in order to make sure Hillary Clinton won the campaign."
Assange is the editor in chief of WikiLeaks, a government watchdog publication founded in 2006. The DNC has faced increased scrutiny since the leak for emails seeming to show a concerted effort by many party officials to damage Bernie Sanders' campaign and to aid Hillary Clinton in her race for the Democratic presidential nomination.
Moments after the Democratic National Convention at the Wells Fargo Center in Philadelphia began, incoming interim DNC chair Donna Brazile issued a statement, apologizing to Sanders and his supporters for the "inexcusable remarks" revealed in the internal email hack.
–
Follow the author of this story on Twitter: