Comedian Sarah Silverman, an ardent supporter of Bernie Sanders, finally offered an endorsement to Hillary Clinton Monday night during the Democratic National Convention, and she had a few unscripted words for the "Bernie or Bust" delegates in the crowd, too.
"To the 'Bernie or Bust' people: You're being ridiculous," Silverman, leaning over the podium, shot back at those in the audience who booed her speech at the Wells Fargo Center in Philadelphia.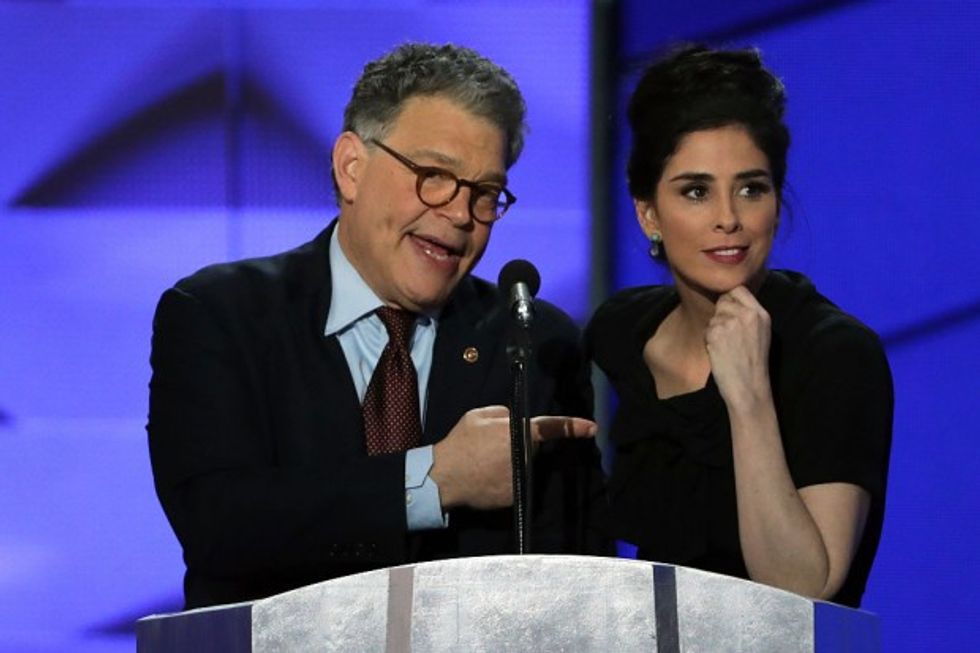 Comedian/actress Sarah Silverman speaks as Sen. Al Franken (D-MN) looks on during the first day of the Democratic National Convention at the Wells Fargo Center, July 25, 2016 in Philadelphia, Pennsylvania. An estimated 50,000 people are expected in Philadelphia, including hundreds of protesters and members of the media. The four-day Democratic National Convention kicked off July 25. (Photo by Alex Wong/Getty Images)
"Hillary is our Democratic nominee, and I will proudly vote for her," she continued. "She's like the only person ever to be overqualified for the job of president."
Silverman praised Clinton for moving to the left on a number of issues — largely because of the progressive campaign Sanders, a self-avowed socialist, ran.
"Hillary heard the passion of the people — the people behind Bernie — and brought those passions into the party's platform," the comedian said. "And that — that is the process of democracy at its very best."
She told the audience she, as a Sanders supporter, "will vote for Hillary with gusto," even as competing chants of "Bernie!" and "Hillary!" broke out throughout the convention hall.
Silverman addressed the delegation alongside Democratic Sen. Al Franken (Minn.), who, during his remarks, went after the Republican presidential nominee for his controversial Trump University.
"I got my doctorate in megalomania studies from Trump University," the lawmaker joked before being joined by Silverman on the stage. "Sure, I had to empty out my 401k and take a reverse mortgage on my house to pay tuition."
In the end, though, Franken offered Clinton a sincere endorsement, saying Americans should cast their vote for a person who has "spent her entire life working to get important things done for the American people" instead of "someone who's never done anything for anyone other than himself."
See Silverman's remarks below:
Sarah Silverman has a message for #BernieorBust fans: "You're being ridiculous" https://t.co/75MKwhuSsj #DemsinPhilyhttps://t.co/VtwDnyUirU

— Bloomberg Politics (@bpolitics) July 26, 2016
—
Follow the author of this story on Twitter: