Minnesota Sen. Al Franken (D) revisited his days as a comedy writer for "Saturday Night Live," joking Monday night about Trump University during his speech at the Democratic National Convention.
"I'm Al Franken, Minnesotan, senator and world-renowned expert on right-wing megalomaniacs Rush Limbaugh, Bill O'Reilly, and now Donald Trump," the Democratic lawmaker, who authored the 1996 book "Rush Limbaugh Is a Big Fat Idiot and Other Observations," said to the delegation gathered in Philadelphia's Wells Fargo Center. "Now, a little about my qualifications. I got my doctorate in megalomania studies from Trump University. Sure, I had to empty out my 401k and take a reverse mortgage on my house to pay tuition."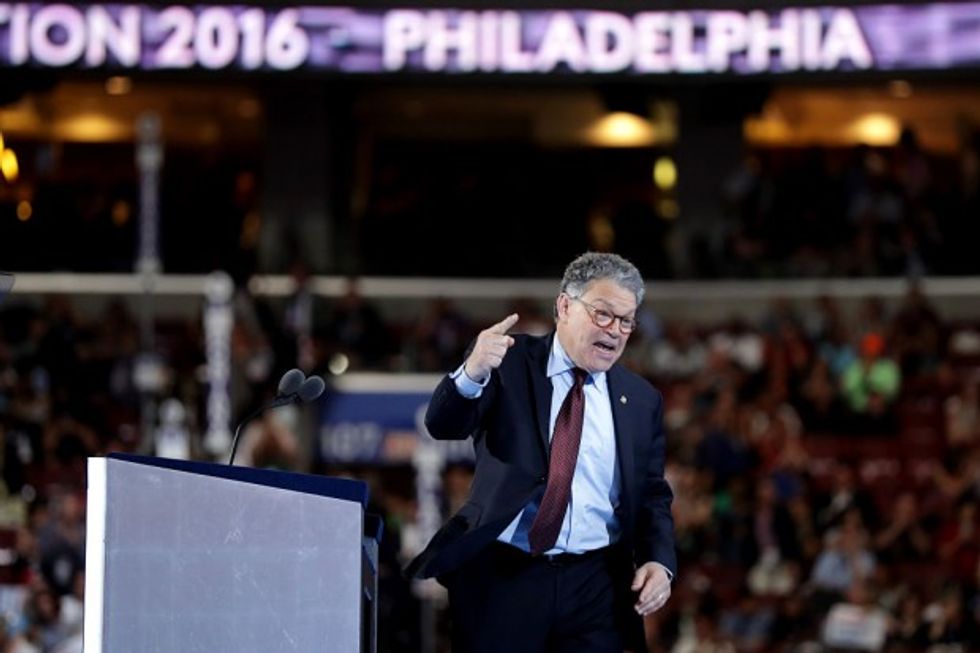 Sen. Al Franken (D-MN) gestures to the crowd as he delivers remarks on the first day of the Democratic National Convention at the Wells Fargo Center, July 25, 2016 in Philadelphia, Pennsylvania. An estimated 50,000 people are expected in Philadelphia, including hundreds of protesters and members of the media. The four-day Democratic National Convention kicked off July 25. (Photo by Chip Somodevilla/Getty Images)
Franken, elected to the Senate in 2009, blasted the Republican presidential nominee for the Trump University lawsuit.
"Frankly, as a proud alum of Trump U, I think we may be underestimating Donald Trump," Franken said. "Sure, he's scammed a lot of people, but did you know that Trump University's School of Ripping People Off is ranked second in the nation? Right behind Bernie Madoff University? That's no mean feat."
The senator said Trump University was "about more than just bilking people," but was also about "learning directly from success experts like Scott Baio, Mike Tyson and, of course, a life-sized cardboard cutout of Mr. Trump himself," referencing celebrities who have thrown there support behind the billionaire businessman's candidacy.
The racketeering case against Trump University was filed in 2013 and alleges that the program was part of a 4-year scheme to make millions of dollars by dishonestly telling prospective students that they would be taught real estate trade secrets by industry experts at an "elite" institution similar to the Wharton Business School, where the billionaire businessman graduated in 1968.
However, according to Trump's lawyers, the sales pitches promoting "secrets" revealed by "handpicked instructors" were nothing more than "puffery," the advertising practice of exaggerating, which they contended cannot be used to prove fraud. They also suggested Trump believed the students were receiving quality education and there is no evidence to prove otherwise.
U.S. District Judge Gonzalo Curiel, who is handling the trial and has been criticized by Trump for his heritage, said the lawsuit is slated to go to trial in November.
Watch Franken's comments below:
.@alfranken pokes fun at Trump University, saying he attended and now has a "doctorate in megalomania studies" pic.twitter.com/bBzxdWu841

— POLITICO (@politico) July 26, 2016
—
Follow the author of this story on Twitter: