After seeing New Jersey Sen. Cory Booker's "angry speech," Milwaukee Sheriff David Clarke said Monday night that the ongoing Democratic National Convention "seems to be about embracing criminality."
Clarke's comments were in reference to the fact that Tuesday night's event will host a "Mothers of the Movement" segment, which features speeches from several mothers of unarmed black men who died in officer-related shootings.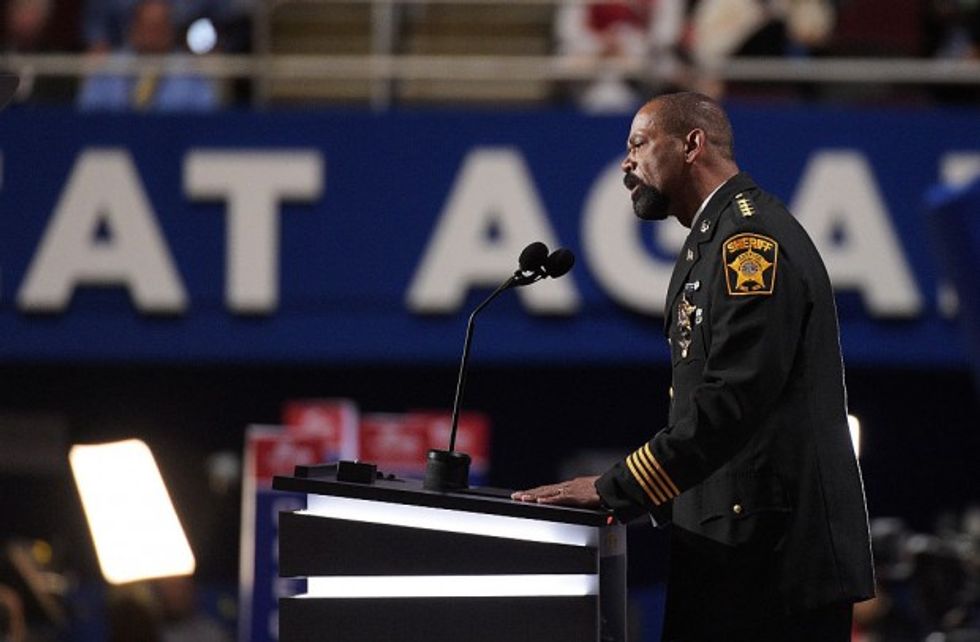 Milwaukee County Sheriff David Clarke delivers a speech on the first day of the Republican National Convention on July 18, 2016 at the Quicken Loans Arena in Cleveland, Ohio. An estimated 50,000 people are expected in Cleveland, including hundreds of protesters and members of the media. The four-day Republican National Convention kicks off on July 18. (Photo by Jeff Swensen/Getty Images)
"Donald Trump is the law and order candidate, and this DNC seems to be about embracing criminality and criminal behavior, trying to mainstream criminal behavior, hold these individuals up as if they're martyrs of the civil rights movement," Clarke, who at the Republican National Convention declared, "Blue lives matter," told Fox News host Megyn Kelly.
Kelly mentioned that the mother of Michael Brown, who was fatally shot by police in Ferguson, Missouri, in 2014, will be speaking at the convention, which is controversial because the Justice Department concluded that Brown died as a result of aggression toward former police officer Darren Wilson.
However, Clarke took issue with all the mothers, asserting all those shot by police were resisting arrest. The sheriff also found it troubling that none of the fathers of these black men were speaking.
"When there are no fathers around to shape the behavior of young boys growing up, they grow up to be unmanageable misfits that the police then have to deal with aggressively," he told Kelly.
Watch Clarke's remarks below:
—
Follow the author of this story on Twitter: