Donald Trump seemed to suggest Tuesday night in an interview with Fox News host Bill O'Reilly that he would support increasing the federal minimum wage to $10 per hour.
After decrying how high American wages are while on the campaign trail, Trump returned to a previously stated position in support of raising the minimum wage. His comments to O'Reilly came in response to accusations from Sen. Bernie Sanders at the Democratic National Convention Monday night.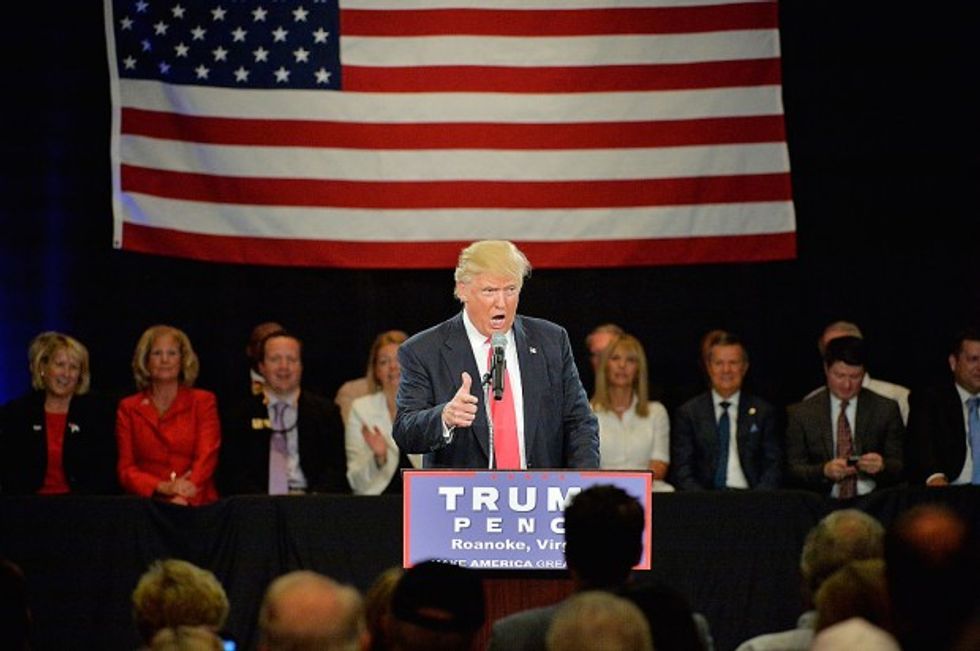 Republican presidential candidate Donald Trump address an audience at the The Hotel Roanoke & Conference Center on July 25, 2016 in Roanoke, Virginia. (Photo by Sara D. Davis/Getty Images)
Sanders claimed the Republican presidential nominee doesn't support increasing the minimum wage and said Trump believes "states should actually have the right to lower the minimum wage below $7.25."
"He lied last night, I mean it was a total lie and everybody said it," Trump told "The O'Reilly Factor" host.
At first, Trump said the minimum wage should be left up to the states, but then later in the interview pivoted toward raising the federal minimum wage, while still emphasizing the importance of the role states should play.
"He said that I wanted to go less than minimum wage. This is a new one," the billionaire businessman said. "I'm the one Republican that said in some cases we have to go more than minimum wage."
O'Reilly pressed Trump for a specific number, asking the candidate where he would set the federal minimum wage.
"There doesn't have to be — well, I would leave it and raise it somewhat," Trump said. "You need to help people and I know it's not very Republican to say, but you need to help people."
"I would say $10," he continued, "but with the understanding that somebody like me is going to bring back jobs, I don't want people to be in that $10 category for very long. But the thing is, Bill, let the states make the — they're not doing that for the most part."
However, Trump's proposal of a $10 federal minimum wage contrasts with previous comments he made in May on NBC's "Meet the Press," when he suggested competition between states would be preferable to setting a federal floor for the minimum wage.
"No, I'd rather have the states go out and do what they have to do," he said. "And the states compete with each other, not only other countries, but they compete with each other. ... So I like the idea of let the states decide. But I think people should get more."
The federal minimum wage is currently set at $7.25.
Also during the discussion, O'Reilly pressed Trump on controversial comments he has made recently about NATO in an interview with the New York Times. Trump said the U.S. would only defend a NATO ally "if they fulfill their obligations to us."
"I like NATO," Trump told the Fox News anchor. "I like the concept of NATO, but it's obsolete because we don't cover terrorism."
Watch the interview below:
–
Follow the author of this story on Twitter: