NFL star Richard Sherman spoke candidly this week about the growing distrust between the black community and police.
The Seattle Seahawks cornerback told the sports and culture blog The Undefeated this week that senseless killing is an "unfortunate" tragedy, whether the victims are black men gunned down by police or officers ambushed by twisted vigilantes.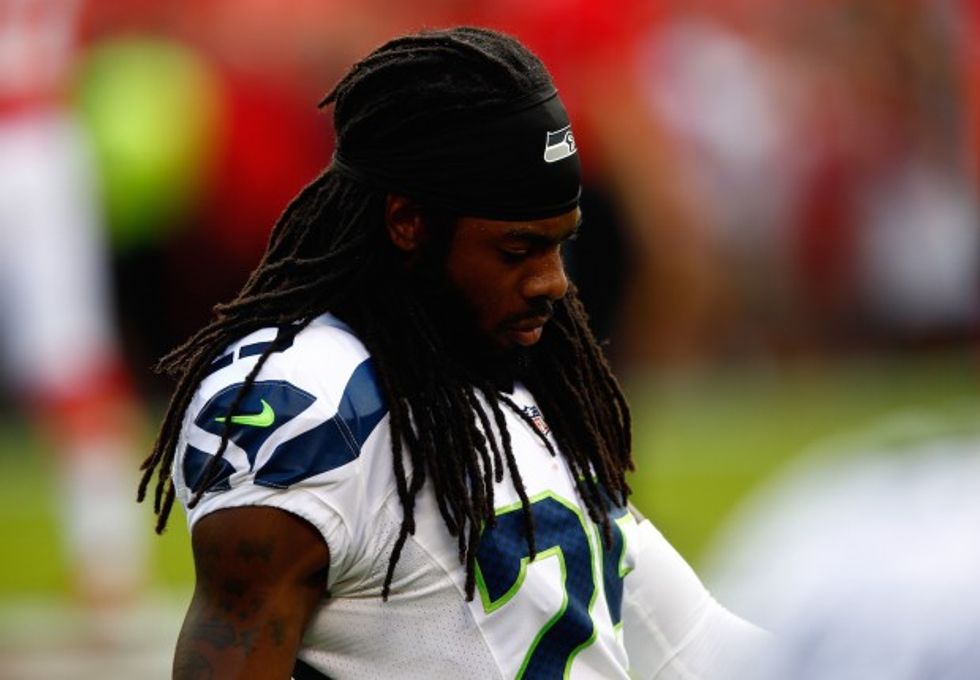 Cornerback Richard Sherman #25 of the Seattle Seahawks (Jamie Squire/Getty Images)
"It's frustrating on both sides, because you understand that police officers have a duty and a job," Sherman said in the Tuesday interview. "They sacrifice a lot to protect and serve. And I understand that some don't do it the right way. I also understand that people shouldn't get killed just because of the color of their skin."
Sherman shared his belief that "everybody is a human being first," and that skin color shouldn't matter when it comes to seeking justice.
"I stand by what I said that All Lives Matter and that we are human beings," the three-time All-Pro player said. "I want African-Americans and everybody else treated decently. I want them treated like human beings. And I also want the police treated like human beings. I don't want police officers just getting knocked off in the street who haven't done anything wrong."
"Those are innocent lives," he added.
When asked if the NFL should be doing more to speak out against national cultural problems dealing with violence and race, Sherman said he does, but noted that many players are more "compelled" to do so because of their personal backgrounds.
[sharequote align="center"]"Those are innocent lives."[/sharequote]
"It doesn't affect them, and a lot of the owners haven't come from a background where they would have to deal with these type of circumstances," he said of the league. "So it's just news to them. They are too far away."
"But as players, we are really close to it," Sherman continued. "A majority African-American league, with a lot of guys coming from impoverished environments, would really feel compelled to speak up."
The Seahawks star also shared his thoughts on the controversial Black Lives Matter movement and whether it's effective in promoting racial equality.
"Any time you see people who are saying, 'Black Lives Matter,' and then saying it's time to kill police, then it is difficult to stand behind that logic," said Sherman, who has openly criticized the movement in the past. "They are generalizing police just like they are asking police not to generalize us. It is very hypocritical. So, in that respect, I find it difficult to fully support that movement."