A full-page Hilton hotel advertisement featuring two men smiling and cuddling in bed has sparked protest from the American Family Association, which launched an online petition against the ad that has attracted more than 46,000 signatures as of Thursday afternoon.
"Family" association is freaking the f out over this Hilton Hotel ad https://t.co/DL0yMzliM6

— huffpostqueer (@huffpostqueer) July 28, 2016
The ad appears in the June 2016 issue of Travel and Leisure magazine, the AFA wrote, adding that "if Hilton had advertised two men playing tennis, cards, or having lunch, that would have been reasonable. However, Hilton chose to make a cultural and social statement by purposely marketing the promotion of homosexuality to a large segment of the population who finds the idea of two men sleeping together unnatural and offensive."
The petition states, in part: "If Hilton is going to advertise in mainstream media, at the very least, it should promote with images that reflect a family friendly atmosphere."
According to the AFA, the hotel chain has said, "Hilton Worldwide is a global company of diverse cultures serving diverse guests...We are proud to depict and reflect our guest diversity in our advertising..."
Comments on the Facebook page of Hilton Hotels & Resorts appears to reflect not only support for the chain's stance but also promises of business because of the ad: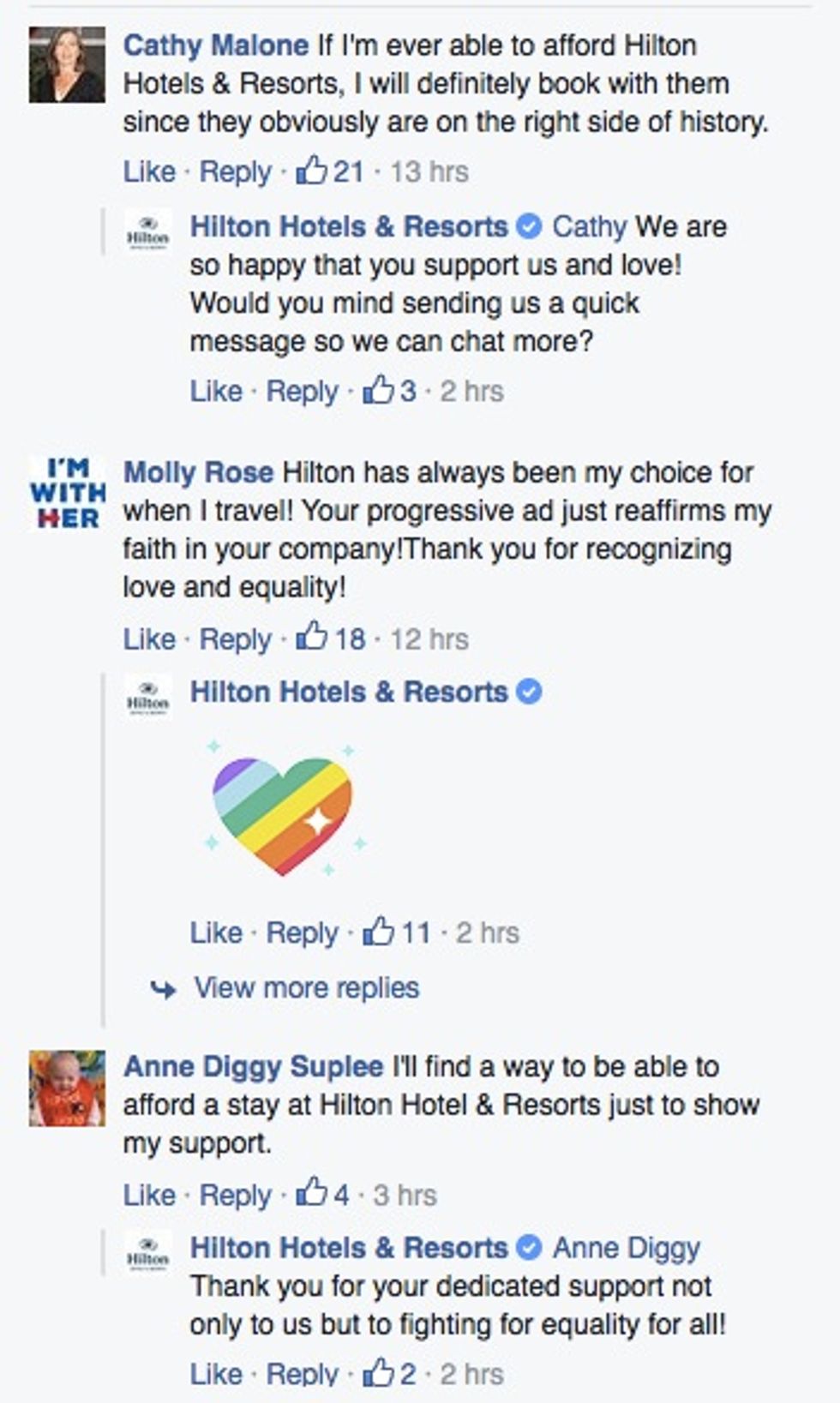 Image source: Facebook
The AFA recently launched a petition against Target's policy on bathrooms and changing rooms, allowing their use according to customers' gender identities. The petition garnered more than 1 million signatures.
(H/T: The Christian Post)