Last week, Target Corp. announced that it will continue to allow transgender customers and employees to use the bathrooms and fitting rooms of their preference, regardless of their biological sex. A statement released on Target's corporate website Tuesday came amid a nationwide legal dispute over whether transgender people should receive special protection under the country's civil rights provisions.
AP Photo/Pat Sullivan
Since that announcement, more than 500,000 people have signed an online pledge to boycott Target. A description of the pledge, created by the American Family Association, states several concerns of religious and social conservatives who believe that providing such accommodations for transgender people raises both moral and safety concerns:
Target's policy is exactly how sexual predators get access to their victims. And with Target publicly boasting that men can enter women's bathrooms, where do you think predators are going to go?

Clearly, Target's dangerous new policy poses a danger to wives and daughters. We think many customers will agree. And we think the average Target customer is willing to pledge to boycott Target stores until it makes protecting women and children a priority.
At the bottom of the pledge's description, the AFA included a list of several news articles covering instances in which transgender privileges were abused by predators.
"Corporate America must stop bullying people who disagree with the radical left agenda to remake society into their progressive image," AFA President Tim Wildmon said in a statement Friday.
"We want to make it very clear that AFA does not believe the transgender community poses this danger to the wider public," Wildmon added. "Rather, this misguided and reckless policy provides a possible gateway for predators who are out there."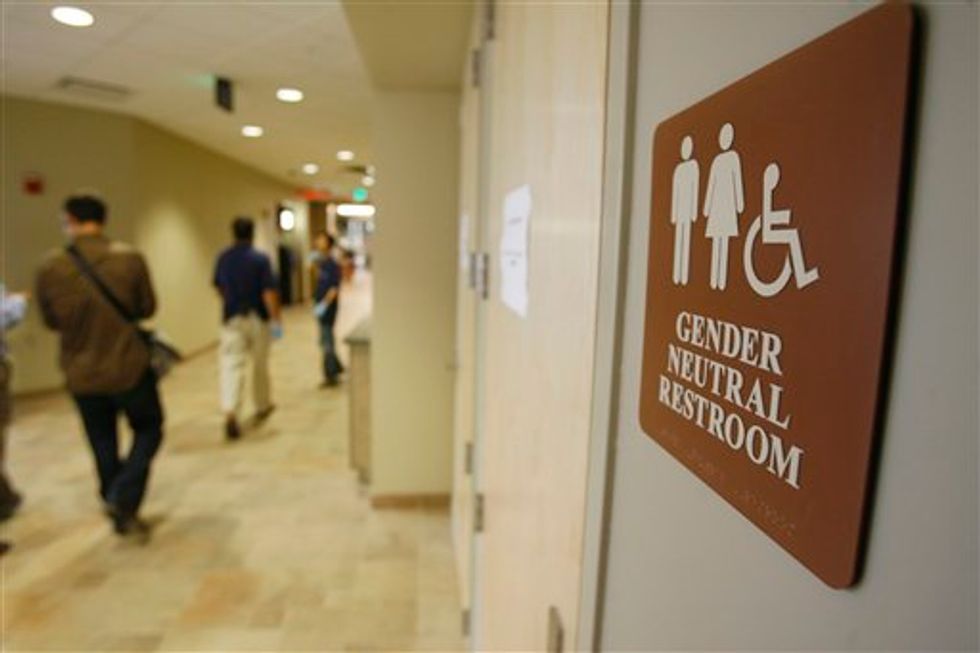 AP Photo/Toby Talbot
The pledge, which gained more than 200,000 signatures in its first day, suggests a common alternative that many have advocated in light of safety concerns surrounding transgender accommodation policies: "Target should keep separate facilities for men and women, but for the trans community and for those who simply like using the bathroom alone, a single occupancy unisex option should be provided."
The AFA encouraged signers to contact Target and inform a representative that they signed the boycott pledge.
Writing for the Christian Post, President of the Presbyterian Lay Committee Carmen Fowler LaBerge argued Saturday that "advocates of traditional family values" should consider alternatives to boycotting the retail giant in order to "acknowledge what's actually happening on a larger scale and deeper level."
"If Christians start boycotting every corporation that operates out of progressivism's politically-correct profit-motives, our choices are going to be very narrow, our voice further sidelined and our influence further diminished," Fowler LaBerge wrote.
Instead of boycotting, Fowler LaBerge suggests that Target customers should "find the common concern of privacy and safety" and hold the store accountable for ensuring that women and girls using their facilities receive adequate protection:
Each of us and all of us need to be proactive about our own protection: If you are a woman and you are by yourself and need to use the restroom or changing room, ask a female associate to monitor the facility. If a person who presents as male seeks entry, the Target employee should inform that customer that the facility is occupied and currently unavailable. If they can't wait, they could be directed to the single occupancy facility. If they protest, they should be informed that although their right to use the restroom or changing room of their choice is Target's policy, that policy holds for every guest and team member. And the guest or team member currently using the facility has asked for a reasonable accommodation of their safety. And if we're talking about your child, you should be in the facility with them at all times.
At the end of her piece, Fowler LaBerge echoes the AFA's call for concerned customers to contact Target to share specific objections to the store's policy and to propose alternatives.