RALEIGH, N.C. (TheBlaze/AP) -- A federal appeals court has found that a North Carolina voter ID law was enacted "with discriminatory intent" and must be blocked.
An opinion issued Friday by a three-judge panel of the 4th Circuit Court of Appeals in Richmond reverses a lower-court's ruling that had upheld the law.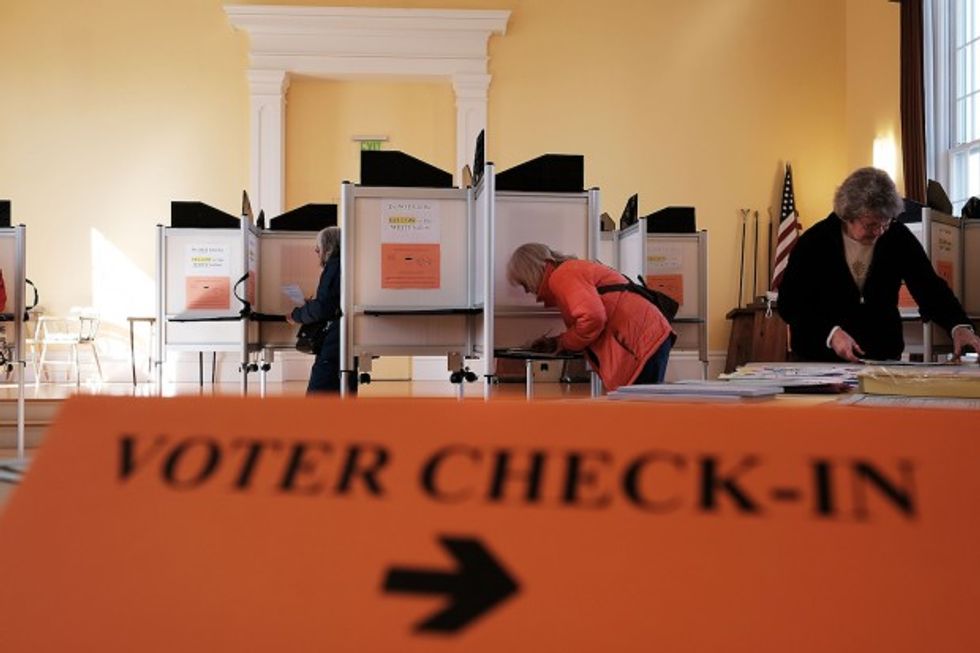 People vote in a church being used as a polling station on March 1, 2016 in Ferrisburgh,Vermont. Thousands of Americans across the country are participating in Super Tuesday, the biggest day of the 2016 primary season. Thirteen states and one territory are participating in Super Tuesday: Alabama, Alaska, Arkansas, Colorado, Georgia, Massachusetts, Minnesota, Oklahoma, Tennessee, Texas, Vermont, Virginia, Wyoming and American Samoa. This years election, with strong candidates on both the left and the right, is shaping up to be one of the most exciting and divisive in recent history. (Photo by Spencer Platt/Getty Images)
The 2013 rewrite to voting laws in North Carolina required photo identification to cast in-person ballots and made other changes.
The U.S. Justice Department, state NAACP, League of Women Voters and others sued the state, saying the restrictions violated the remaining provisions of the federal Voting Rights Act and the Constitution.
The ruling comes just days after a federal appeals court in Louisiana found that the Lone Star State's strict voter ID law also violated the Voting Rights Act and ordered the state to make changes before the November election.
—