A recent Sky News report about security at English churches went viral when the reporter offered a grim assessment of his findings.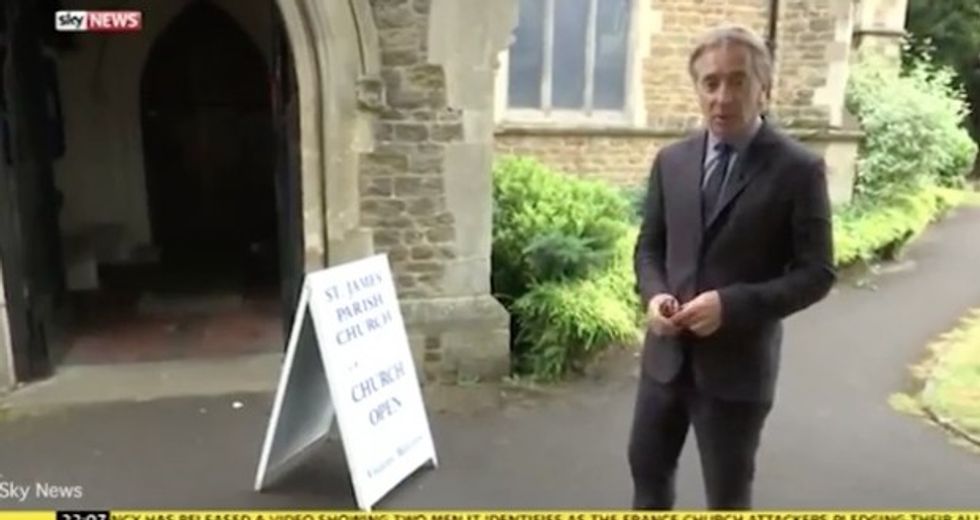 Image source: YouTube
Martin Brunt, a crime correspondent for Sky News, visited an English church to see if they had added any additional security measures in the wake of a terrorist attack at a French church Tuesday.
"The morning service began about 20 minutes ago and there are no obvious signs of any security," he said. "In fact, this sign at the church door says everybody is welcome."
Brunt can be seen entering and exiting the church.
"There are about a dozen worshippers in there and one priest," he said. "If I was a terrorist, I could have killed them all."
Brunt's report quickly went viral, spurring a great deal of reaction on Twitter with users sharing the hashtag #ICouldHaveKilledThemAll. It also resulted in a parody video on YouTube.
I was saying Mass in my Church. No security anywhere. If I were a terrorist. #ICouldHaveKilledThemAll

— Andrew Foreshew-Cain (@churchnw6) July 29, 2016
Just walked into HMV. Bought a Smiths CD. There were around a dozen shoppers in there... #ICouldHaveKilledThemAll pic.twitter.com/zlW9fuUFsX

— Christian R. Allan (@ChristianRAllan) July 28, 2016
Loads of squirrels in my backyard this evening. Calmly eating nuts. If I was a terrier #ICouldHaveKilledThemAll

— Law Turley (@treacle_a) July 28, 2016
"Oh aye Martin, could yez?" #icouldhavekilledthemall pic.twitter.com/nTwW5s3UXw

— Joseph McGuire (@Joseph_McGuire) July 28, 2016
I went for a walk today. No signs of any security. I saw about half a dozen dog walkers. If I was a terrorist #ICouldHaveKilledThemAll.

— Jason Kalapothakis (@UnmarredGlory) July 29, 2016
In spite of fears, churches welcome Sky News reporters, even those who threaten violence. #icouldhavekilledthemall https://t.co/toyA0FbVvg

— Gareth Hughes (@GarzoHugo) July 29, 2016
Just been down by the river. Water birds everywhere. Literally, sitting ducks. #icouldhavekilledthemall

— SIMON (@simonphunt) July 29, 2016
A spokesperson for Sky News did not immediately return TheBlaze's request for comment.
Earlier this week, two attackers took hostages inside a French church during mass and murdered the priest, 86-year-old Rev. Jacques Hamel. The Islamic State claimed responsibility for the attack.
Watch Brunt's report below:
—
Follow the author of this story on Twitter and Facebook: