One of the bigger stories Thursday was reaction to actor Bradley Cooper attending the Democratic National Convention in Philadelphia the previous evening — specifically that "Republicans" and "conservatives" were irked by his presence in the audience.
Cooper portrayed late Navy SEAL Chris Kyle in the blockbuster movie "American Sniper" – and Kyle certainly was no liberal.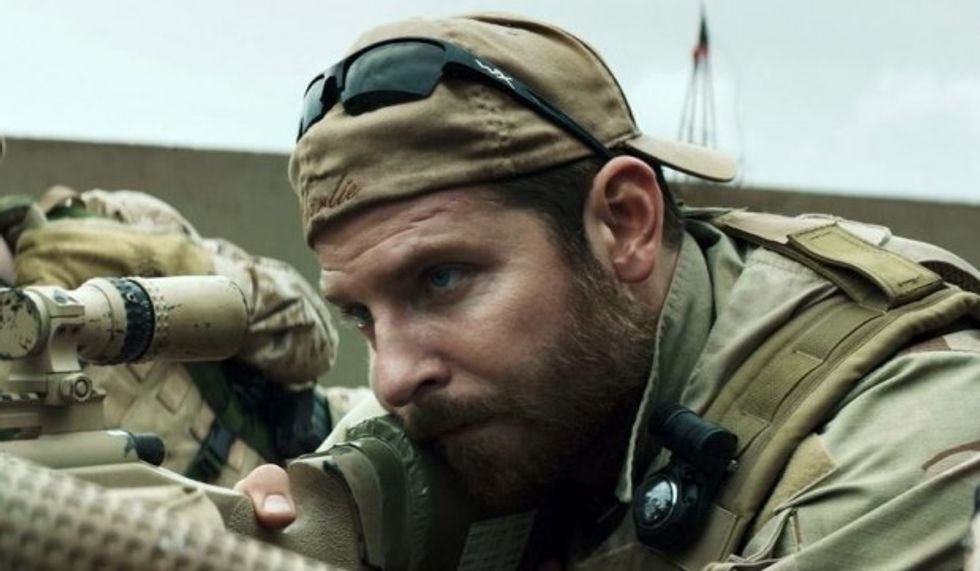 Bradley Cooper appears in a scene from "American Sniper." (Image source: AP/Warner Bros. Pictures)
The Daily Beast covered the apparent dust-up, offering the following headline: "Republicans Are Very Upset That 'American Sniper' Star Bradley Cooper Is at the DNC."
The piece noted: "Many Twitter users blasted the Hangover star (and Philadelphia native) after discovering that he is, in fact, a Democrat. The deluge of online vitriol made Cooper's name one of the top trending topics on Twitter."
Illustrating that "deluge" were a total of three Twitter posts, with the third riffing on an unidentified Facebook comment:
Bradley Cooper is promoting Hillary? Too bad. He's dead to me now. pic.twitter.com/gXJ4ahO8YK

— David O'Neill (@garlicfries95) July 28, 2016
I have a list of celebrities that support Socialism I refuse to spend another $ on. Add this one. Boycott them all. pic.twitter.com/uOFMkxSvRY

— Nat Shupe (@NatShupe) July 28, 2016
People are upset that Bradley Cooper who played Sniper Chris Kyle is a democrat pic.twitter.com/brxNyaZOPP

— Yukio Strachan (@boldandworthy) July 28, 2016
The upshot? Republicans are silly for confusing art and reality. And lots of folks jumped on that. A "deluge" even.
But "deluge" may be a bit of an overstatement when it comes to how many "Republicans" actually hit social media to throw shade at Cooper.
Right off the bat, Mediaite and the Independent also ran headlines claiming "Conservatives" and "Republicans" were angry over Cooper at the DNC — and both outlets used only those same three Twitter posts the Daily Beast trotted out to prove it.
The New York Daily News noted in its piece that "Red-faced red staters flocked to social media to pan the actor's appearance ..." To back up its claim, it referenced just two Twitter posts — both of them from that same group of three. The Daily Mail? Same deal.
CNN's piece declared, "A bunch of people may be confusing movies with real life, and are not amused that Cooper doesn't mirror his character in the war movie." The cable network ran one tweet to reflect "a bunch of people," and again it was from that same group of three.
The Huffington Post's headline read, "Republicans Are Having A Meltdown Over Bradley Cooper's Presence At The DNC." Its story used the same three Twitter posts as for-instances. Oh, but it did add one more:
Bradley Cooper at DNC?! Guess I've seen my last Bradley Cooper movie. Ewww Ick

— The Real ExTex (@theRealExTex) July 28, 2016
The Hill noted three of the four tweets the Huffington Post used under the headline, "Conservatives angry over 'American Sniper' actor's Dem convention attendance."
USA Today — "Conservatives decry Bradley Cooper's DNC appearance" — employed two of the four tweets the Huffington Post noted.
Even the Associated Press couldn't resist: "Bradley Cooper's DNC appearance irks conservatives" was the outlet's headline.
So, after all that — taking into account Buzzfeed finding a couple of other tweets, and Uproxx adding one more — it would appear the running total of "Republicans" (if that, in fact, accurately reflects their party affiliations) expressing social media outrage at Cooper could maybe field a baseball team.
Conservatively speaking, of course.
This story has been updated.
(H/T: Oliver Darcy)