A former Rikers Island inmate managed to sneak an iPhone onto the notorious prison's premises and stream a Facebook live video from his cell. New York City's WPIX-TV obtained the footage and an exclusive interview with the prisoner, who says he filmed the video last month as a joke but also to expose security problems at Rikers.
At one point in the July 22 video, the inmate, whose face was blurred out to conceal his identity, pulls out a blade.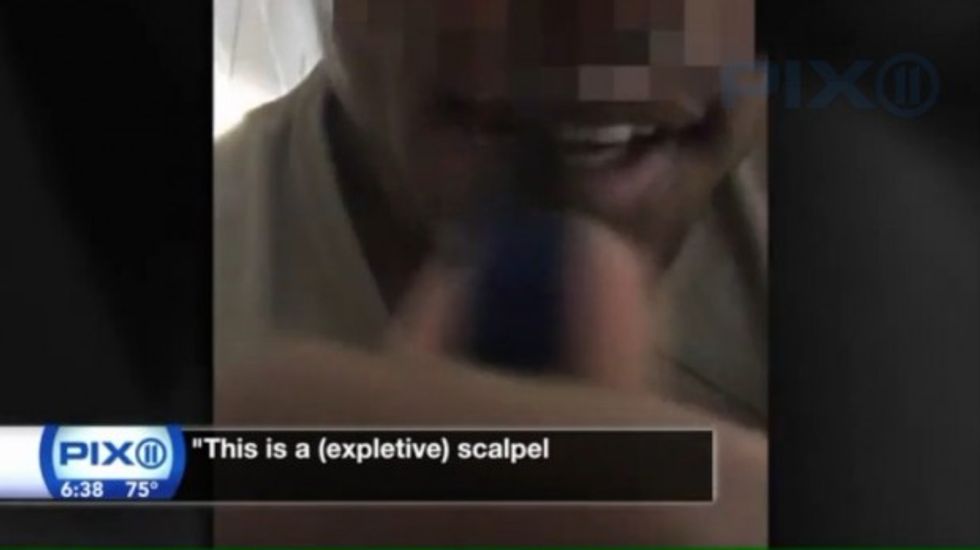 Image source: WPIX-TV
"Did a guard give it to you?" WPIX asked the man.
"No," he replied. "I made it myself."
When asked if he had plans to use the blade, he told WPIX, "Oh no, I wasn't going to use it. I can fight. I can fight very well. I can defend myself. I wasn't going to use the blade."
Officials found the fact that an inmate was able to obtain a contraband iPhone was alarming and upsetting. And though Department of Corrections Commissioner Joe Ponte told WPIX in February that 100 new surveillance cameras would be installed to prevent such things from happening, the former prisoner described the phone smuggling as effortless.
"I brought it straight in with me," he said. "The metal detectors ain't right, that is the only thing I can say."
U.S. Attorney Preet Bharara has called for serious reform inside Rikers, where slashings among inmates and prison guards are commonplace.
WPIX showed the video, which has garnered more than 7,000 shares on Facebook, to Councilwoman Elizabeth Crowley, chair of the Committee on Criminal Justice. She told the station that she is frustrated by the incident and with Ponte's leadership.
Crowley said that, while more enhanced metal detectors like the ones mentioned by the commisioner are available, they are not in use.
"We have the technology. The types of screeners used in airports are just sitting dormant and not being used," she said.
"It is time we get a new commissioner," Crowley added, noting that she has given the city and the Department of Corrections two years to fix these security issues.
A spokesperson for the Department of Corrections released a statement to WPIX regarding the video:
Safety for staff and inmates is Commissioner Ponte's top priority. This individual was arrested and is facing serious charges. This video is under investigation. The 43% jump in contraband finds at DOC this year demonstrates that Commissioner Ponte's comprehensive reforms of our entrance procedures are working.
Watch: