A woman who said she is the mother of an Air Force serviceman was booed at a rally for Republican vice presidential nominee Mike Pence after asking about Donald Trump's feud with the Khan family.
"Time and time again, Trump has disrespected our nation's armed forces and veterans," she said. "And his disrespect for Mr. Khan and his family is just an example of that."
Members of the crowd of Trump supporters then began to jeer her.
"Will there ever be, ever be a point in time when you're able to look at Trump in the eye and tell him enough is enough?" she continued. "You have a son in the military, how do you tolerate his disrespect?"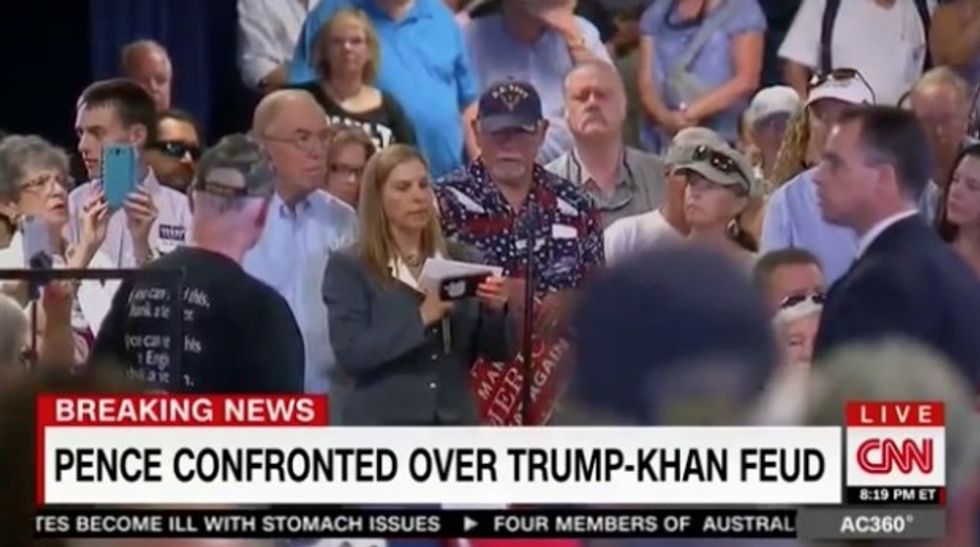 Image source: YouTube
She then held up her Trump-Pence campaign sign and a picture of her son. The crowd continued to boo and one attendee shouted, "What difference does it make?"
Pence told the crowd, "It's OK. That's all right. Folks, that's what freedom looks like, and that's what freedom sounds like. OK? It is."
He went on to say that he honors her family's and her son's service to the country.
"Having spent time with our nominee, I have never been around someone more devoted to the armed forces of this country, more devoted to the families of our soldiers, sailors, airmen, marines, and coast guard, and no one more devoted to the veterans in this country," Pence said. "Donald Trump supports our soldiers and supports our veterans, like no other leader in my lifetime."
Khizr Khan, the father of the late Capt. Humayun Khan, a Purple Heart recipient who was killed in Iraq in 2004, criticized Trump during a speech at the Democratic National Convention last week for the GOP nominee's proposed temporary ban on Muslim immigration. His wife, Ghazala Khan, stood silently at his side.
Trump indicated that Ghazala Khan, a Muslim, remained silent during Khizr Khan's speech because she was forbidden by her husband to speak, a claim she disputed in a piece published in the Washington Post.
"My husband asked me if I wanted to speak, but I told him I could not," she wrote, adding that she struggles to look at pictures of her son, one of which was shown during the speech.
Pence attempted to diffuse the feud in a statement released by the campaign:
Donald Trump and I believe that Captain Humayun Khan is an American hero and his family, like all Gold Star families, should be cherished by every American.

Captain Khan gave his life to defend our country in the global war on terror. Due to the disastrous decisions of Barack Obama and Hillary Clinton, a once stable Middle East has now been overrun by ISIS. This must not stand.

By suspending immigration from countries that have been compromised by terrorism, rebuilding our military, defeating ISIS at its source and projecting strength on the global stage, we will reduce the likelihood that other American families will face the enduring heartbreak of the Khan family.

Donald Trump will support our military and their families and we will defeat the enemies of our freedom.
Watch below:
(H/T: Washington Free Beacon)
—
Follow the author of this story on Twitter and Facebook: