"American Psycho" author Bret Easton Ellis offered an excoriating takedown of "snowflake justice warriors" and "authoritarian language police" in a recent episode of his podcast.
In his rant, Ellis ripped into the furious backlash from left-wing media outlets such as Jezebel and Teen Vogue in reaction to LA Weekly writer Art Tavana's op-ed about female pop singer Sky Ferreira.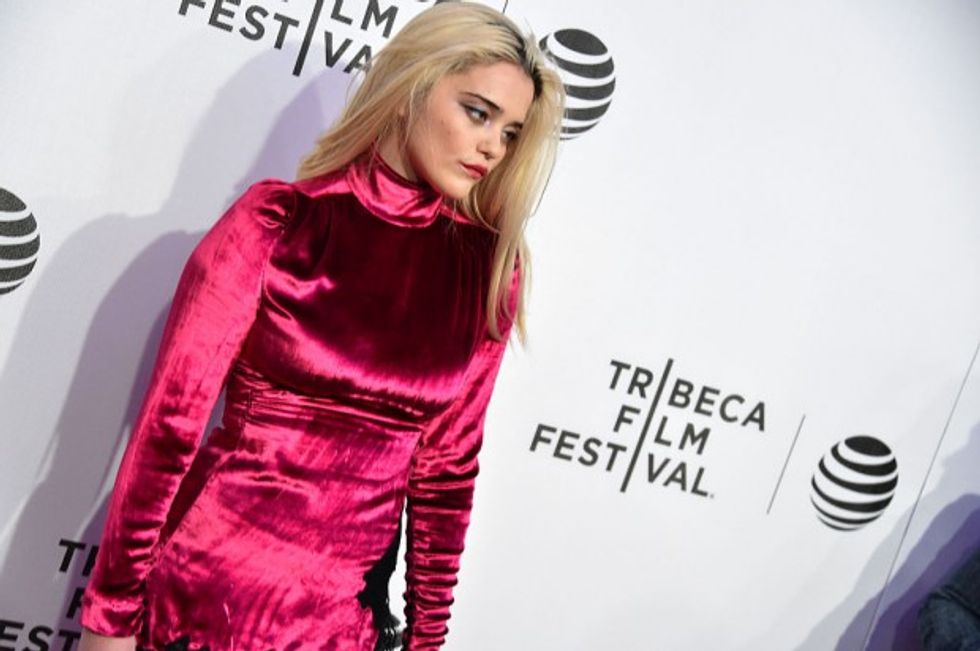 Sky Ferreira attends the 2016 Tribeca Film Festival in New York City. (Mike Coppola/Getty Images for Tribeca Film Festival)
In a June 17 piece titled, "Sky Ferreira's Sex Appeal Is What Pop Music Needs Right Now," Tavana penned the following:
She's too nasty to be anyone's schoolgirl fantasy; she looks like an unvarnished Madonna styled by Maripol, with the vaguely mystical presence of Nico and the faux-punkness of a Sex Pistols groupie. In other words, Sky Ferreira is the most deliberately pimped-out example of a modern pop star. She's not a mindless product like Britney, or a depressed indie-pop singer like Lorde, but she's also not bitter or punk, like Meredith Graves, or a feminist superhero like Grimes. She's the pop star who's so personally cool that her record label, Capitol, doesn't need to hire a team to mold her.
Tavana went on t praise the singer's "fresh-faced beauty," saying there's "nothing tasteless" about Ferreira profiting off her looks.
"Why can't we see her sex appeal as talent as opposed to privilege? Ferreira's sex appeal, like any woman's, isn't entirely a gift from God. It isn't something she's simply born with. It had to be sharpened and used like Beatrix's sword in Kill Bill: with fine, deadly precision," Tavana wrote.
It wasn't long before liberal media outlets seized upon the piece, accusing it of being misogynistic and sexist. In fact, the criticism was so intense that LA Weekly later posted an apology for the piece, which it now says went too far.
But Ellis suggested in a blistering 20-minute monologue that he saw it all coming:
Oh, clearly you didn't think the little snowflake justice warriors everywhere ... were going to let this innocuous piece go unnoticed without having a hissy fit? Oh yes, most deliciously, the little snowflakes got so pissed off and were just sooo unbelievably offended by this piece, that they had to denounce it.
"Oh, little snowflakes, when did you all become grandmothers and society matrons, clutching your pearls in horror at someone who has an opinion about something, a way of expressing themselves that's not the mirror image of yours, you sniveling little weak-ass narcissists?" he added.
Ellis went on to blast the "authoritarian language police" who "ignore the First Amendment," saying, "The overreaction epidemic that is endemic in the culture, and the implicit calling for censorship by removing the piece, is what should not be allowable, and it should be called out every time SJWs ignore the First Amendment."
And he didn't spare LA Weekly from his criticisms, though he did offer them some praise for at least not deleting the op-ed:
No, they felt they needed to say "I'm sorry" to all the snowflakes who found this innocuous piece so offensive and threatening, and how it crossed some imaginary line of decency, and placating all the crybabies who wanted the post taken down, and kudos to the LA Weekly for not taking it down, because if it had that would have been actual censorship, which is what the left's social justice warriors really want.
Listen:
(Content warning: Very strong language)
(H/T: Independent)
—
Follow the author of this story on Twitter and Facebook: